#3 The Toshiba Satellite E45DW-C4210 (Carrizo, FX-8800P)
If E45DW-C4210 comes in as a mouthful relevant to very few people, you are probably right, so we'll just refer to it as the Toshiba Satellite from here on in. Having a Satellite for testing this piece was somewhat amusing, given I had recently bought one for my grandparents and upgraded it (there's a separate mini-review of that coming later), and wasn't sure if what I had found on my grandparents' model would also be found here.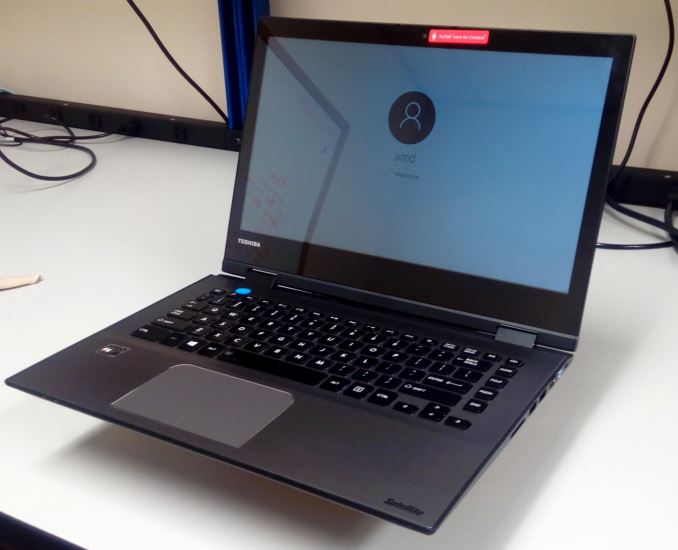 Toshiba Satellite E45DW-C4210 (Carrizo) Specifications
Size and Resolution
14-inch, 1366x768 TN with Touch
Processor
AMD FX-8800P
Dual module, 4 threads
2.1 GHz Base Frequency
3.4 GHz Turbo Frequency
Graphics
Integrated R7
512 Shader Cores
800 MHz maximum frequency
GCN 1.2
TDP
15W
Memory
8 GB in Single Channel Operation
1 x 8GB at DDR3L-1600 C11
1 SO-DIMM Slot Only
Storage
750GB Toshiba HDD
Battery Size
45.298 Wh
3 cell Li-Ion design
WiFi
Realtek 8821AE
802.11ac 1x1
Optical Drive
No
Dimensions
13.3 x 9.3 x 0.83-inch
337.4 x 235.0 x 21.05 mm
Weight
From 4.5 lbs (2.05 kg)
Webcam
1280x720
Other Features
Memory Card Reader
HDMI
2 x USB 3.0 + 1 x USB 2.0
Operating System
Windows 10 Home
This model of Satellite gets the top-end FX Carrizo processor, the FX-8800P, which is a dual module/quad core design with a 2.1 GHz base frequency but a 3.4 GHz turbo frequency. Because the FX line still exists in AMD's mobile processors, it means it gets top tier graphics as well, which for integrated graphics means 512 streaming processors running at 800 MHz. This is pretty much the top end AMD integrated graphics configuration that anyone can buy, save a pre-overclocked system. To continue with the plus points in the hardware, the Toshiba was also fitted with a Realtek 8821AE Wi-Fi card which also follows the 802.11ac M.2 standard as described in the 745 G3 but this is a single stream version, which limits 802.11ac benefits such as beam forming.
Then, the downsides begin, or where Toshiba saved some money. The display is a pretty bad 1366x768 TN panel that didn't want to play ball with our display testing equipment, but was surprisingly touch enabled which made things better when you used the 'Devil's Trackpad'. With no offence intended towards Toshiba, I seriously wrote that in my notes while I was testing, and that isn't a good thing. The nearest thing to this trackpad would be the 'off' position. I'm not sure if it was a bad sensor, a poor sensor, something with the coating or what, but one of the worst things a laptop can do when being tested is when the tester wants to throw it across the room. The solution would be to insert a mouse, forget about it, and then 'remember how much you saved'. Unfortunately that race to the bottom on trackpads ends up a negative feedback loop for all concerned.
On the storage side, a combination 8GB of memory (single channel DDR3L-1600, naturally) and a 750 GB mechanical hard disk left the model with few plus points aside from the top end processor.
The Design
So firstly, the design of this Satellite one is more towards brushed metal for a sleeker look.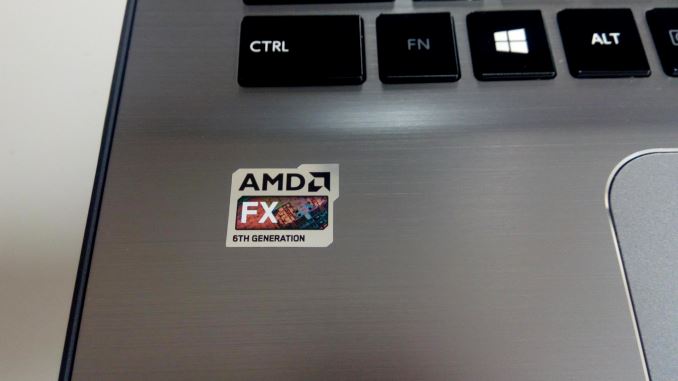 Functionally, there are a number of good and bad points to list. Despite the brushed metal finish on the top, the design is actually mostly plastic, with two vents at the rear for airflow. The hinge is also a 360º hinge as part of the Radius range.

One of these is an intake and the other is the exhaust, which at least keeps all the warm air out of the back of the laptop, although anyone using the laptop on their lap might be able to feel it depending on the workload. If the warning sticker is anything to go by:
CAUTION!
PC BASE CAN BECOME HOT!
AVOID PROLONGED CONTACT
TO PREVENT HEAT INJURY TO SKIN
You have to wonder – is that an AMD problem due to heat generation, or a Toshiba problem due to bad heat soak of plastic design? Either way, there are other 15W devices that don't have these warnings.
The sides have two USB 3.0 ports, a HDMI port, the Kensington lock port, a USB 2.0 port, audio ports, a volume rocker, a power connector and a specific button to enter Tile Mode in windows.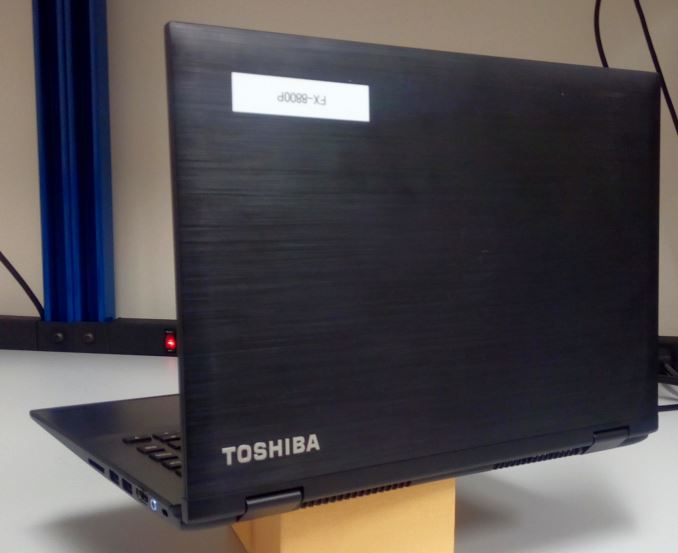 The brushed metal finish is also on the cover, and again this was an AMD shelf model featuring a few scrapes but nothing too noticeable at a quick glance.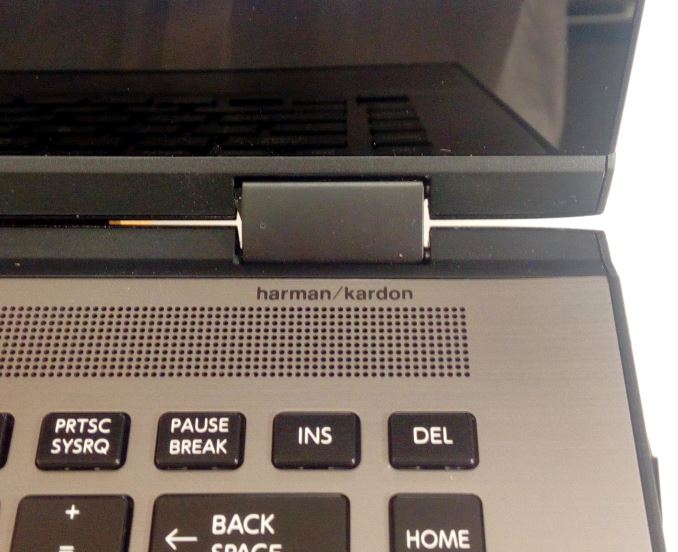 The audio arrangement is provided by Harman/Kardon, and the keyboard uses equal sized separate buttons for the arrow keys as well as the regular delete/home/end set. There are no quick buttons for mute or airplane mode however.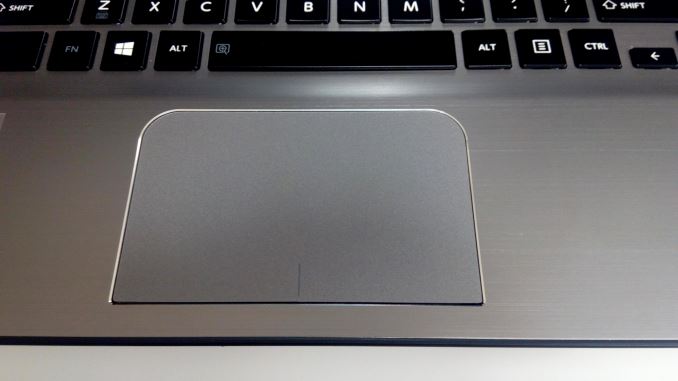 The trackpad on the specific device we tested was absolutely terrible. The only practical way to use this laptop was to use a mouse.
On the display side of things, as noted above for some reason this unit would not get along with our colorimeter, crashing each time we tried to take a reading. The 45.298 Wh battery gave the following charge profile: