WiFi
With the Nexus 6 we see a WiFi solution that hasn't been seen before in a mobile device, Broadcom's BCM4356. Announced at CES earlier this year, BCM4356 is a 2x2 802.11ac part with Bluetooth 4.1 support allowing for improved co-existence between Bluetooth and LTE. For reference, the Nexus 5 shipped with BCM4339 which is a 1x1 802.11ac part. To test WiFi performance on the Nexus 6 we used Iperf and Apple's AirPort Extreme router to try and achieve maximum performance.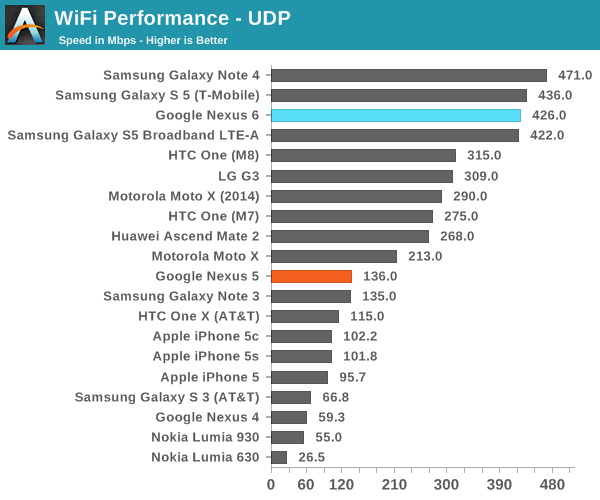 The WiFi performance in the Nexus 6 falls into line for what we expect from a 2x2 802.11ac device. While it's slightly slower than Samsung's Galaxy Note 4, it's still much faster than many other devices that are on the market today, and over 3x faster than the WiFi performance of the Nexus 5.
GNSS
Most devices now use the GNSS solution built into Qualcomm's modem. I was someone who suffered the broken GNSS on the original Galaxy S, and I'm thankful that we've come to a point where every smartphone is now able to competently achieve a quick and accurate GNSS lock. In Airplane mode with no assistance information the Nexus 6 was able to achieve a lock in just under 35 seconds with an additional 5 seconds to bring the accuracy to within 10 feet, although both these times will vary greatly depending on the surrounding environment and weather conditions. With assistance info locks take only a matter of seconds.
Misc
To test NAND performance on the Nexus 6 we attempted to use Androbench and Andebench, but both gave results that could not have been accurate and so we are unfortunately unable to test this aspect of the Nexus 6 at this time. Like the new Moto X, the Nexus 6 has Cypress Semiconductor's CapSense controller. Given that the Nexus 6 has no capacitive buttons, this is likely performing the same impedance-matching antenna tuning as on the Moto X which uses the same type of antenna design. It also has two TFA9890 speaker amplifiers which allows both speakers to be driven at the same time as stereo speakers.