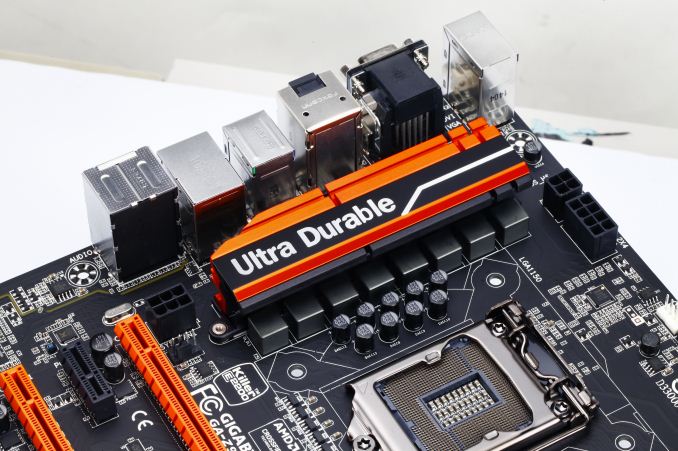 Overclocking motherboards are here to stay. The $200 overclocking motherboard market seems to be growing, even when overclocking is limited to specific processor SKUs. Intel's Devil's Canyon models or Anniversary Pentium have been launched recently, specifically for overclockers to have more fun until the next generation. GIGABYTE's 8-series overclocking motherboards were very well received, so it was a no-brainer to release upgraded models for 9-series. Today we are reviewing the Z97X-SOC Force, a $210 member of the punch-counterpunch in this market segment.
GIGABYTE Z97X-SOC Force Overview
In the past I have mentioned why pure overclocking motherboards are often a bad idea: in the extreme version of overclocking (as in, using sub-zero coolants purely to score higher than someone else), motherboards are chosen for their ability to achieve high clocks, high scores and nothing else matters. The downside of this direction is that this board will not sell well – extreme overclockers number thousands at most, and even less in sales when you factor in the competition. As a compromise, the motherboard often has a number of gaming elements on board to appeal to regular users who might want to use those OC tools for a stable system.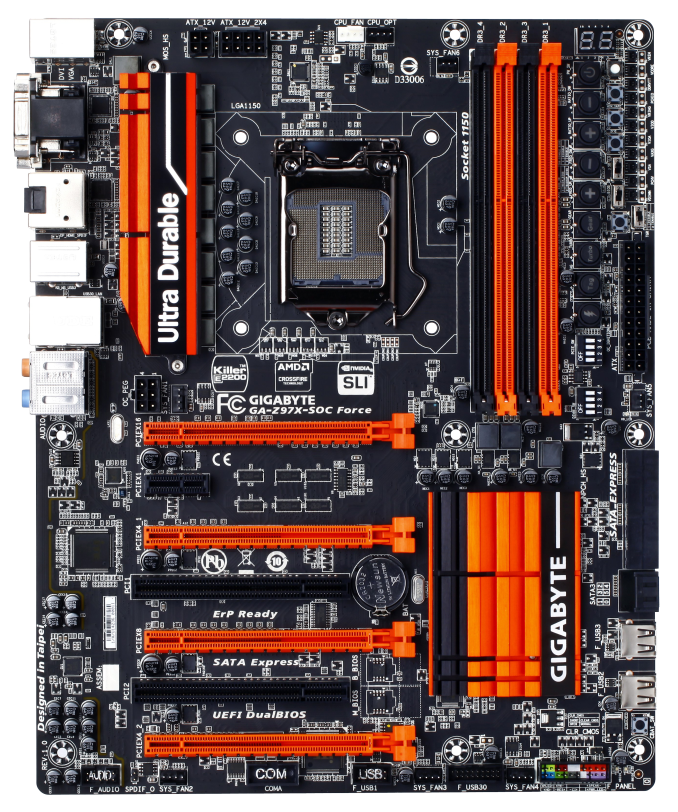 If you have been covering our Z97 coverage so far, one of the big elements of the equation has been the new storage options (M.2 or SATAe), and the inherent problems with routing. One of the first things I noticed with the Z97X-SOC Force was how this was not an issue. While the Z97X-SOC Force has a SATAe, it only shares bandwidth with the ports it uses anyway, rather than disabling another feature, and there is no M.2.
The main features on the Z97X-SOC Force all relate to the overclocking buttons on the top right. Here there are buttons for:

Power and Reset,
Adjusting CPU Ratio,
Adjusting CPU base frequency,
A button for adjusting the step that the base frequency button uses,
A one-button overclock,
A tag button for pre-calibrated overclocks,
An OC Ignition switch to keep the chipset/fans on when the system is turned off,
A Memory Safe button to recover from bad memory overclocks,
A Direct To BIOS button,
A settings lock,
BIOS selection switches,
An OC trigger switch,
Voltage check points,
A set of DIP switches to disable PCIe slots
A set of DIP switches to disable DIMM channels and
A Clear CMOS button.
Arguably one could say that most of these features are on other overclocking motherboards, although none of the others have them all in the same place – some competitors put options in the BIOS or on separate physical panels. One could imagine that under sub-zero cooling, this area of the motherboard might succumb to condensation issues due to the temperature, however a string of records from Computex using this model and derivatives of this model would suggest otherwise. The system also comes with an OC Brace to help on-desk overclockers fit GPUs, and two onboard USB connectors for ease of use backup up benchmark scores and screenshots. The rear of the motherboard has a different mounting mechanism for the DRAM slots, allowing the rear to be insulated easier for sub-zero cooling.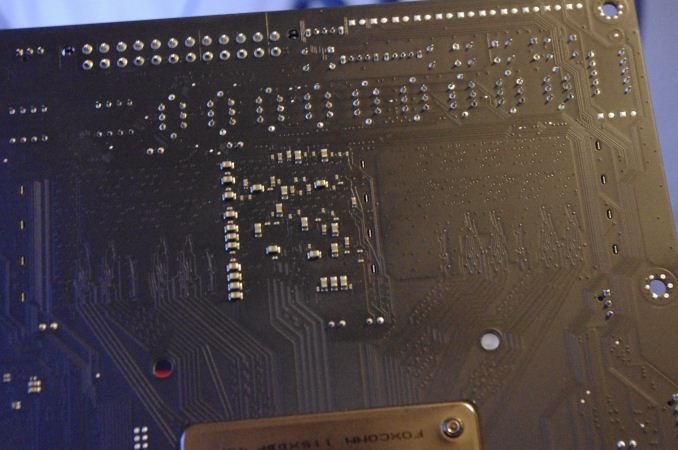 The DRAM area on the rear of the Z97X-SOC Force
Other than the overclocking features, the gaming side of the equation gets a Killer NIC (E2201), which is in essence a bundle of a NIC and program prioritization software. There is also the potential of four-way CrossFire, with an x8/x4/x4 + x4 PCIe lane layout. Here GIGABYTE is using PCIe 3.0 x8/x4/x4 from the CPU and PCIe 2.0 x4 from the PCH. This means four-way CrossFire, but due to SLI limitations requiring x8 lanes per card, only two way SLI.

Audio is provided by a Realtek ALC1150 audio codec with PCB separation and filter caps to provide a cleaner signal. This is not the full on audio experience that GIGABYTE could implement, as that is more of a Gaming range feature.
We have covered the GIGABYTE BIOS and software in our review of the Z97X-UD5H, and although the software is updated in color to match the overclocking livery, the conclusions are similar. The main BIOS is hard to look at and focus due to the color scheme, at least enough so that during the overclocking contests at Computex, most GIGABYTE overclockers were using classic mode. Given that this is a motherboard for extreme overclocking, there are a number of memory presets for users of special/near-unique memory kits. The software for the OS gets a nice update over Z87, making it easier to adjust fan speeds as well as overclocks. The automatic overclocking feature was still particularly aggressive on our average i7-4770K, using 1.35 as a base voltage with an additional +0.2 volts offset in Extreme mode, making 1.545 volts at load which caused errors on our cooling in 77 seconds.
There are a range of automatic overclock options, and manual overclocking performance matched that of other motherboards in the air/water cooling segment due to our CPU sample. General performance levels are also similar to other motherboards, although it is worth nothing that our IGP was overclocked to 1300 MHz by default on the Z97X-SOC Force, which gave minor (~4%) frame rate increases in IGP gaming. DPC Latency for 9-series continues to perform well, with 56 microseconds for the Z97X-SOC Force, although the audio issue we experienced with the UD5H at 100% output volume still remains. Finding a good balance between output and input resulted in a lower dynamic range result than expected for an ALC1150.
The Z97X-SOC, the non Force edition, is also available and is one of this motherboard's main competitors. For $20 less, there are fewer power phases (eight rather than four) on the SOC, an Intel NIC rather than a Killer, no OC Brace and no network management software. For a gaming user, that $20 could be put towards moving up a GPU class, or better CPU cooling, as arguably a gamer will not be sub-zero overclocking or need the OC Brace. That ultimately puts a $20 premium for the Killer NIC and management software, which should be a gaming feature, although I have heard many users prefer the lower CPU usage of the Intel NIC and the software can be purchased for $22 that will work with the Intel NIC. The choice will be dependent if the focus is on-the-desk overclocking, or if networking features are important to the user.
Visual Inspection
It would seem that the motherboard industry is in a cycle of colors right now. Most gaming motherboard ranges are red, whereas overclock ranges are either red, yellow or orange. Blue is usually reserved for the mainstream $100-$150 segment, and it would seem that some motherboard manufacturers are also looking into green and white. For the Z97X-SOC Force, like GIGABYTE's overclocking oriented motherboards in the past, orange is the main part of the equation for looks.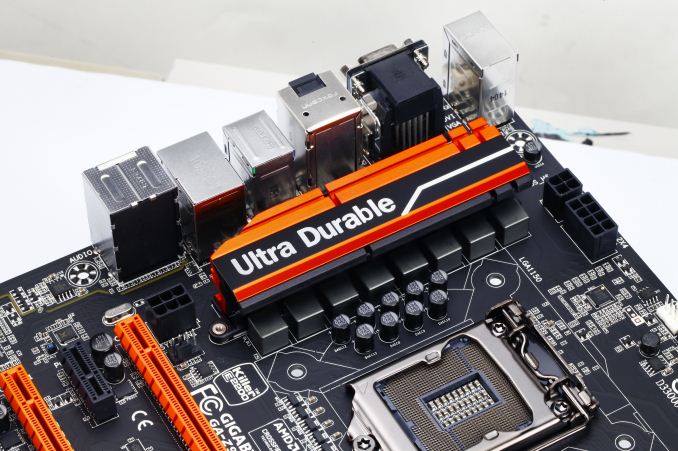 In the past, GIGABYTE has pushed forward with 12-16 phase motherboards for overclocking, often being much more north of $250. At the $200 price point, we get an eight phase solution that relies on 40A ICs but also offers a lot more 'room' around the socket area to make it easier for extreme overclockers to insulate for sub-zero. For regular users, having the space at the top might help some larger heatsink and fan combinations, although the DRAM slots are close to the minimum socket area suggesting that large heatsinks or coolers might conflict with tall DRAM. Power delivery for the socket uses 8-pin and 4-pin 12V ATX power connectors, indicating that GIGABYTE's focus is more at the high end sub-zero overclocking.
The motherboard has a total of eight fan headers, five within reach of the socket. The CPU and CPU_OPT 4-pin headers are directly above the socket, along with a 3-pin SYS header. There is another 3-pin SYS fan header below the 24-pin ATX connector, and a 4-pin below the VRM heatsink, next to the 6-pin PCIe connector for the PCIe slots. The final three headers are all on the bottom of the motherboard, all of which are 4-pin.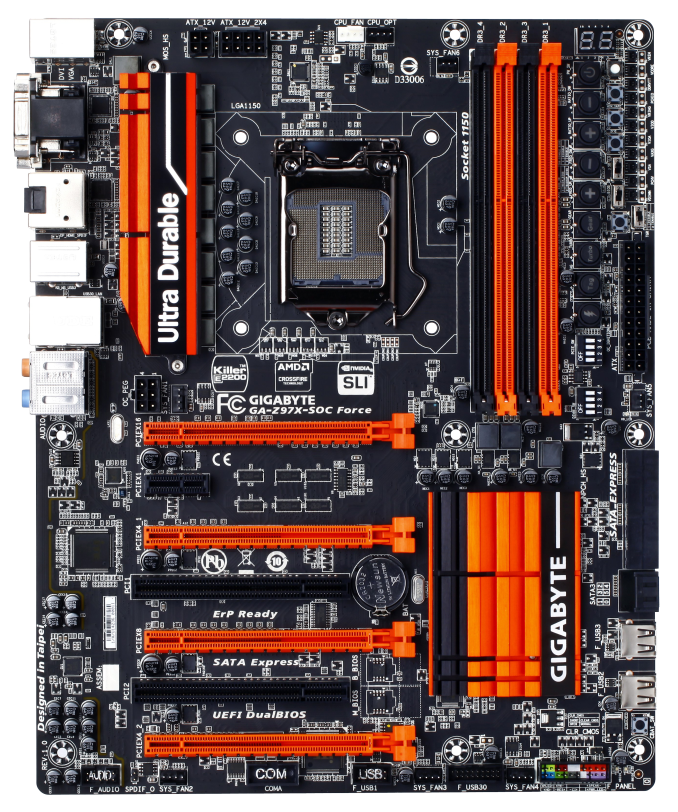 The DRAM slots use single sided latches so as to not interfere with the first GPU installed, but it also means that users should take care when installing memory such that it is firmly put into place.
Moving clockwise around the motherboard, we come to the main area of on-the-bench overclocking:

All the features are mentioned in the overview on this page, although it is worth looking into the main new one - the OC DIMM switch. With four switches and four DIMM slots, one would imagine that each switch could disable a single DRAM slot, but a quick look in the manual means that each of these switches is for a pair of slots. This means that the first two switches are the only ones that do anything, with the first being for channel A/B and the second for C/D. It does leave scope that in for future platforms that use quad channel, a similar system could be put in place. The purpose of this system is for users attempting memory frequency records, in order to disable as much of the system as possible to keep it more stable.
The OC buttons on the side of the motherboard also include the OC Ignition button, which keeps the chipset and fans powered when the system is formally switched off. The primary purpose of this is to keep fans spinning to either remove liquid nitrogen vapor or to keep components continuously cooled by air and to reduce condensation.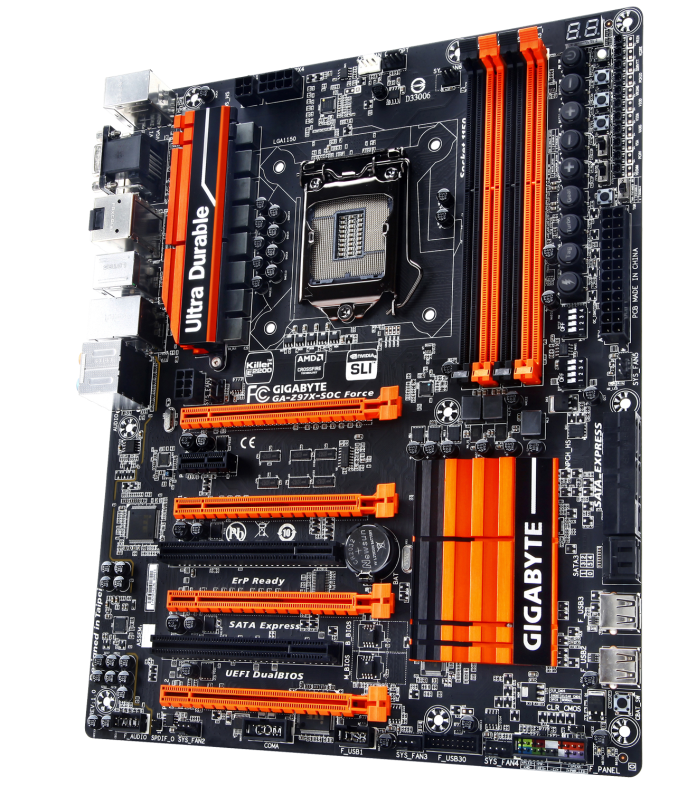 Moving further around the motherboard we come to the SATA ports, for which GIGABYTE has implemented the single SATA Express connector into two of the chipset SATA ports. There are also four other SATA ports on board. This implementation ensures that there is no confusion about what gets disabled when – using a SATA Express uses two SATA ports, and that is about it. Inevitably if SATA Express does take off, I see this as the major implementation of SATA Express mixed with standard SATA. Beneath these are two USB 2.0 ports, used by overclockers to attach USB sticks rather than reaching around to the rear IO, which might knock something and destabilize the system. Standard users can also implement their permanent USB drives for storage or ReadyBoost or for license dongles for older software – it is a common server feature as well.
In the bottom right corner we have a CBAT_SW button, which is a quick battery disable switch, doubling as a reset for the BIOS chips. This is near the front panel header and a USB 3.0 header, the latter using ports from the PCH. GIGABYTE also includes a USB 2.0 header, a COM port header and front panel audio headers along the bottom row.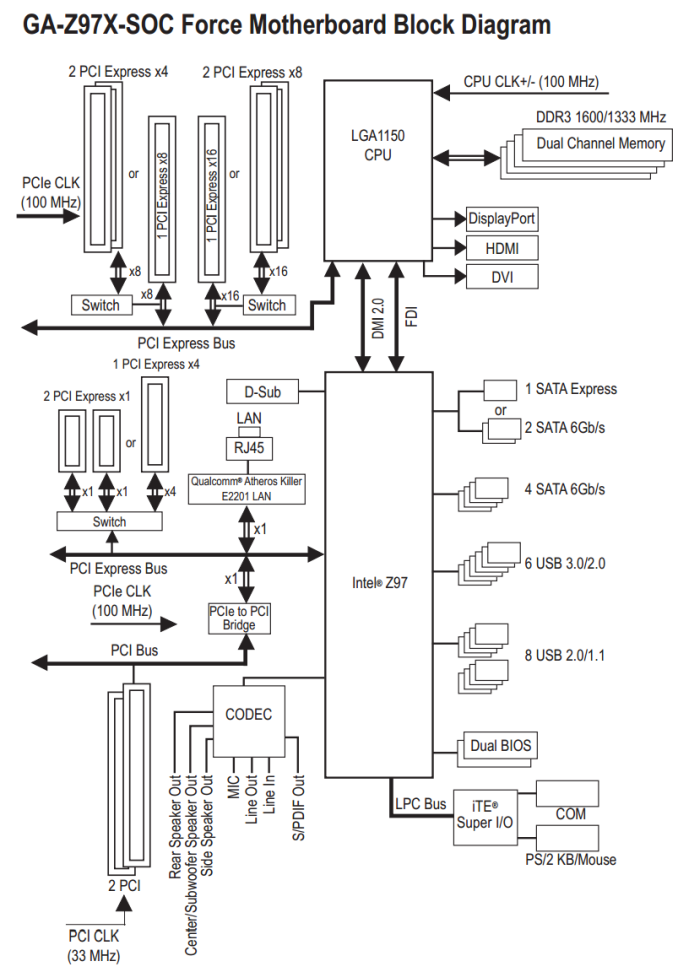 The PCIe layout, as mentioned in the Overview, is aimed many different usage scenarios. Considering only graphics, the PCIe 3.0 x8/x4/x4 layout from the CPU is paired with a PCIe 2.0 x4 port from the PCH leading to two-way NVIDIA users or four-way AMD users (NVIDIA has an x8 requirement, regardless of PCIe 2.0 or PCIe 3.0 which is odd). Using that final PCIe 2.0 x4 disables the PCIe 2.0 x1 port nearer the top, meaning that users who want to plug in other PCIe devices should take note.

The rear panel is a little different to most of the other 9-series motherboards that we have tested or will test. I point directly at the combination PS/2 port, which we find to the right of center, rather than at the far left in normal orientations. GIGABYTE now puts a flat four USB 2.0 ports at the top, which I prefer. It does seem odd that GIGABYTE included all four video outputs on the SOC Force, given its orientation towards discrete GPU usage, although I imagine this is more to include as many different usage scenarios as possible. The four USB 3.0 ports are all from the chipset, and the NIC is the Atheros Killer E2201 which comes with network prioritization software. The Realtek ALC1150 audio jacks finish the lineup.
Board Features
GIGABYTE Z97X-SOC Force
Price
US (Newegg)
Size
ATX
CPU Interface
LGA-1150
Chipset
Intel Z97
Memory Slots
Four DDR3 DIMM slots supporting up to 32 GB
Up to Dual Channel, 1333-3300 MHz
Video Outputs
VGA (1200p at 60Hz)
DVI-D (1200p at 60Hz)
HDMI (2160p at 24 Hz or 1600p at 60 Hz)
DisplayPort (4096x2160 at 24 Hz or 2160p at 60 Hz)
Onboard LAN
Qualcomm Atheros Killer E2201
Onboard Audio
Realtek ALC1150
Expansion Slots
3 x PCIe 3.0 (x16, x8/x8 or x8/x4/x4)
1 x PCIe 2.0 x4 (shares bandwidth with PCIEX1)
1 x PCIe 2.0 x1
2 x PCI
Onboard SATA/RAID
6 x SATA 6 Gbps (PCH), RAID 0,1,5,10
1 x SATAe (PCH, shares with SATA3_4/5)
USB 3.0
6 x USB 3.0 (PCH) [4 back panel, one header]
Onboard
6 x SATA 6 Gbps
1 x SATAe
8 x Fan Headers
1 x USB 3.0 Header
1 x USB 2.0 Header
2 x USB 2.0 Ports
1 x COM Header
Clear CMOS Butoon
Power/Reset Buttons
Voltage Measurement Points
BIOS Switches
OC Touch Buttons
Front Audio Header
Front Panel Header
Power Connectors
1 x 24-pin ATX
1 x 8-pin ATX
1 x 4-pin ATX
1 x 6-pin VGA
Fan Headers
2 x CPU (4-pin)
6 x SYS (4 x 4-pin, 2 x 2-pin)
IO Panel
4 x USB 2.0
4 x USB 3.0
VGA
DVI-D
HDMI
DisplayPort
Combination PS/2 Port
Atheros Killer NIC
Audio Jacks
Warranty Period
3 Years
Product Page
Link
Normally a $210 motherboard would command a lot of extras in the way of basic functionality – more SATA or more USB 3.0 ports for example. GIGABYTE has done away with these and focused more on the overclock functions, the increased power delivery, the included OC Brace, and four-way GPU implementations without a PLX 8747 chip (which would have raised the price north of $280). Upgraded over the basic is that Killer network chip, which is a contentious upgrade over the Intel I218-V NIC depending on your usage scenario, but helps position the motherboard further towards the side of gamers.