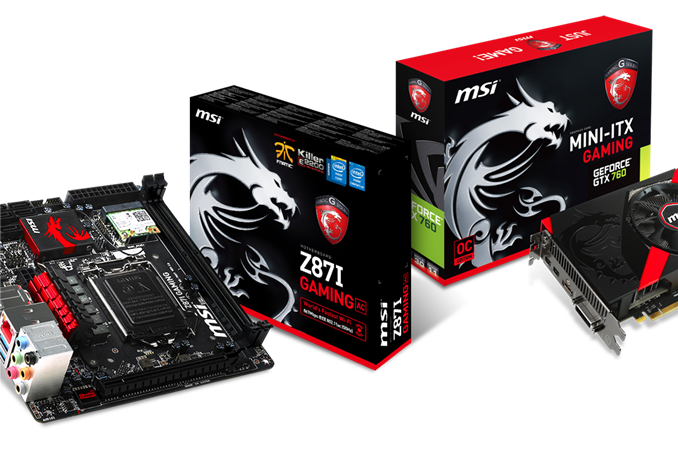 Even though we already let in on a sneak preview during our Holiday Guides, today marks the official launch of MSI's mini-ITX Gaming Platform. The platform has two aspects: a Z87 Haswell mini-ITX motherboard with 802.11ac wifi built for gaming, and a mini-ITX form factor GTX 760 GPU using MSI's Gaming brand features and design.
The motherboard marks the second MSI Z87 mini-ITX motherboard on the market (we reviewed the MSI Z87I), and makes some subtle improvements. The Z87I Gaming comes with the aforementioned dual band 2T2R 802.11ac, as well as Killer E2205 ethernet, Audio Boost (MSI's name for an upgraded Realtek ALC1150 audio package), a gaming device port, support for five SATA 6 Gbps ports (+ 1 eSATA), six USB 3.0 ports, and Intel WiDi support. We also get MSI's updated BIOS and Software for their Z87 gaming range.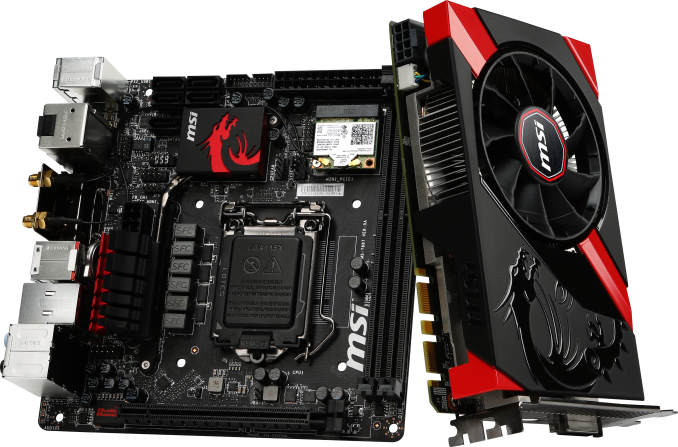 The GTX 760 Gaming graphics card builds upon the niche model launched earlier in the year and sticks to the mini-ITX philosophy: no PCB longer than 17 cm. The GPU even comes out of the box pre-overclocked, giving 1152 CUDA cores at 1033 MHz base clock, boost going up to 1098 MHz. MSI want to promote their new Radax fan design, a hybrid radial/axial fan that is claimed to provide the benefit of both types. With the card we also get software for specific modes: OC Mode for core clock boost, Gaming Mode for stable gaming and Silent Mode for low noise.
MSI obviously want these two products paired together for a mini-ITX gaming build. I always liked the 17cm GPUs just because there is so much power in a small sized graphics card, so as long as the heat removal is good I am all for it. I am also glad motherboard manufacturers are getting on board with 802.11ac: the days of 1T1R single band are gone.
The MSI Z87I Gaming motherboard is set to be released for $200 in the US, and the GTX 760 Gaming at £220 in the UK - at this point in time we could only source the UK pricing, but take away our 20% sales tax and convert to USD brings it up at $300 or so.
Update: It looks like the GTX 760 Gaming will be $270 in the US.