Overall Performance
The Ivy Bridge CPU that beats at the heart of the Toshiba Satellite U845W isn't the fastest on the block, but it should certainly be adequate. Using a caching solution instead of a dedicated SSD is bound to hurt PCMark scores, but I did find in practice that it was a healthy step up from just having a straight mechanical hard disk in the system. You can at least feel the difference when using the U845W.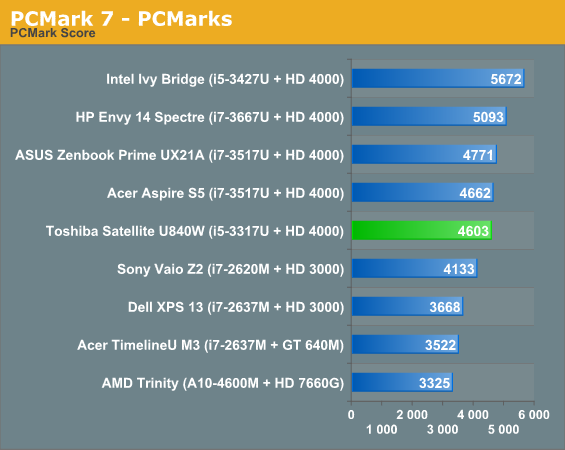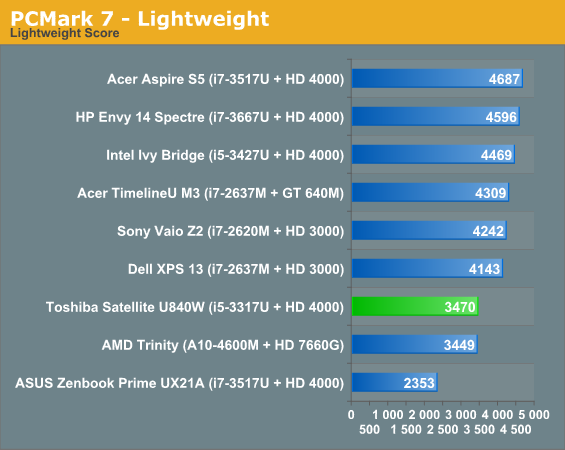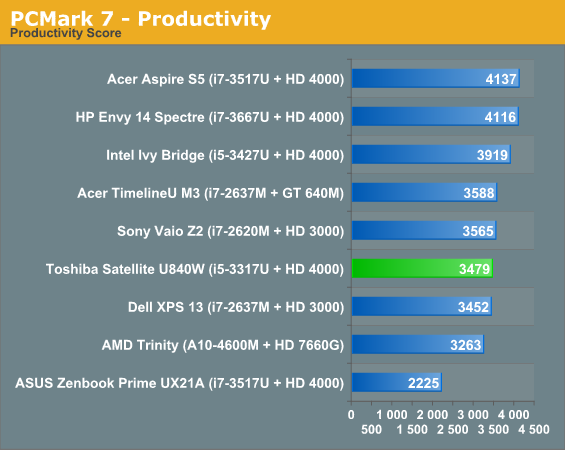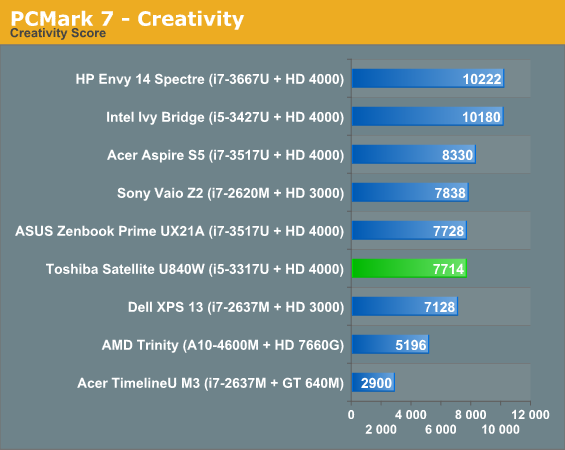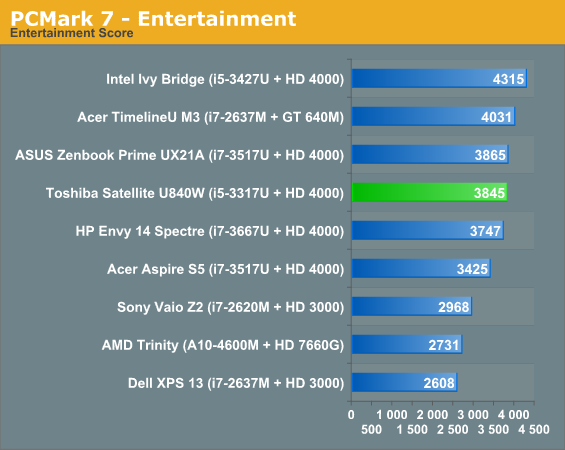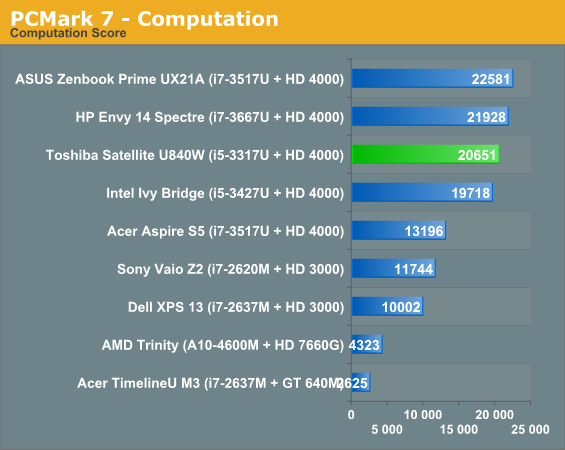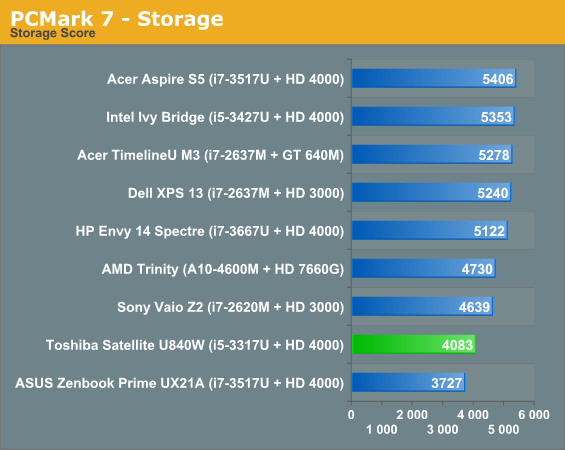 The lack of a dedicated SSD causes the U845W to jump around the charts a bit. PCMark Vantage should hopefully paint a clearer picture.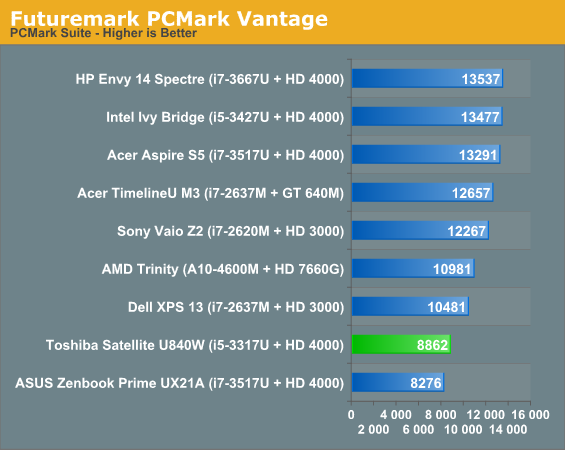 And there it is. Caching helps, but generally a dedicated SSD produces superior performance.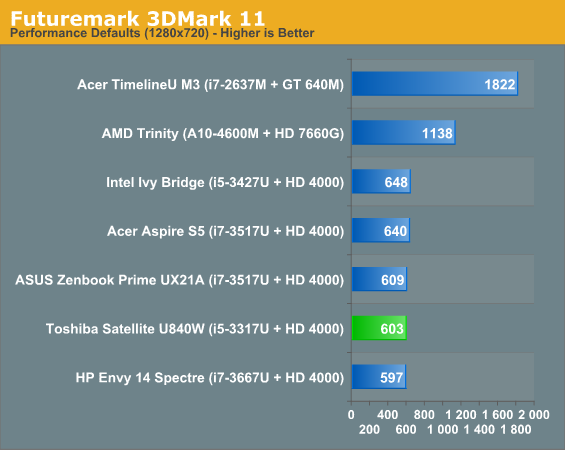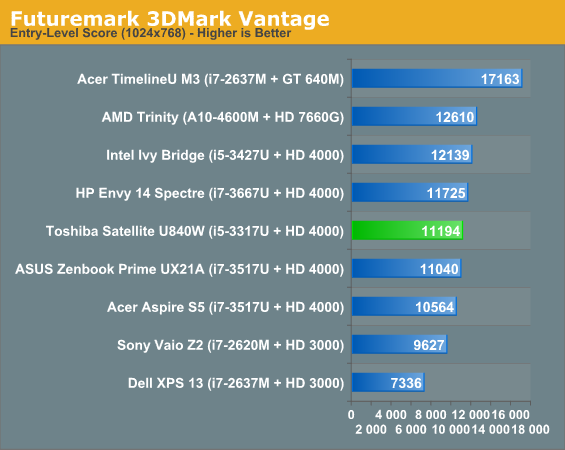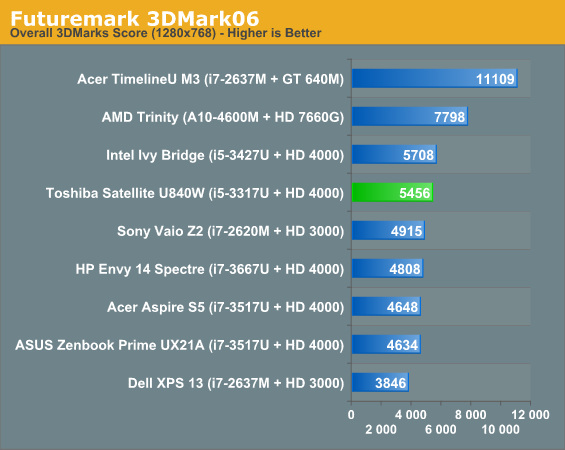 3DMark performance is pretty much where we'd expect it, even a bit better. As you'll see later on, Toshiba's thermal solution for the Satellite U845W is actually a very good one, and that extra thermal headroom is probably allowing the notebook to run in turbo modes for longer than some of the competing designs (as seen in 3DMark06).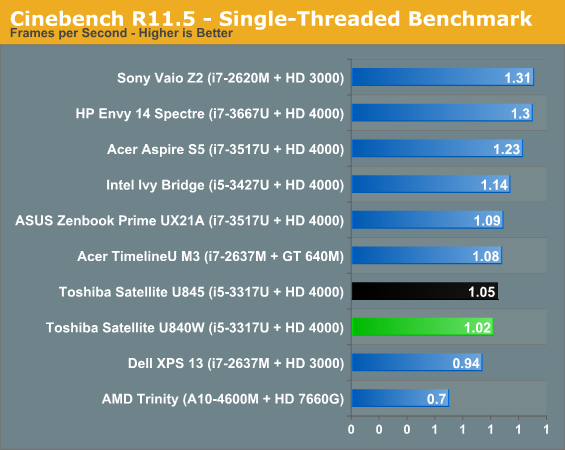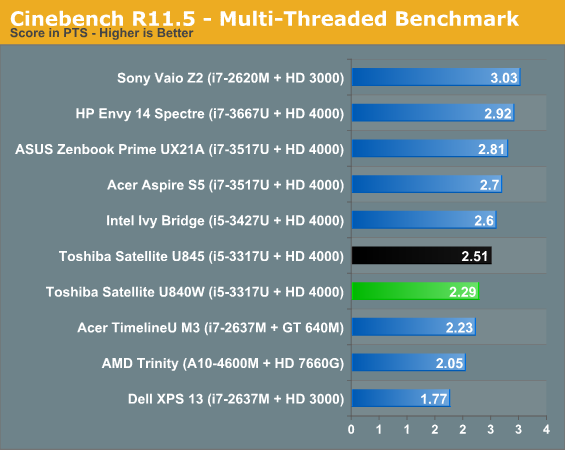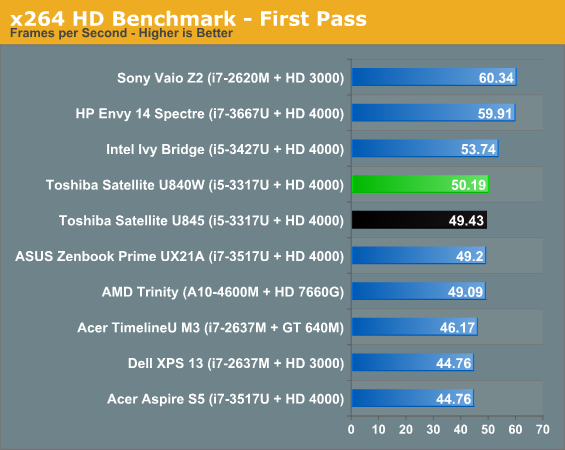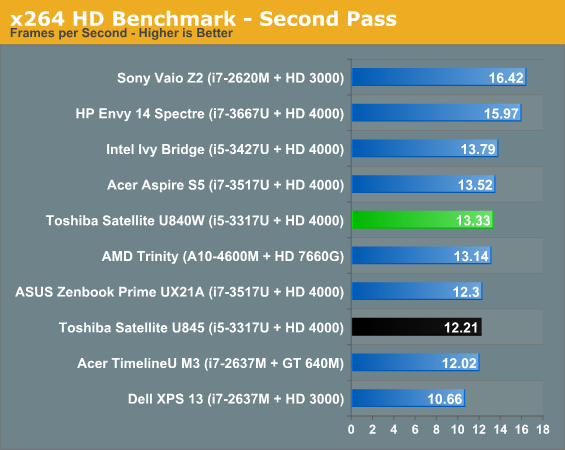 The Satellite U845W and comparable U845 produce fairly consistent scores and are cetainly capable enough notebooks.
While ordinarily I eschew doing gaming benchmarking on HD 4000-equipped systems unless we just don't have enough scores, I'm making an exception with the U845W. The reason is a simple one: the appeal of potentially gaming at a 21:9 resolution. I will say that subjectively games do look really cool on the U845W, and that makes the lack of a dedicated graphics solution a little heartbreaking.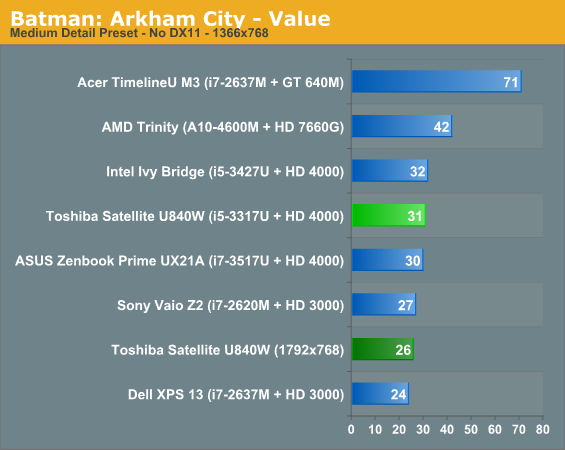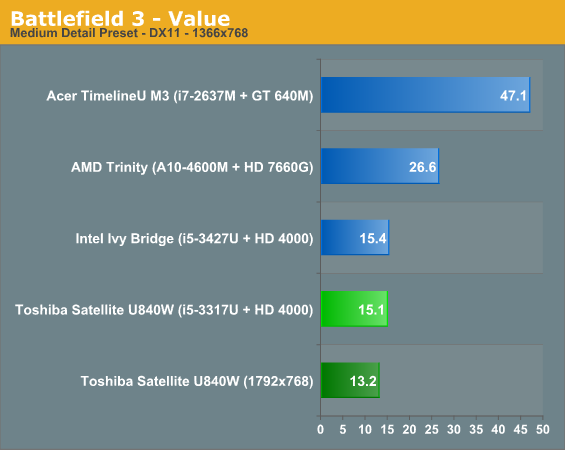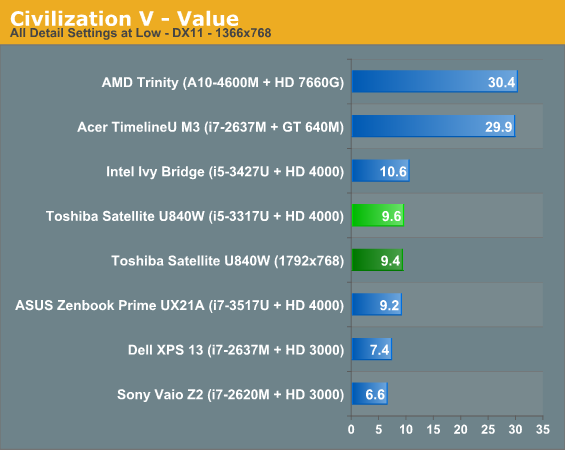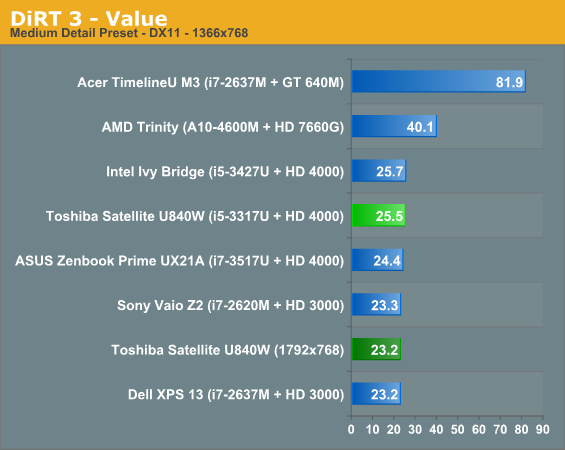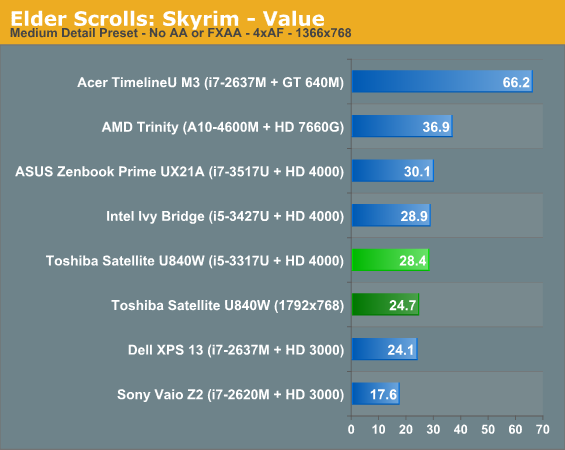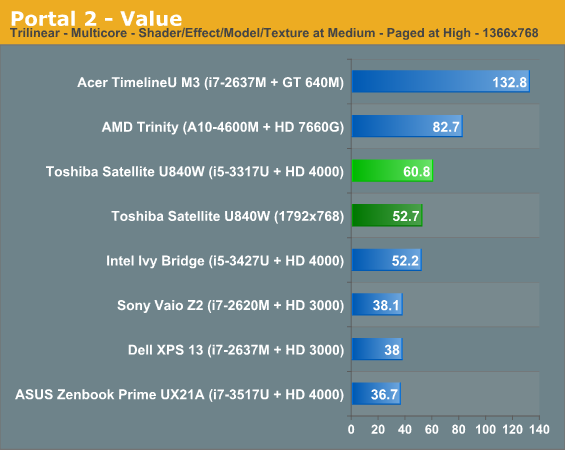 Only Portal 2 offers truly playable performance, but it's worth noting that the increase in resolution doesn't seem to hurt the Ivy Bridge GPU too badly. If you're willing to bring settings even further down, there's a good chance you can make a few of the games here playable. That means the HD 4000 in the U845W will certainly do in a pinch, but I'd love to see Toshiba come out with a model that has even a low end 28nm die-shrunk Fermi in it. Something with just a little more kick than the HD 4000.