One of the main reasons for HTPC purists to override the Intel integrated GPUs was the lack of a proper 23.976 Hz refresh rate. Till Clarkdale, the Intel GPUs refreshed the display at 24 Hz when set to 23 Hz. When Sandy Bridge was launched, it was discovered that the 23 Hz setting could be activated and made to function as intended if UAC was disabled. With v2372 drivers, the disabling of UAC became unnecessary. While this didn't result in perfect 23.976 Hz (locked around 23.972 Hz), it was definitely much better than the earlier scenario.
How does Ivy Bridge fare? The short story is that the behaviour on the P8H77-M Pro board is very similar to Sandy Bridge. As the screenshot below shows, the refresh rate is quite stable around 23.973 Hz. This is as good as the bad AMD and NVIDIA GPU cards.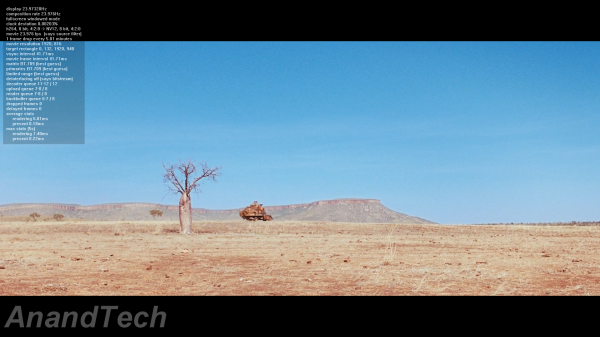 The good news is that Intel is claiming that this issue is fully resolved in the latest production BIOS on their motherboard. This means that BIOS updates to the current boards from other manufacturers should also get the fix. Hopefully, we should be able to independently test and confirm this soon.
It is not only the 23 Hz setting which is off the mark by a small amount. Other refresh rates also suffer similar problems (with videos played back at that frame rate dropping a frame every 5 minutes or so). The gallery below shows some of the other refresh rates that we tested.
Another aspect we found irritating with Intel's GPU control panel is the custom resolution section. Intel seems very reliant on EDID and doesn't allow the user to input any frequency not supported by the display. Our testbed display (a Sony Bravia KDL46EX720) doesn't indicate PAL compatibility in its EDID information. I was able to play back PAL videos with matched refresh rates using the Vision 3D (NVIDIA GT 425M) as well as the AMD 7750. However, Intel's control panel wouldn't allow me to set up 50 Hz as the display refresh rate. It is possible that an EDID override might help, but we can't help complaining about Intel's control panel not being as user friendly as NVIDIA's (despite the availability of a custom resolutions section in the control panel).