The Screen: A Crying Shame
We've seen so many blasé laptop displays over the years that it's hardly noteworthy anymore, but with the XPS 15 and XPS 15z offering good quality 1080p panels, not to mention the Alienware M14x, M17x, and M18x (the M11x being notably absent), we were hoping for a pleasant surprise. Unfortunately, like the defunct XPS 14 L401x, the XPS 14z is packing a decidedly mediocre LCD panel—and there's no current option for an upgraded panel.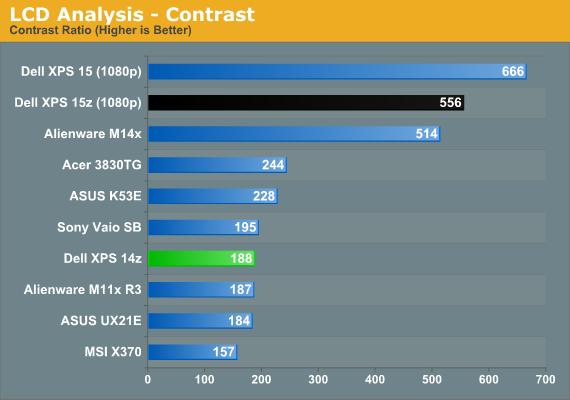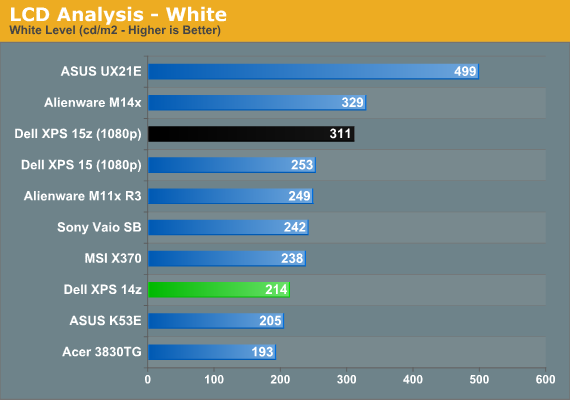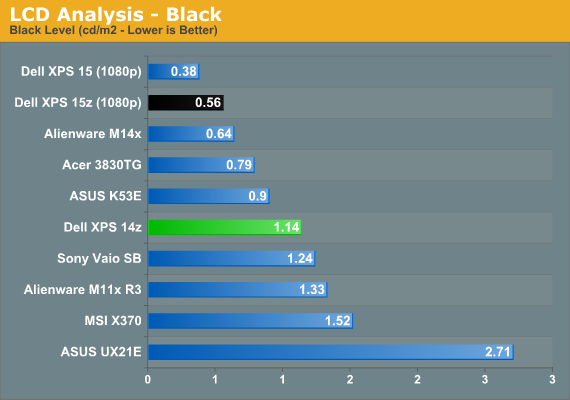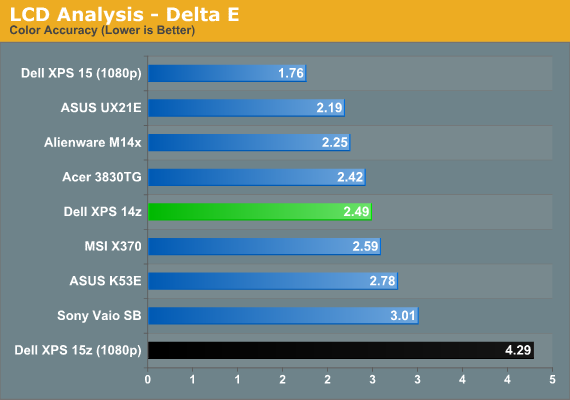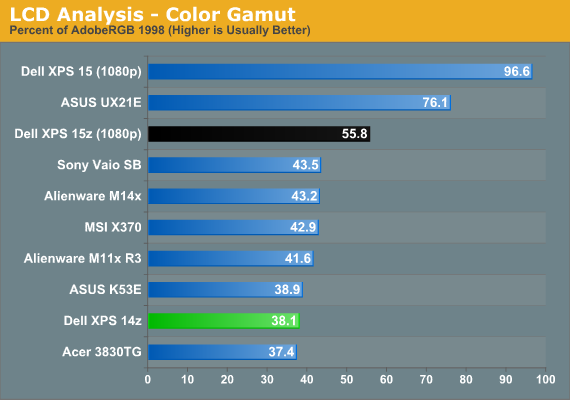 In order of importance, maximum brightness and contrast are the first two areas where we like to see good results. Looking at our global database of laptop displays, only the top third (often in high-end laptops costing $2000 or more) even manage a 500:1 contrast ratio, which is the bare minimum we'd like to see. Likewise, only the top 20% or so manage at least 300 nits maximum brightness. The panel in the 14z ranks in the bottom third for brightness and the bottom 20% for contrast. Not surprisingly, color gamut is also very low, at just 38% of AdobeRGB—that's the fourth lowest gamut we've measured in nearly two years. Given those results, the color accuracy is almost meaningless, though it also rates in the bottom third.
The viewing angles of the LCD don't help the situation. From head on, the display looks fine, and we still like the thin left and right bezels. However, off angle viewing is highly prone to color shift, and vertical viewing angles need to be within about a 10 degree arc to be useful. Compare the viewing angles with the Dell XPS 15z and you'll see why we desperately want the option for an upgraded LCD panel—a 1440x900 display would be ideal.