We're here at HP's webOS 2.1 event in San Francisco. HP has announced a couple of big things today; a tablet (HP TouchPad), a (tiny) smartphone (HP Veer) and a professional phone (the Pre 3), all running the webOS 2.1 operating system.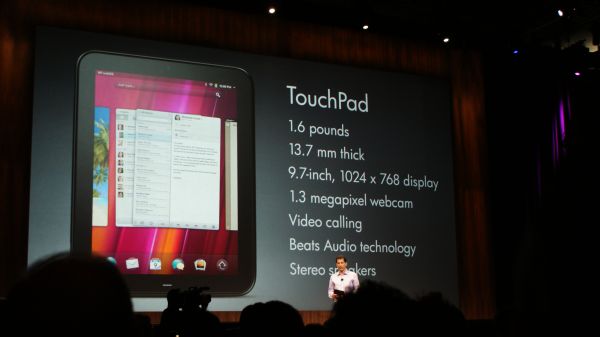 The TouchPad is a 9.7" (1024x768) tablet powered by the Qualcomm MSM8x60 SoC with a 1.2GHz dual-core Scorpion CPU, a 1.3MP webcam, 16 or 32GB storage, 1GB RAM and 802.11 b/g/n. The TouchPad weighs in at about 1.6 lbs and 13mm thick. The TouchPad WiFi-only version will be coming to US sometime this summer with 3G/4G versions and other markets to follow.
Tablet Comparison
Apple iPad
HP TouchPad
Motorola Xoom
Screen Size
9.7-inches
9.7-inches
10.1-inches
Screen Resolution
1024 x 768
1024 x 768
1280 x 800
Weight
1.5 lbs WiFi (680g)
1.6 lbs (730g)
1.6 lbs (730 g)
SoC
Apple A4, single 1.0GHz Cortex A8
Qualcomm MSM8x60, dual 1.2GHz Scorpion cores
NVIDIA Tegra 2, dual 1.0GHz Cortex A9
GPU
ImgTech PowerVR SGX 535
Qualcomm Adreno 220
NVIDIA GeForce ULV
OS
iOS
webOS
Android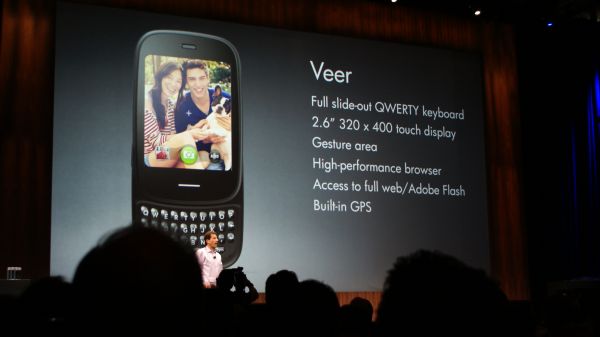 The Veer is a 2.6" (320x400) dimunitive QWERTY slider powered by the Qualcomm MSM7230 800MHz single-core SoC, 5MP camera, 8GB storage, 512MB RAM, 802.11 b/g and it is coming this Spring.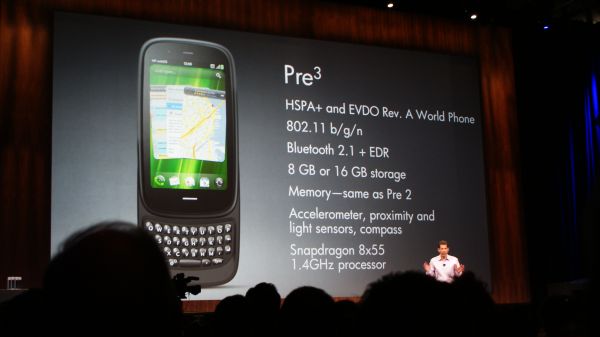 Finally the Pre 3 is a 3.6" (480x800) QWERTY slider powered by the Qualcomm MSM8x55 1.4GHz single-core SoC, 5MP camera with LED flash with HD video recording (and a front facing camera), 8 or 16GB storage, 512MB RAM, 802.11 b/g/n and will be coming this summer.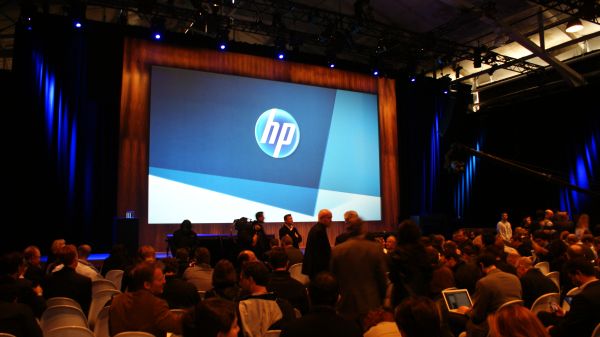 If you want to know more about what new features and updates webOS brings to the table, have a look at our webOS overview article here.
We will follow up with a more detailed analysis of the event and announcements (and there's been a LOT of that) later today, so stay tuned!