Testbed Setup
Overclocking / Benchmark Testbed
Processors
1 x Intel i3-540 - 3.06GHz, 2 Cores 4 threads, 4MB L3 Cache
Intel CULV Celeron Su2300 1.2GHz, 800MHz FSB, 2 Cores, 1MB L3 Cache
Intel Atom 330, 533 MHz FSB, 2 Cores, 1MB L3 Cache
CPU Voltage
Various
Cooling
Intel air cooler, stock motherboard air cooling for IONs.
Power Supply
Enhance ENP-2320 200W PSU, Corsair HX950 (used for 275 GTX)
Memory
CorsairXMS3 CMX8GX3M4A1333C9 DDR3-1333 CAS 9-9-9-24 2x2GB kit
Corsair Dominator GT 8-8-8-24 DDR3-2200 2x2GB kit
Crucial Ballistix BL2566F4N1608 DDR3-1600 8-8-8-24 2x2GB kit
Memory Settings
Various
Video Cards
MSI 275 Lightning (stock clocks)
Video Drivers
NVIDIA 258.96 WHQL
Hard Drive
Western Digital 7200RPM 1TB SATA 3/Gbps 32MB Buffer
OCZ Vertex 120GB SSD
Optical Drives
Plextor PX-B900A, Toshiba SD-H802A
Case
Open Test Bed
Operating System
Windows 7 64 bit
.
We utilized memory kits from Corsair and G.Skill to verify memory compatibility on our test boards. Our OS and primary applications are loaded on the OCZ Vertex 120GB SSD drive and our games operate off the WD Caviar Black 1TB drive. We did a clean install of the OS and applications for each motherboard. For graphics duty, MSI's GTX N275 GPU is used to provide performance comparisons between boards during gaming benchmarks.
ECS's H55H-I mini-ITX board was used to provide the Clarkdale i3-540 numbers, while ASUS's AT3IONT-I was used for the Atom 330 results. We set up each board with platform defaults, and match up primary memory timings and memory frequency. The ION platforms were run at CAS 7-7-7-20 2T DDR3-1333, while the i3-540 Clarkdale was run at 7-7-7-20 1T DDR3-1333. We did not manage to engage a 1T Command Rate on the ION platform as both boards refused to POST with all of our test memory modules, so had to settle for 2T instead.
The natural choice for comparison would be a G6950, unfortunately I don't have one of those in my possession at present so we've had to make do with the i3-540 instead. The G6950 touts a 2.8GHz clock speed albeit lacking Turbo and Hyper threading, so should sit neatly between the i3-540 and SU2300 Celeron results in most benchmarks.
Power Consumption
Our power consumption testing utilizes the same batch of components under similar circumstances in a bid to monitor variances between idle and CPU load conditions. We install the vendor supplied power saving utilities on each board (when available) and enable power saving modes that don't involve any kind of underclocking or CPU core frequency modulation in order to run an apples to apples comparison.
ATX PSU switching losses are absent from our figures because we monitor power consumption directly at the DC rails of the PSU. These figures measure only the CPU, motherboard and memory DC power draw and exclude any other peripherals, such as cooling fans and hard drives etc. AC power consumption at the wall will be anywhere from 15~40% higher than these figures depending upon the efficiency of your power supply.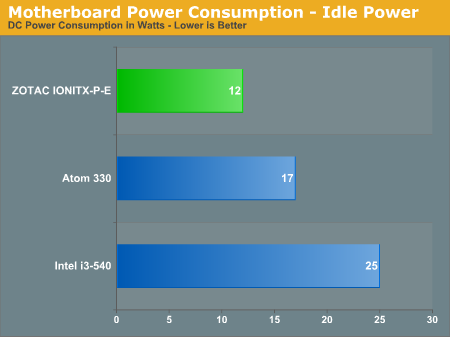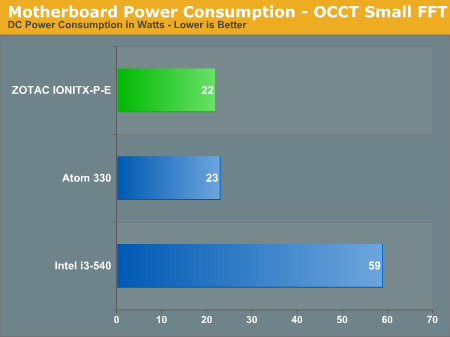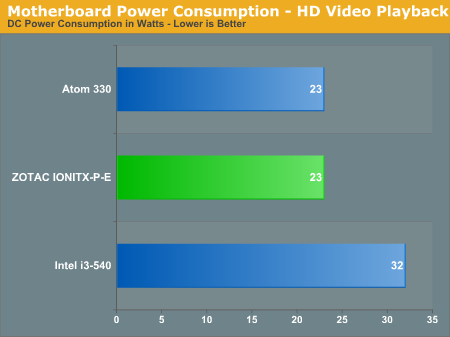 The CULV SU2300 improves on the idle power consumption of Atom. The i3-540 isn't that far adrift when you consider the additional horsepower and 3.06GHz operating frequency. In most loading scenarios, you'll be giving up 10W of power in return for a more capable all-round PC. As we're dealing with desktop systems here and not mobile devices, we think the 10W gap shouldn't be of concern to most users.