DirectX 10.1 on an NVIDIA GPU?
Easily the most interesting thing about the GT 220 and G 210 is that they mark the introduction of DirectX 10.1 functionality on an NVIDIA GPU. It's no secret that NVIDIA does not take a particular interest in DX10.1, and in fact even with this they still don't. But for these new low-end parts, NVIDIA had some special problems: OEMs.
OEMs like spec sheets. They want parts that conform to certain features so that they can in turn use those features to sell the product to consumers. OEMs don't want to sell a product with "only" DX10.0 support if their rivals are using DX10.1 parts. Which in turn means that at some point NVIDIA would need to add DX10.1 functionality, or risk losing out on lucrative OEM contracts.
This is compounded by the fact that while Fermi has bypassed DX10.1 entirely for the high-end, Fermi's low-end offspring are still some time away. Meanwhile AMD will be shipping their low-end DX11 parts in the first half of next year.
So why do GT 220 and G 210 have DX10.1 functionality? To satisfy the OEMs, and that's about it. NVIDIA's focus is still on DX10 and DX11. DX10.1 functionality was easy to add to the GT200-derrived architecture (bear in mind that GT200 already had some DX10.1 functionality), and so it was done for the OEMs. We would also add that NVIDIA has also mentioned the desire to not be dinged by reviewers and forum-goers for lacking this feature, but we're having a hard time buying the idea that NVIDIA cares about either of those nearly as much as they care about what the OEMs think when it comes to this class of parts.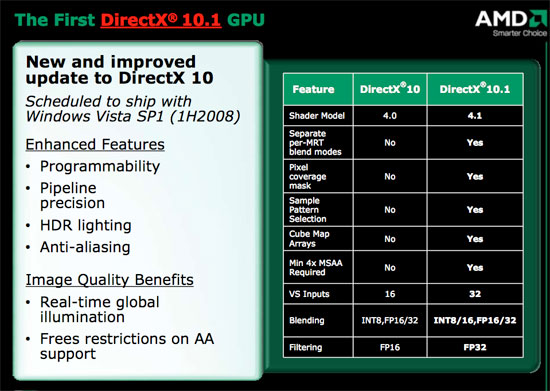 DX10.1 in a nutshell, as seen in our Radeon 3870 Review
At any rate, while we don't normally benchmark with DX10.1 functionality enabled, we did so today to make sure DX10.1 was working as it should be. Below are our Battleforge results, using DX10 and DX10.1 with Very High SSAO enabled.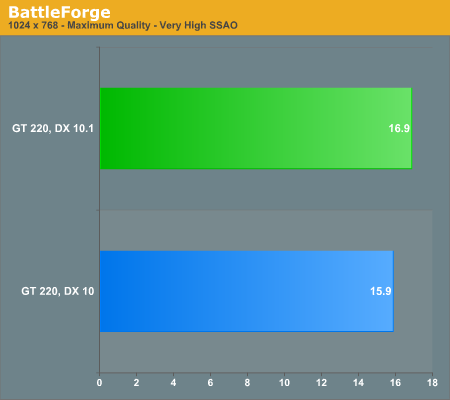 The ultimate proof that DX10.1 is a checkbox feature here is performance. Certainly DX10.1 is a faster way to implement certain effects, but running them in the first place still comes at a significant performance penalty. Hardware of this class is simply too slow to make meaningful use of the DX10.1 content that's out there at this point.