Making Nehalem Affordable: LGA-1156
Take the Core i7, shave off one memory controller and replace the high bandwidth QPI link with Intel's slower DMI and you've got the makings of a (more) mainstream Nehalem.
Many have been calling this processor the Core i5 although I'm not quite ready to jump on that bandwagon, so I'll keep referring to it by its socket (LGA-1156) or codename (Lynnfield).
Intel's QPI is a very fast bus delivering up to 25.6GB/s of bandwidth. The image below shows you how Intel sees it being useful: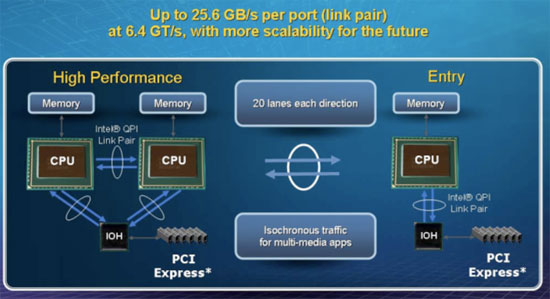 If you've got a multi-socket system (e.g. dual processor Xeon workstation, or Skulltrail successor) or if you've got a lot of high bandwidth PCIe devices (e.g. multi-GPU or lots of Larrabees) then QPI makes a whole lot of sense. However, if you've got a single socket system and aren't running a lot of high bandwidth PCIe devices then QPI is overkill.
Intel's DMI is the link used between the X58 chipset and the ICH10 I/O controller, it's a much more conservative bus capable of delivering 2 - 4GB/s of bandwidth. That's enough bandwidth for things like SATA and USB but a single PCIe x16 slot can deliver 16GB/s of bandwidth, far too much for Intel's DMI.
Instead of crippling graphics on its mainstream platform, Intel did the next best thing and integrated 16 PCIe 2.0 lanes onto the die of its mainstream Nehalem part.
What you get looks like this: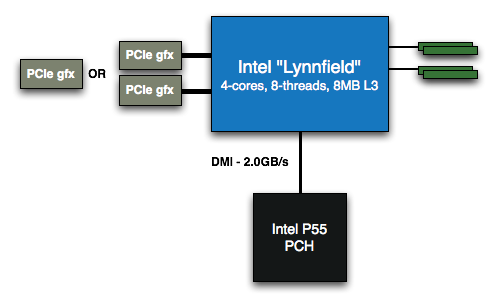 A Lynnfield system only need two chips (CPU + PCH) while a Bloomfield system needs three (CPU + IOH + ICH)
The 16 PCIe 2.0 lanes can be configured as one x16 or two x8, allowing you enough bandwidth and very low latency to do things like CrossFire or SLI. Any additional PCIe lanes will branch off of what Intel is now calling the Platform Controller Hub (PCH). The first PCH is Intel's P55 chipset; all you need is a Lynnfield CPU and the P55 PCH, no additional ICH is necessary as all of that functionality is embedded in the PCH.
The price of Intel's P55 PCH is also much lower than the X58 chipset, in fact P55 is expected to be price competitive with P45 + ICH10. In other words, we should eventually see P55 boards priced at $100 or less.
Getting rid of QPI and one of the three DDR3 channels knocked down the pin-count of LGA-1366, but adding in 16 PCIe 2.0 lanes brought it back up to 1156 which you can count in the socket below: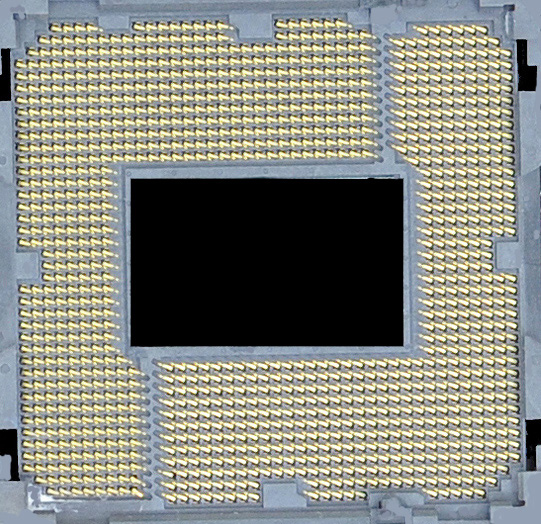 I've blacked out the motherboard around it and the caps in the middle to protect the innocent.