The Hard Drive Wars
Western Digital owns the second largest portion of the hard drive market, trailing only Seagate in terms of total number of drives shipped. The company accounts for roughly 21.5% of global hard drive sales, which puts it a long way from either taking the lead from Seagate (34.6%) or losing its seat to third-place Hitachi, which is at 17.2%. These numbers have remained fairly consistent for the past year, and hide what has become a fiercely competitive fight for the most lucrative portions of the market.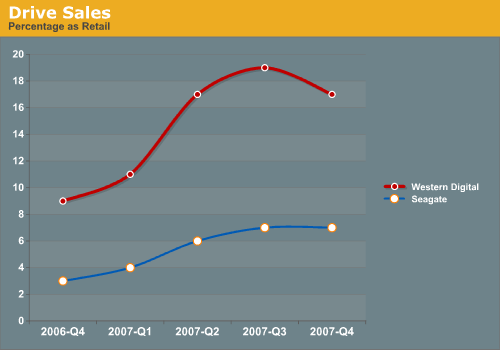 Sales to OEM customers (that is to say, companies which buy large quantities of drives in bulk to put into computers or other devices) tend to be substantially less profitable than packaging drives in attractive boxes and selling them individually to consumers. OEM customers have entire departments devoted to squeezing pennies from manufacturers when negotiating these large buys, whereas a typical end-user has very limited influence over the price they pay for their drives. As the chart shows, both Western Digital and Seagate have dramatically reduced their percentage of sales to the OEM category, and are putting significant effort into expanding their retail presence in the market.
While retail consumers are largely unable to negotiate prices, they are generally more selective than OEMs in terms of the features they want from their drives. This has led to manufacturers focusing on improving the drives they market to end-users, and the resulting benefits in terms of capacity, performance, and feature sets have been obvious.
Western Digital's SE16 Line
Officially designated as being intended for high-performance desktop applications, the SE16 takes WD's mainstream SE line one step further by increasing the drive's cache to 16MB (vs. 8MB in the SE line), and adding WD proprietary technologies like SecurePark and Preemptive Wear Leveling (PWL). The resulting specifications allow for a 20% faster transfer rate (buffer to disk) than similar drives found on Western Digital's SE line, as well as a notable reduction in power consumption. These factors, combined with Western Digital's decision to extend the warranty of all Caviar-class drives purchased after August 1, 2007 to 3 years, gives Western Digital a powerful combination in their continued push for more retail market share.