Almost two months ago the prototype for what became known as the Thermalright Ultra-120 eXtreme showed up on our doorstep. The review of the excellent
Ultra-120
was just finished and that cooler moved to the top of our performance charts along with the Tuniq Tower 120 and some specialized configurations of a few other coolers.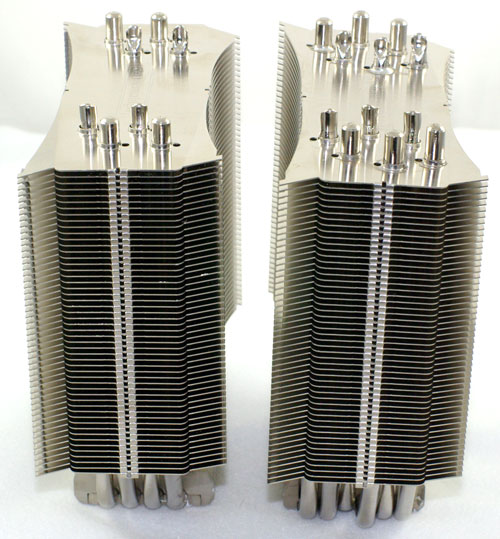 The eXtreme added two more heatpipes, for a total of six, but it was otherwise just like the Ultra-120 as far as we could tell. We didn't expect that much improvement over the already excellent Ultra-120, but many of you will recall that the prototype tested in the
Thermalright Ultra-120 eXtreme preview
set new records in air cooling. This was clearly the best air cooler ever tested in the AnandTech labs. The cooler prototype was not perfect, however. There was what we considered a major issue with the socket 775 mount, which needed to be bent to fit between the heatpipes and then straightened again. We suggested this needed to be fixed by Thermalright for the production version of the eXtreme.
It has been almost two months since our first look at the Thermalright Ultra-120 eXtreme, and the cooler is now in full production at Thermalright. You should start to see units for sale in the next few days. Thermalright advised us that they have fixed the issue with the socket 775 adapter. We were also advised that several minor refinements were made in the design of the eXtreme. Normally the availability of the production part would merely be a comment to another article or something for AnandTech Forum discussions. However, this cooler has generated a huge amount of interest simply because it performed better than any we have tested. For that reason, we felt we should take another look at the production unit, to make certain the mounting was corrected and to confirm the outstanding performance we first saw in the prototype.
Thermalright offered to ship us a retail production unit, so this is an update based on the production Ultra-120 eXtreme. We also retested the production unit to see if a second Thermalright Ultra-120 eXtreme - this one a retail unit - would perform just as well as the eXtreme prototype. We even tested with the same Scythe S-FLEX fan used in our first tests.
Coolers are less subject to production changes that degrade performance than motherboards are; we have at times found great prototype motherboards that proved less than stellar when finally in full production. For our readers, we felt a second test would confirm that the Thermalright Ultra-120 eXtreme you buy will deliver the same chart-topping performance than we found in testing at AnandTech, so today we are testing the retail production sample.