Improving system cooling has been a basic part of improving system performance since overclocking began. To squeeze more performance out of computer components users found ways to run them faster than specified. When they hit walls that prevented going even faster they found ways to better cool the components. The better cooling allowed for running the system even faster until another wall was encountered.
The quest for better cooling has been very creative, with solutions as simple as added fans, progressing to larger fans and heatsinks, peltier (thermoelectric cooling), water cooling, and finally the king of cooling - phase change. There are also the truly "benchmark only" cooling solutions like liquid nitrogen cooling. This is certainly not usable in a normal computing environment, but it is a favorite with competitive benchmarkers - who seem to live for the top of the ORB or the highest benchmark scores. This type of cooling is mainly built by the benchmarker and exists for that fleeting benchmark record that will be broken tomorrow by another benchmarker.
As cooling complexity goes up, so does the associated cost. At the extreme end you will find some top phase change units selling for $2,000 or more. You have to be a very serious overclocker or benchmarking enthusiast to invest that kind of money in cooling. Fortunately, you can achieve significant improvements in system cooling and overclocking for a lot less money. The sophistication of cheaper air and water cooling solutions has improved in recent years, and there have also been genuine efforts by the cooling industry to deliver better cooling performance at a lower price point.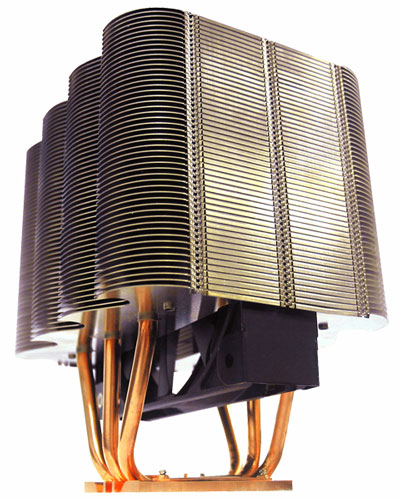 The Tuniq Tower 120 is one example of this. As imposing as the multi-finned, heat-piped Tuniq looks it is worth keeping in mind that the total cost of the Tuniq kit is only about $50. The question we will try to answer in this review is whether the Tuniq is effective at improving CPU cooling? If so, does the improved cooling allow higher overclocks than a stock cooling solution? Finally, the impact on system noise will be measured.