Mid-Range DDR2-800 from G.Skill
Many readers have been looking for DDR2-800 as memory prices sky-rocketed over the last couple of months. Now that memory prices are dropping, there is less pressure to save money with DDR2-800 instead of top-line DDR2-1000 or DDR2-1066. However, the question still remains whether a step down to DDR2-800 will save a few bucks while delivering performance about as good as the top DDR2 memory.
Almost every major memory manufacturer has DDR2-800 parts, but the ones of greatest interest to hobbyists are those from well-known high-end memory makers. G.Skill seemed to come out of nowhere a couple of years ago to establish themselves as a manufacturer of enthusiast memory. They got exposure and won credibility with Forum targeting and a sharply focused advertising campaign. G.Skill distributes a full line of desktop and notebook memory products, and the line includes a 2GB DDR2-800 4-4-4 kit at a mid-level price in the $300 range.
G.Skill DDR2-800 Specifications
Since it has only recently appeared on the US and European scene, it was a little surprising to find that G.Skill has been producing memory products since 1989. Manufacturing is based in Taipei, Taiwan and G.Skill serves memory markets in most of the world. The
G.Skill website
provides English, German, Chinese, and Korean versions - typical of the Taiwanese websites that cater to world markets.
As you will see on the website G.Skill targets the computer enthusiast, with a strong emphasis on overclocking and extreme performance. The DDR2 product line includes kits rated from DDR2-533 to DDR2-1067. DDR2-800 kits include both 1GB (2x512MB) and 2GB (2x1GB) kits rated at 5-5-5-15, 4-4-4-12, and 3-4-3-8.
Competitive with other high-end memory makers, G.Skill provides a Lifetime Warranty with their memory products. The RMA form can be accessed at the web site. Technical support and a Users Forum are also available at the website.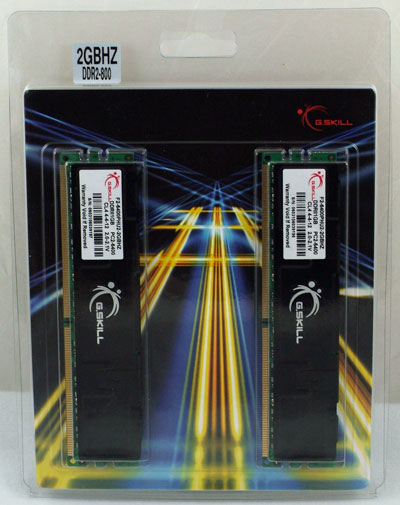 To satisfy readers' requests for a mainstream DDR2-800 memory product we selected the DDR2-800 2GB kit rated at 4-4-4-12. You can also buy cheaper DDR2-800 G.Skill kits at e-tailers like
www.newegg.com
. A 2GB G.Skill 5-5-5-15 kit sells for $210 to $260, some $40 to $90 less than the faster 4-4-4-12.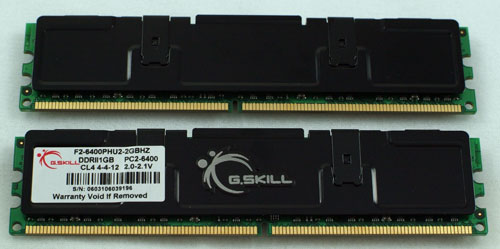 The G.Skill F2-6400PHU2-2GBHZ 2GB kit is supplied with attractive gloss black heatspreaders with a G.Skill logo in brushed metal. Many G.Skill DIMMs do not even have heat-spreaders, and G.Skill seems to reserve the heatspreaders for their top memory.
G.Skill builds their DIMMs with Micron D9 memory chips - the same chips we have described as top performers in every recent high-end memory review. However, the binning for these chips is a bit different. G.Skill uses Micron D9GMH chips rated at 333, 3ns in this 4-4-4-12 DDR2-800 kit. Most top-end DIMMs use D9GKX chips which are binned for higher specs. Still, with Micron D9 chips, we expect excellent overclocking with these G.Skill DIMMs.
G.Skill F2-6400PHU2-2GBHZ Memory Specifications
Number of DIMMs & Banks
2 DS
DIMM Size
1GB
Total Memory
2 GB
Rated Timings
4-4-4-12 at DDR2-800
Rated Voltage
2.0V to 2.1V
While top-end Micron memory chips have easily delivered 3-3-3 timings at DDR2-800, G.Skill rates this memory kit at slower 4-4-4 timings. The good news, however, is the more modest 2.0V-2.1V specification for memory voltage. This is much lower than the 2.2V-2.3V that is normally required for DDR2-800 at 3-3-3 timings. It also represents memory voltages that are normally available even on more basic Core 2 Duo and AM2 motherboards.
The memory chips are slower bins from the best chips available. Timings are a bit slower and voltage specs are more reasonable. The question remains whether the G.Skill DDR2-800 4-4-4-12 kits are a top-of-the-line memory in disguise, or whether there are compromises to top performance? Does the cost/performance of these DDR2-800 modules represent real value to buyers?