The ASUS A8R32-MVP has been a lightning rod of discussion on the Internet since its release over a month ago. After receiving extremely positive reviews by the vast majority of websites at launch, the board acquired a somewhat tarnished image within the enthusiast community shortly after retail availability.
Why the tarnished image? A number of issues surfaced after users had time to utilize the board and experiment with varying component combinations. Issues ranged from the boards inability to properly power-up while in an overclocked condition, ASUS applications and Creative drivers not playing nice together, a humming turning to whining noise when utilizing certain memory modules, game play lag while online, stuttering in graphic intensive games, random benchmark scores, RAID 5 issues with the ULi SATA controller, poor HTT overclocks with synchronous memory settings.... You can start to understand the type of issues early adopters faced with this board.
While the majority of these issues were quickly rectified by ASUS with the 0311 BIOS release a few weeks ago - or in some cases like the humming memory, replacement units - the board's reputation continued to be in question when it came to enthusiast level overclocking. It was not so much the board's ability or not to reach high HTT levels but rather its inability to run memory synchronously at the upper HTT levels. In fact, users have experienced issues reaching the 300HTT level, considered the minimum HTT overclock setting now for an enthusiast board, with a synchronous memory ratio and command rate setting of 1T.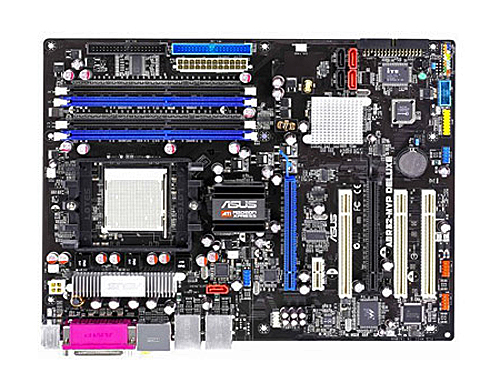 ASUS, along with assistance from ATI, spent the last couple of weeks working on a BIOS update that would further improve the board's compatibility with a broad range of memory types, CPUs, and memory controller revisions, but more importantly to the enthusiast, improved overclocking capabilities. The result of this work is the recently released BIOS 0404 that can be
downloaded from ASUS' website
. While there are not any new BIOS options or layout changes since the 0311 revision, significant work has progressed on the underlying core that has reportedly improved HTT overclocking levels and memory compatibility.
Our article today looks at the improvements we discovered in overclocking our retail board along with some interesting results along the way. We will not be reviewing the features or general aspects of the board again but will instead focus our efforts on the results obtained with BIOS revision 0404 while operating the memory in synchronous mode. We will refer to the synchronous memory settings as 1:1 memory ratios in the balance of the article for simplicity and the fact this term is still widely used. If further information and details about the Asus A8R32-MVP capabilities are required you can
refer to our initial review
.
Now let's take a closer look at the testing results of the new BIOS and figure out if progress has been made or not.