The Beginning
Our journey starts in receiving, this part of the process actually has nothing specifically to do with your order but what's done here makes the rest of the process infinitely easier. Shipping trucks will pull up to the warehouse and unload cargo pallets filled with computer products. A pallet is a wooden or plastic platform that can be picked up using a forklift; palletized cargo is cargo placed on a pallet, which is how Newegg's inventory is shipped to them.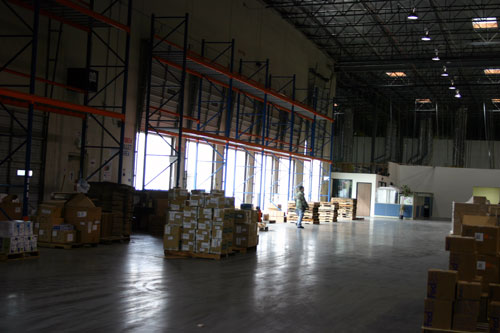 Once the pallets are received and unpacked they are sent off to receiving, which is a mere 30 feet away. The pallets don't just magically appear at Newegg, they are ordered from a set of offices and cubicles attached to the warehouse: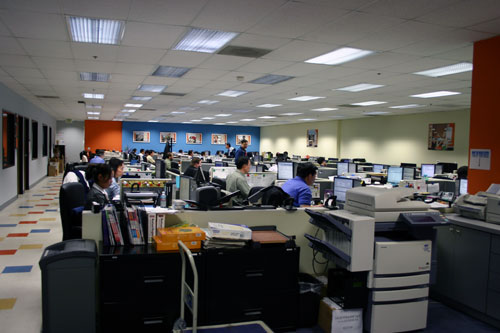 Click to Enlarge
What you see in the picture below are a few Newegg employees at computer terminals surrounded by hundreds of boxes. What they are doing is scanning each and every item that comes into Newegg. If it's a retail product, such as a boxed AMD CPU, then the retail barcode is used and information is attached to it. If it is an OEM product, such as an OEM AMD CPU, then Newegg will create their own barcode for the product. The bar-coding process is quite important because Newegg's system actually associates a great deal of information with each barcode.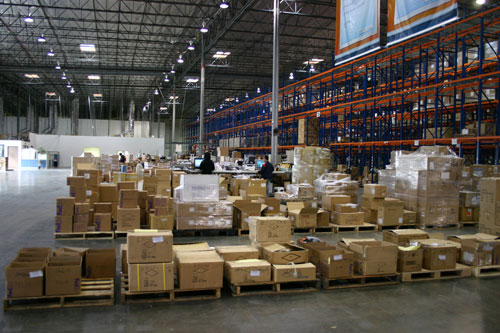 Click to Enlarge
For every product that's scanned not only are its specifications entered into the system but so are its physical dimensions and the weight of the product. The importance of this is that when your order is placed, Newegg's system knows exactly what size box(es) to ship your order in as well as how heavy your order will be. After your order is complete and before it is boxed up, the weight of the order (as well as the barcodes on each item) is checked against Newegg's database to make sure that you are indeed getting what you ordered.
In the far left corner of the picture above is a station where Newegg will take pictures of any new products coming into their warehouse, which end up being listed along with the product on their website.
After the products are received by Newegg, they are then sent to one of two places - the staging area or "the racks" where actively shipping product is organized and ready for orders that are being placed immediately.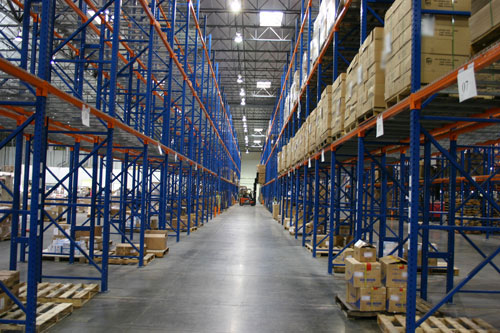 The picture above is closest to the receiving area, and thus is the emptiest of the staging area. Newegg's facility here is no where near full capacity but also important is the fact that Newegg doesn't keep product for very long at all, which allows them to usually take advantage of the best pricing possible and in turn offer highly competitive prices to their customers.
The farther away you get from the receiving area, the more crowded the warehouse becomes: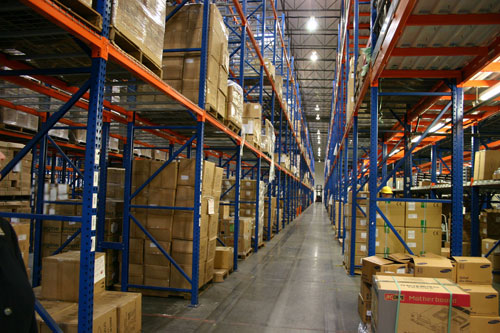 Click to Enlarge