This year we have seen a very heated competition between ATI and NVIDIA for dominance in the desktop GPU market. With NVIDIA making a very strong comeback thanks to their NV4x architecture, it was only a matter of time before we saw NV4x filter its way down to NVIDIA's mobile designs.
Not too long ago, NVIDIA's mobile GPUs were a joke as far as market penetration was concerned. More recently, NVIDIA has made some gains but still yields to ATI as the dominant force in the discrete mobile GPU market. Today, NVIDIA is hoping to start to further erode ATI's mobile market share with the release of their very first NV4x derived mobile GPU - the GeForce 6800 Go.
As its name implies, the 6800 Go is a derivative of NVIDIA's flagship GeForce 6800. More specifically, GeForce 6800 Go is a mobile version of the desktop 12-pipe GeForce 6800 GPU, code named NV41M. The architectural features are identical between the GeForce 6800 Go and the desktop GeForce 6800, the only difference being power management features and clock speeds.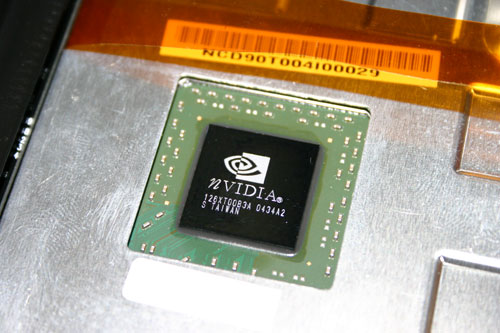 The GeForce 6800 Go is available in both 128-bit and 256-bit memory configurations with up to 256MB of memory on a MXM module (mobile PCI Express module); the notebook we tested did not use the 6800 Go on a MXM module although other designs are expected to use MXM.
The clock speeds of the GeForce 6800 Go will vary depending on the actual notebook vendor, but there are two basic configurations: 300/300 and 450/600 (core/memory). The difference in the two configurations mainly boils down to the type of memory used - DDR1 or DDR3, with the faster configuration being a DDR3 one.
Being that we are talking about a very high end (and thus high power consumption) GPU, it is no surprise that the GeForce 6800 Go is only going to be found in very large desktop replacement (aka Transportable) notebooks. These are the types of notebooks with 17" widescreen displays and have no qualms about tipping the scales at over 10 lbs. These are the "take your work home with you" types of notebooks, or the closest thing to a PC iMac equivalent. NVIDIA will eventually release mobile versions of its mid-range and low-end GPUs, but the easiest thing is to start high and work their way down.
One of the most impressive things about today's launch is that the GeForce 6800 Go is actually available today in notebooks that are shipping immediately. Our review notebook, the Sager NP9860 should be available at the time of publication. Notebooks from Alienware, Falcon Northwest, Prostar and Voodoo should also be shipping today, with others following shortly. While this may not sound like a big deal, if you've ever followed a mobile GPU launch, it is usually several months before we see mobile GPUs actually used in laptops, not days and definitely not immediately. So the magnitude of today's launch and availability is definitely not to be under-spoken.
While NVIDIA would like to think that they have this launch to themselves, ATI is actually cooking up a competing product based on their desktop X800 offering for launch in about two weeks. ATI's competing part has yet to be branded, but you can expect it to be some variation of the X800 name - internally it is known as M28. Considering that the mobile Radeon 9800 was called the Mobility Radeon 9800, you can pretty much guess what the M28 will be called.
M28, just like the GeForce 6800 Go, is a 12-pipe version of their desktop high-end X800 part. The GPU will be available in 128-bit and 256-bit versions (up to 256MB of memory), with clock speeds of 400MHz core and with 400MHz GDDR3 memory; ATI is expecting some vendors to actually implement M28 clocked at 450MHz. Although vendors could develop an MXM version of M28, more than likely you'll see mobile PCI Express modules used as the standard of choice for implementing the M28. Our review sample did not use a PCI Express board, rather a custom board design, but here's a shot of M28 on an AXIOM PCI Express board: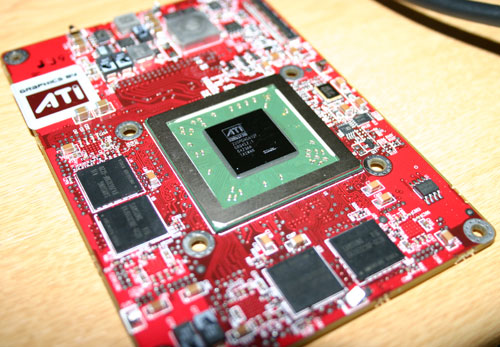 The beauty of MXM/AXIOM PCI Express based designs is that it does contribute to reduced time to market, as all you'll need is to implement the board connector and ensure proper cooling in order to implement a new GPU. While in theory MXM/AXIOM designs would allow for upgradable graphics on notebooks, increasing the flexibility of manufacturers to offer multiple GPUs on a single notebook is much more likely to be a real world benefit of the technology.
With the GeForce 6800 Go and ATI's M28, we essentially have another 6800 vs. X800 comparison on our hands, this time in the mobile sector.