Comparing Sockets: 939 vs. 940 vs. 754
To get a clearer idea of exactly what Socket 939 brings to the performance table, we brought some real test results to some of the speculation that has been brewing on the web as to whether 939 is really faster than 754. We suspect our objective tests of Socket 939/940/754 will fly in the face of some of the absurd speculation and sloppy test results that are being posted about the new Socket, but the truth is rarely as exciting as controversies created to stand out from the crowd.
The comparison is simple - there are the 3 sockets that all have processors that can run at 2.2Ghz. To keep the comparison as fair as possible we tested the 3 sockets -754, 940, and 939 with 3 processors with 1MB of on-chip cache all running the same 2.2GHz speed . This gave a head-to-head comparison of the single-channel memory controller of Socket 754 to the Dual-Channel Registered Memory of 940 to the latest Dual-Channel Unbuffered Socket 939.
Sockets were compared using the standard motherboard test suite to give a broad comparison of performance. General Performance was compared using Veritest Multimedia Content Creation 2004 and Business Winstone 2004. results were also compared in PCMark 2004.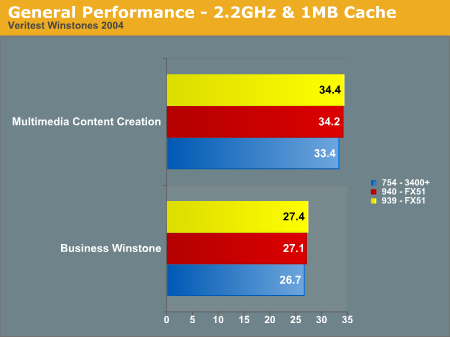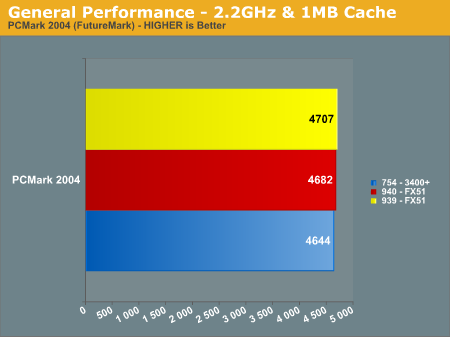 Winstones are usually very static at a given CPU speed on a processor. Even wide variations in memory bandwidth and graphics performance rarely have much impact on the Winstone scores. The increases in Winstone scores were only 2.6 to 3% from 754 to 939, but the pattern was very consistent with 939 the fastest, 940 close to 939 and 754 slower than either socket for dual-channel memory. PCMark 2004 was an even more modest spread of 1.4% from slowest to fastest 2.2GHz.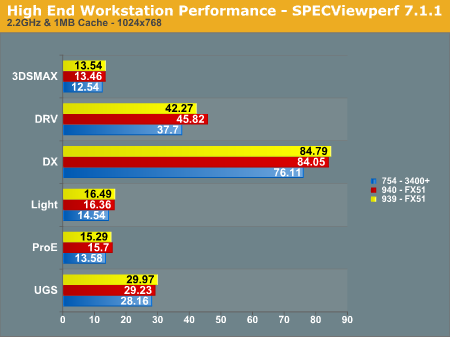 Workstation performance is more sensitive to memory bandwidth, and we do see a wider range in variation among the 2.2GHz processors in SPECviewperf. 754 to 939 ranged from +6.5% in UGS to an 11.4% increase in DX. Considering the CPU's are all the same core at 2.2GHz this is a wide variation just from different memory controllers. The pattern was the generally the same fastest to slowest of 939-940-754, except 940 did outperform 939 in a couple of the SPECviewperf benchmarks.