Core
Acer announced one of the company's thinnest and lightest 15.6-inch class laptops at its annual Next@Acer event. The laptop packs Intel's latest Core CPU and can work for a day on a single charge. Meanwhile, it weighs less than 1 kilogram (2.2 pounds) and is comes in a relatively thin chassis made of rather rare alloys. The Acer Swift notebooks are aimed primarily at road warriors who value portability and low weight above many other things, but also still care about performance to a degree. The new Acer Swift 5 comes in a specially-designed chassis featuring top and bottom covers made of magnesium-lithium alloys to ensure a low weight and the palm rest cover made of a magnesium-aluminum alloy to make it sturdy, the manufacturer...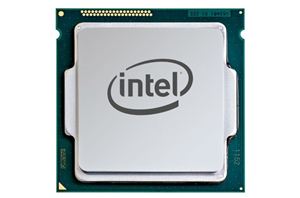 Intel this week released its new Rapid Storage Technologies drivers, and thanks to their associated release notes, Intel has indirectly confirmed their upcoming Z390 and X399 PCHs. The drivers'...
26
by Anton Shilov on 4/26/2018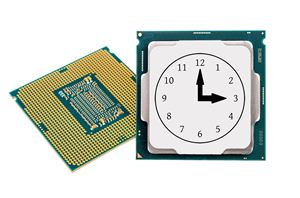 Last week, we published our AMD 2nd Gen Ryzen Deep Dive, covering our testing and analysis of the latest generation of processors to come out from AMD. Due to...
242
by Ian Cutress & Ryan Smith on 4/25/2018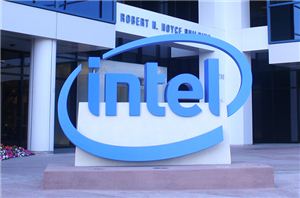 Taking place this week is the annual RSA conference, which has evolved to become a major trade show for security products and technologies. As one might expect, it's also...
36
by Anton Shilov on 4/17/2018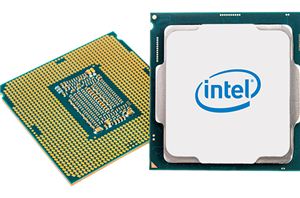 Intel has recently added eight unannounced desktop Coffee Lake processors to its MDDS (material declaration datasheet) database. Three new chips belong to the Core i3/i5 lineup are targeting mainstream...
11
by Anton Shilov on 2/7/2018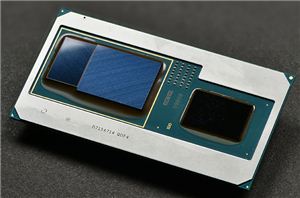 Intel's Performance Numbers *Disclaimer: All performance numbers in this section are from Intel and have not been independently verified On the face of it, this new product is a 7th Generation...
66
by Ian Cutress on 1/7/2018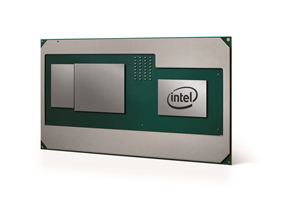 Today Intel (and AMD) are announcing a partnership to create processors using Intel's high-performance x86 cores, AMD Radeon Graphics, and HBM2 within a single processor package using Intel's latest...
254
by Ian Cutress on 11/6/2017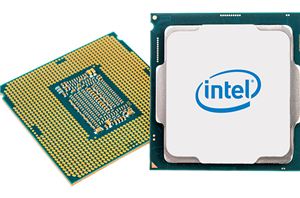 A new update to the Intel document for software developers indicates that the company will begin to introduce various AVX-512 instruction set extensions to its consumer CPUs soon. This...
49
by Anton Shilov on 10/19/2017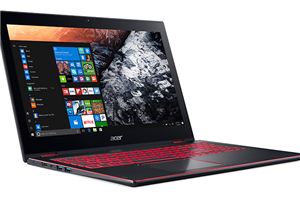 Acer has introduced one of the industry's first convertible notebooks designed for casual gamers. The Nitro 5 Spin machine is a rather unusual form-factor. It has a 15.6" IPS...
22
by Anton Shilov on 8/23/2017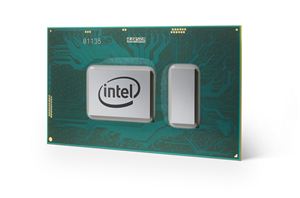 This year has been enjoyably eventful for processor releases. Intel launched their 7th Generation processors, Kaby Lake, in January. Then we had AMD release their new high-performance microarchitecture in...
146
by Ian Cutress on 8/21/2017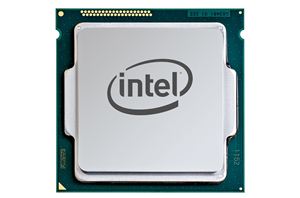 In an unusual move for Intel, the chip giant has ever so slightly taken the wraps off of one of their future generation Core architectures. Basic information on the...
106
by Ian Cutress on 8/15/2017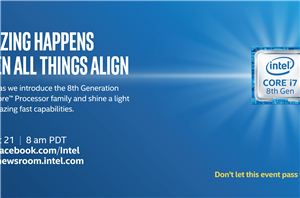 Today Intel has revealed that the company will be announcing their 8th generation Core processors and associated architecture on August 21st. This announcement of an announcement comes as the...
64
by Ryan Smith on 8/8/2017
At CES 2017, Intel introduced a new form-factor for computing platforms in order to enable easy development, configuration, maintenance, repair and upgrade of various devices. Intel's Compute Card is...
35
by Ganesh T S & Anton Shilov on 1/11/2017