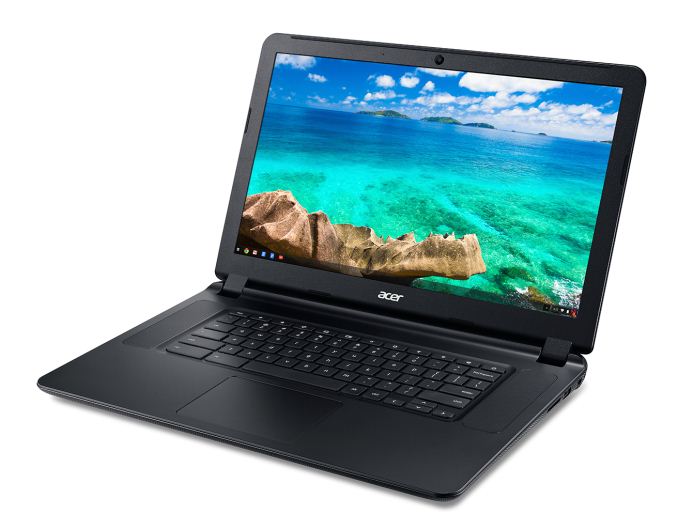 This morning coinciding with the FETC (Florida Education Technology Conference), Acer announced two new Chromebooks with enhanced durability targeted at education customers, the C740 and C910. Both feature reinforced covers that can withstand up to 60kg of force and corners that can withstand a 45cm drop, and they also have reinforced hinges, making them better suited to the rigors of life in a back – or in the hands of a careless student.
As far as the hardware, the C740 is the updated iteration of the C700 series, with the above durability enhancements along with some changes to the internal components. The latest models sport 5th Generation Intel Core processors up to the i3-5005U, along with the next-generation Celeron 3205U, both of which use the new 14nm Broadwell-U architecture. I know one of the complaints with the C720 and earlier Acer Chromebooks was that the keyboard wasn't all that great, and with the apparent reuse of that chassis it's difficult to say if Acer has made any changes to the feel of the keyboard – the Chromebook 13 as an example has a much better keyboard feel. However, Acer does note that "the keyboards were designed for an excellent typing experience for students, some who are still learning keyboarding skills" so there's some hope that the C740 has updated this element.
Other than the processor upgrade, most of the other elements of the 11.6-inch C740 look to be unchanged. It features a compact size with a 1366x768 display, ideal for packing it into backpacks and carrying around in 1:1 educational institutions (i.e. where each student has their own assigned Chromebook). It measures 288 x 204 x 20.05 mm (W x D x H) and weighs 1.3kg. Battery life is rated at up to nine hours and it will be available in 2GB and 4GB RAM configurations with 16GB of eMMC storage. Other features include 2x2 802.11ac WiFi, Bluetooth 4.0, one USB 2.0 and one USB 3.0 ports, SD card reader, and a full size HDMI port. Pricing starts at $260 for the base model with availability next month, and considering the C720 with Celeron 2955U remains one of the fastest Chromebook options the C740 should be one of the fastest Chromebooks available.
Moving up to the C910, this is a new model that appears to borrow the core design from the Chromebook 15 Acer announced last month, with an updated cover and a dark grey aesthetic instead of eggshell white. Like the C740 it supports Broadwell-U processors (Core i3-5005U or Celeron 3205U), but it comes with a larger 15.6" display. Acer notes that the larger display size makes it better for situations where the laptop might be shared among multiple students, as it's less likely to be carried around in a backpack. Along with the larger chassis and screen, Acer will also have to display options on the C910, a 1366x768 TN panel or a 1920x1080 IPS panel. (I really wish they'd just axe the 1366x768 TN option, as that's not a good resolution for a 15.6" display.)
The remaining elements of the C910 are similar to the C740: 2x2 802.11ac WiFi, Bluetooth 4.0, one USB 2.0 and one USB 3.0 ports, SD card reader, and a full size HDMI port. Note also that both laptops have a fan for cooling, which is expected given the use of a 15W TDP processor. Unlike the C740, Acer will only offer the C910 with 4GB RAM and with either 16GB or 32GB of eMMC storage, along with the two display options. The base model will start at $299 and availability in North America is slated for February. Exact specifications, availability, and pricing for other configurations will vary by region.
Source: Acer