Battery Life
Battery life is undoubtedly one of the most important aspects of any smartphone. However, battery life is an enormous subject, and while it may seem simple on the surface there's a great deal of underlying complexity. In order to try and cover the full breadth of use cases, we start with our baseline test, which is now the web browsing battery life test. In order to try and control for extraneous variables and get a good relative comparison, we standardize all displays to 200 nits on a full white display.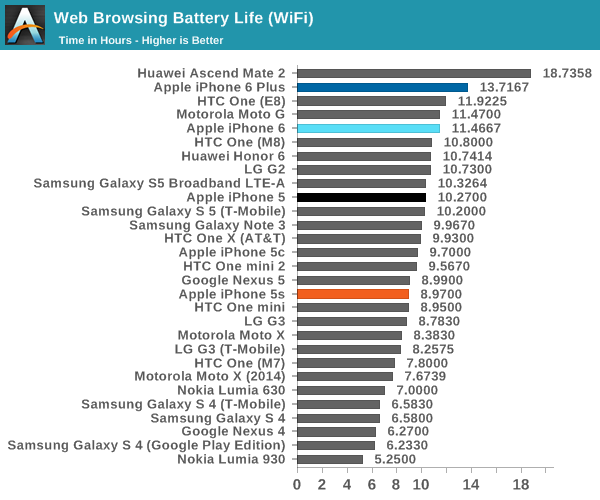 Our first test is in WiFi web browsing. As we can see, the iPhone 6 puts up a surprising showing for a phone with such a small battery. If anything, it seems that Apple leaned towards the conservative side in their advertised numbers as we managed to get higher than expected battery life. It may seem strange that the iPhone 6 achieves such a strong showing despite the small battery, but this is because the test is designed to avoid penalizing a phone for having a faster SoC or data connection.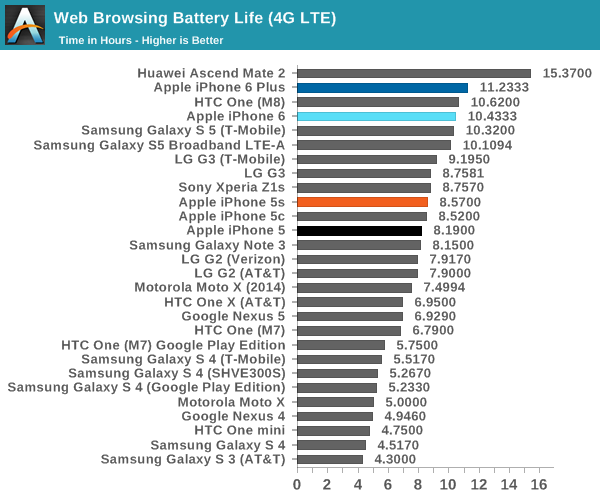 In LTE web browsing, we see the same story. The iPhone 6 is about equal to or better than the competition, which is in line with what we would expect given the cellular architecture. In the case of the iPhone 6 and most other flagship smartphones this year, components such as Qualcomm's QFE1100 envelope tracker, WTR1625 transceiver, and MDM9x25 modem have managed to make LTE power consumption approximately equal to WiFi power consumption. With the deployment of category 6 LTE and next generation RF components we could see LTE battery life exceed WiFi battery life.
While the web browsing test gives us a good picture of battery life in display-bound tasks, intensive use tends to be more SoC-bound. In order to see how phones compare in SoC-bound workloads, we turn to GFXBench, which has an infinite looping test. This test also provides a good idea of nominal performance. Unfortunately, for now we cannot report an accurate Basemark OS II battery life score as the test will stop when low battery notifications pop up on the screen. We are currently investigating methods to bypass this issue and report a final score in the near future.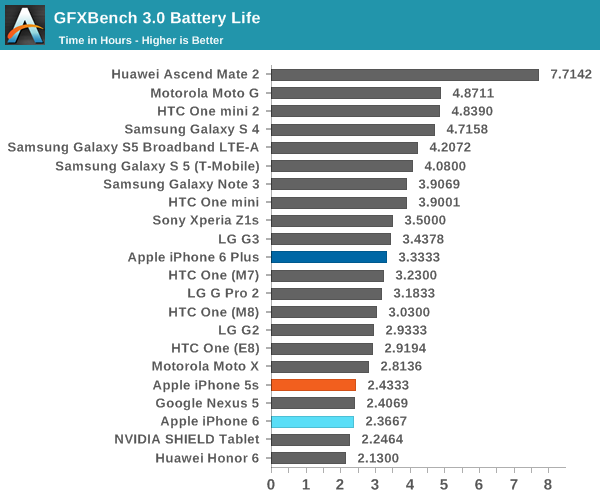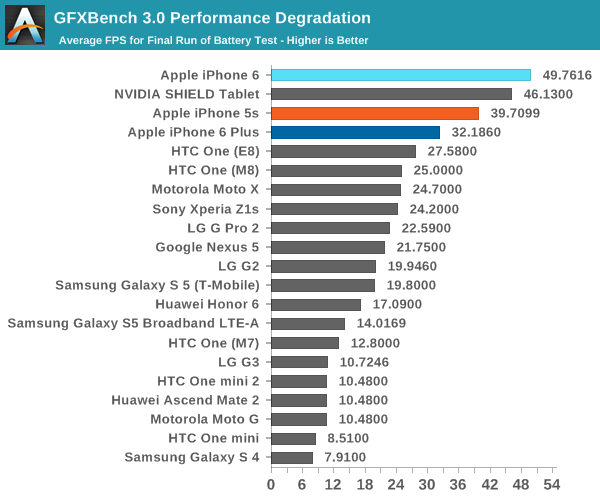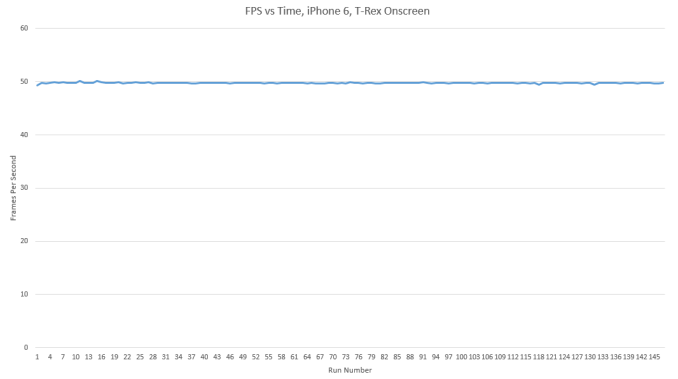 In the GFXBench test, at first it seems that the iPhone 6 is one of the worst for battery life under sustained load. However, once we look at the performance degradation over time it makes a lot more sense. This seems to be the type of workload that Apple referenced in their presentations, because this is the first phone I've seen that successfully does a full rundown without actually throttling. Of course, this does come with high skin temperatures. The phone definitely gets hot, but not uncomfortable. Using a FLIR camera, I saw peak temperatures of around 43 degrees Celcius, so it definitely doesn't exceed 50C in most conditions.
Normally, I would expect a 4.7" class smartphone to need a battery around the size of the HTC One (M7) or Motorola Moto X (2013) to keep pace with phones like the One (M8) and Galaxy S5, but Apple has pulled it off with a battery that is much smaller. There are two key factors that we can point to in this case. The first is the display, which can avoid pushing the LED backlight towards the higher current region that is much less efficient. This is because the amount of light-blocking circuitry is reduced and the active area of the display can be higher. The second aspect is the SoC, which is on a lower power 20nm process node. While TSMC's 20nm process doesn't have FinFET, improved silicon straining and high K metal gate make it possible to drive down active power and leakage when compared to 28nm processes. It's also likely that the A8's architecture is more efficient than other SoCs we've seen this year. However, it's important to note that without a capacitance and voltage table or something similarly concrete we can't really prove this statement.
Charge Time
While battery life determines the time spent away from a charger, the time spent attached to a charger is just as important. Even if most people charge their phones at night, there are plenty of cases where people don't have at least five hours to spend charging their phone. For example, forgetting to plug the phone into a charger before going to sleep or charging a phone between connecting flights are all times when charge time becomes crucial. In order to properly test for charge time, charge time is measured as the time from when the phone is connected to the charger to the time when the A/C adapter reaches its lowest power state with the phone still connected.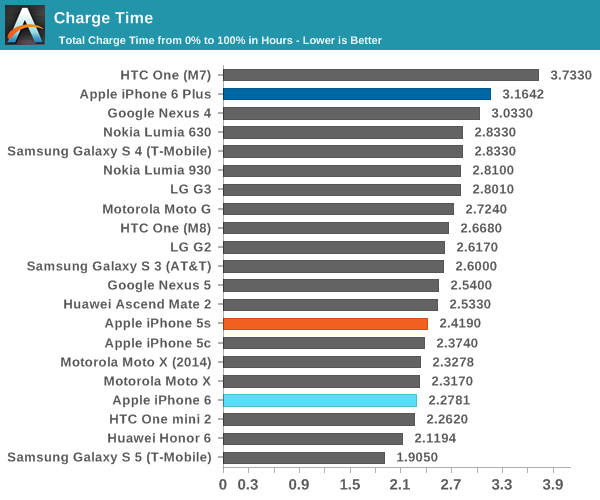 As you can see, the iPhone 6 performs reasonably well, and ends up in the same range as the iPhone 5s. The iPhone 6 Plus ends up on the high side because it ships with the same power adapter as the iPhone 6, which can provide a maximum of one amp at five volts.

Fortunately, based on the USB device information for the phones, both the iPhone 6 and 6 Plus support charging with power adapters like the iPad charging block that can provide up to 2.1 amps at five volts. Using one of these chargers will dramatically reduce charge time on the new iPhones, and it's a very worthwhile investment (assuming you don't already have an iPad) for the iPhone 6 Plus in particular.