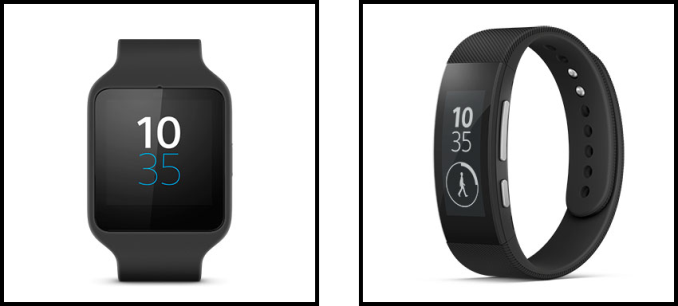 Sony is no stranger to wearable devices. But today they are launching their first device that runs Google's Android Wear operating system. The first is the Smartwatch 3, pictured on the left above. The SmartWatch 3 is similar to the other Android Wear devices launched by other manufacturers. It sports a 1.6" 320x320 LCD display, and is powered by Qualcomm's APQ8026 quad Cortex-A7 part running at 1.2GHz, paired with an Adreno 305 and 512MB of RAM plus 4GB of NAND. The SmartWatch 3 is IP68 rated for submersion in water up to 2 meter deep for 30 minutes. The 420mAh battery is also slightly larger than competing watches like LG's G Watch which is 400mAh.
My concern is that the SmartWatch 3 doesn't really bring anything spectacular compared to competing devices and doesn't have the visual appeal or design of watches like the LG G Watch R. Pricing has yet to be announced but hopefully the SmartWatch 3 is price competitive.
The second announced device is the SmartBand Talk. It's more like some of the fitness bands that we've seen launched, with a 1.4" e-paper display at 192dpi that integrates into the band itself. Sony hasn't given any specifics about what's inside the SmartBand Talk, but they have said that it will have an integrated speaker and mic for voice calls when paired with a smartphone. It's not clear if the SmartBand Talk is also powered by Android Wear.
The SmartWatch 3 will be available in black and green, while the SmartBand Talk will come in black and white. Both devices are slated to launch in the fall, and pricing is currently unknown.
Source: Sony