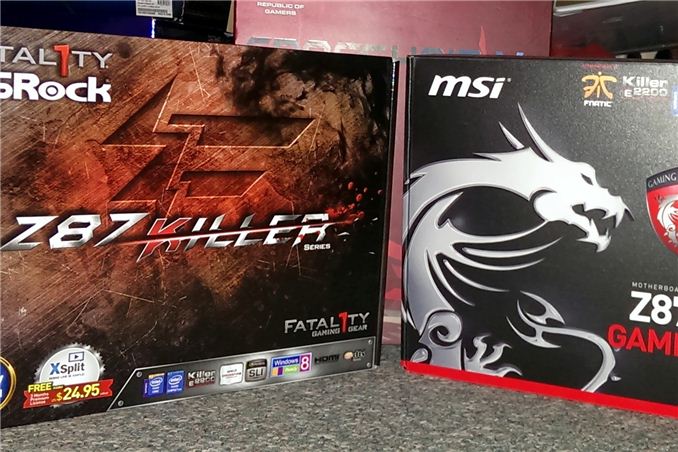 Glad tidings we bring, and this time it comes in the form of gaming oriented motherboards. As an ex-semi-serious gamer (local clan matches, LANs), the motherboard in my PC did not concern me one bit. All I wanted was to play, and at the time of building that first gaming PC there was no real gaming focus to speak of – plus the budget was tight and I wanted all that money to go on a nice beefy GPU (I still have it somewhere). As generations turn over and platforms evolve, we now have a steady stream of cheap gaming focused motherboards available to tantalize taste buds and be the main component in a build.
So what does a motherboard have to have on it to make it a gaming model? There are number of gaming focused components that feature on the high end models, and as we filter down to the cheaper end of the scale, the choice can come between one or the other. Points to consider are:
- Network interface: If wireless, is it dual band? If wired, usually split between Broadcom, Atheros, Intel or Killer. A Killer NIC should bypass the windows stack to help gaming traffic have priority, although there are software tools to do it for the others.
- Onboard Audio: Gamers come in all shapes on the audio side, so if using an onboard codec something like the Realtek ALC898 or above usually does the trick: either the SupremeFX, Audio Boost, Sound Core3D or a Realtek ALC1150 (the first two being ALC1150 derivatives). Some motherboards have focused audio segmentation, and others will clean and boost USB power to certain ports to give less noise for USB DACs. Some GIGABYTE motherboards also have swappable OP-AMPs and gain boost settings to improve noise range.
- Multi-GPU: The only users who need more than one GPU are gamers, users who need screens and GPU compute. Some gaming motherboards have the PCIe slots arranged for 2/3/4 GPUs to give the best airflow, or even when using a PLX chip (on Z87 or Z77), have a bypass lane for single GPU users.
- Gaming USB Port: Some gaming mice allow communication faster than 125 Hz that a USB port normally assigns to a mouse. The kicker is that the driver in the OS has to allow >125 Hz to make this feature of a gaming mouse useable, so some motherboards come with appropriate hardware and drivers to make this possible.
- The Software: In recent reviews of ASUS Republic of Gamer's motherboards, they have come with software called Sonic Radar which interposes itself between the audio and the video in order to help users determine where footsteps in games are coming from with visual representation of such data. The ROG boards also come with RAMDisk software, allowing faster loading of games and textures. Certain ASRock gaming motherboards come with three months of XSplit, a video streaming software that allows gamers to broadcast online.
- The Extras: Part of building up an ecosystem around gaming motherboards, manufacturers will bundle in some goodies to help promote the brand, or give access to large forums for gamers to join and discuss either their gaming PC or the games they play. Examples of goodies in the box include posters, gaming stickers, badges, and so on.
At AnandTech we have several of these motherboards in to review over the next few months from several of the manufacturers, but here are a few gaming motherboards you can find for under $175, starting with Intel and then AMD.
GIGABYTE G1.Sniper Z87, $170
First up is the GIGABYTE G1.Sniper Z87, a relatively new model on the market designed to offer a lower cost solution to the full size G1.Sniper 5 and the mATX G1.Sniper M5. Of the aforementioned features, the G1.Sniper comes with a Creative Sound Core 3D audio codec, swappable OP-AMPs, a Killer E2200 wired network, filtered power for USB-DACs and support for dual GPU gaming.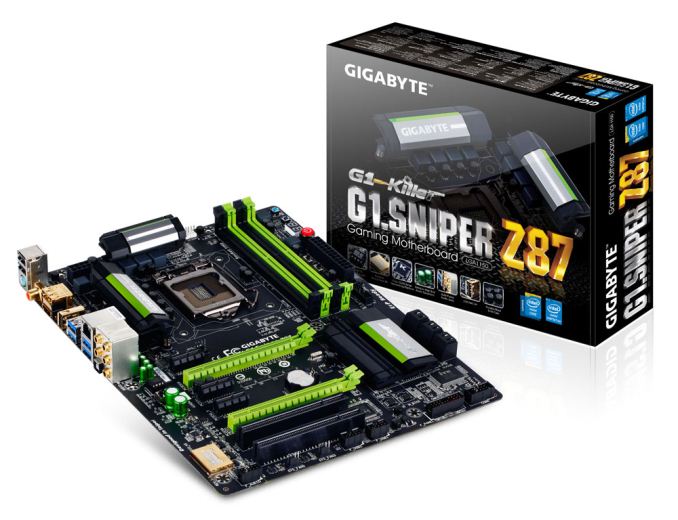 You may notice that part of GIGABYTE's audio features include board exclusion of analog signals as well as gold plated connectors for audio jacks and the USB-DAC UP port. GIGABYTE also has two GAIN BOOST switches for 2.5x and 6x amplification modes. This goes alongside other GIGABYTE features, such as DualBIOS, Ultra Durable 4 and their updated version of EasyTune, which we saw in our Z87X-UD3H review.
ASRock Fatal1ty Z87 Professional, $170
At the same price as the GIGABYTE, ASRock have the first of their four 8-series motherboards aimed at gaming for under $175. They all bear the Fatal1ty name: an ex-gamer known for winning over a dozen world titles in the early 2000s who now licenses his logo to companies like ASRock, as we explained in our X79 Fatal1ty review.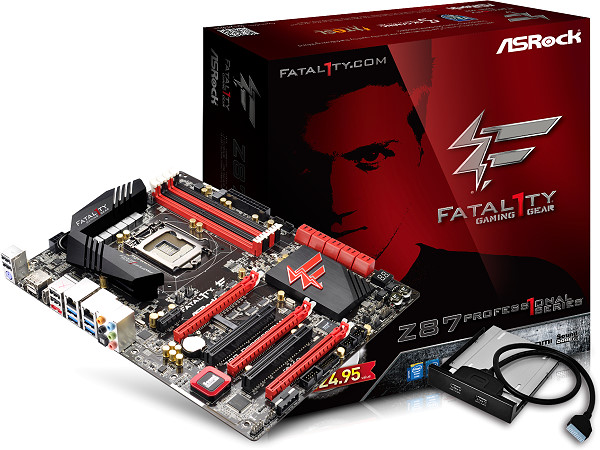 The ASRock Z87 Professional is aimed at gamers through its use of a Sound Core 3D Audio codec, dual Intel Ethernet ports (for teaming or separate networks), increased gold count in its connectors to increase longevity with hardware replacement, HDMI-In for hook-up of another HDMI device to the monitor, the Fatal1ty mouse port to increase the mouse polling rate to 1000 Hz and a three month subscription to XSplit, the video streaming software. Alongside this we get a USB 3.0 front panel, and some new software I have not tested yet: Key Master. Key Master allows users to adjust mouse speed on the fly, effectively enabling a 'sniper' mode and increase accuracy. We actually have the Z87 Killer below in for review where we will take a look at it.
MSI Z87M Gaming, $160
MSI's gaming range is slowly expanding: we have reviewed the Z87-GD65 Gaming at the point of Haswell release, and the other member at that time was the Z87-G45 Gaming (below). Since then, the micro-ATX MSI Z87M Gaming has just come onto the market (new enough that it has not got a spot on Newegg yet) and the mini-ITX Z87I Gaming is due out on December 5th. The main focus of MSI's gaming range is the dragon styling and Killer network port.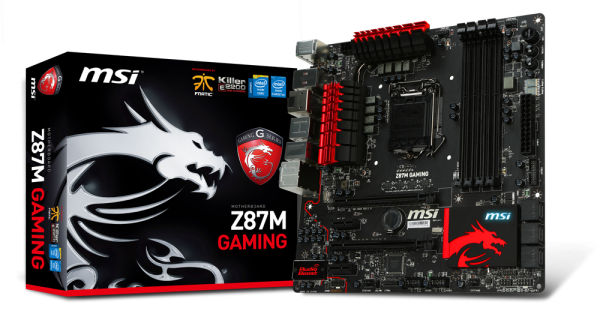 Moving further down the price bracket means that some motherboards will swap size for cost, and for single/dual GPU gamers the micro-ATX form factor is a choice worth considering. Alongside the aforementioned Killer NIC, MSI are using their Audio Boost system (a Realtek ALC 1150 codec with additional filters and headphone amplifier ICs), USB Audio Power for cleaner power to the USB ports if USB DACs are used, a Gaming Device Port for higher mouse polling, a one-button overclock via OC Genie, and VGA Boost to give any MSI Gaming branded graphics card a basic overclock. MSI also bundle their gaming range with a do-not-disturb door hanger, a redesigned IO panel (for dual HDMI + DisplayPort) and a MSI Gaming branded case badge.
MSI Z87-G45 Gaming, $145
The MSI Z87-G45 Gaming is the cheaper full-ATX version of the Z87-GD65 Gaming, and broadly features the same as the MSI Z87M Gaming: Killer E2200 NIC, Audio Boost, Gaming Device Port, VGA Boost, OC Genie and the same in-the-box contents.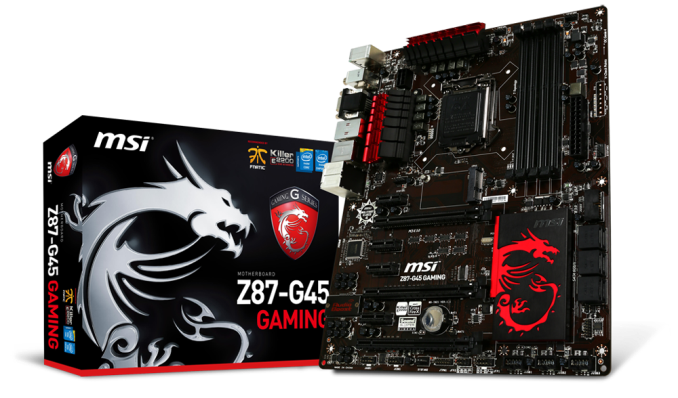 The main differences (apart from the size) of the G45 to the mATX model are that the mATX model has an eSATA, has filtered power for USB DACs, a two-digit debug LED and more USB 3.0 ports. The full-sized ATX model however has space for three AMD GPUs (x8/x4/x4, or x8/x8 for SLI) and VGA/DVI-D ports for integrated graphics / Lucid Virtu.
ASRock Fatal1ty Z87 Killer, $130
Another motherboard I have in for review is the Z87 Killer. It moves the Fatal1ty range down to the $130 price point while still offering a Killer network port, Purity Sound (ASRock's name for Realtek ALC1150 audio codec, filters and headset amp), HDMI-In, Key Master, Fatal1ty Mouse Port, three months of XSplit and support for three-way AMD GPU setups (x8/x4/x4, or x8/x8 for SLI).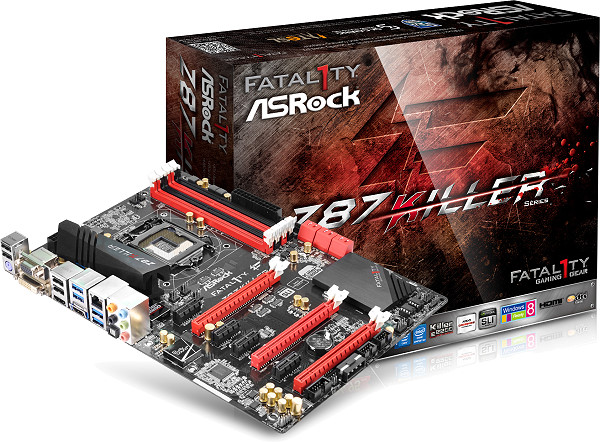 Main differentiator to the $170 model is the power delivery being a cut down version (fewer phases), only PCH allocated SATA/USB boards and perhaps a simpler layout. The Z87 Killer still has ASRock's F-Stream software for the 8-series motherboards, and six fan headers (two four-pin).
ASRock Fatal1ty H87 Performance, $115
Motherboard manufacturers are slowly moving their specific brand segments, like gaming, into chipsets other than the one focused on extreme performance and overclocking – the chipset is a significant cost in the bill of materials, so if users do not require some of the features, then there are other chipsets to consider. H87 is one of them, whereby we have no memory or CPU overclocking (though there are ways around this), and PCIe lanes are only able to be wired to one x16 lane. So if you want to run DDR3-1600 and a single GPU on a non-K CPU, then H87 might be what you need. ASRock have thus made a H87 edition of their Fatal1ty Performance model: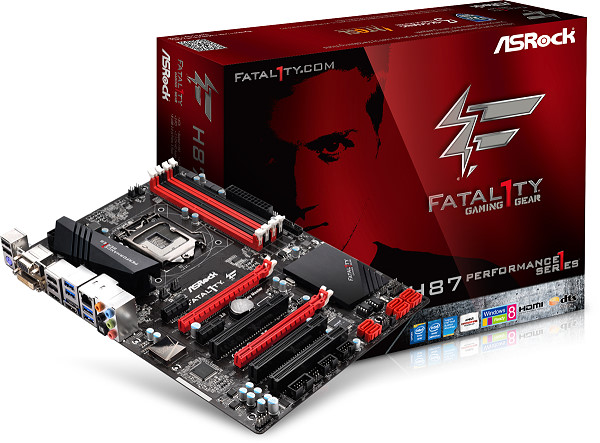 As you can see, while we still have the red and black styling of the Fatal1ty range, everything seems a little simpler. Alongside the SATA ports coming out of the motherboard and two PCI slots, the full-length PCIe are wired up in an x16 + x4 configuration, which will support CrossfireX but that second card will be crippled. Should be fine for PhysX though…
On the gaming side of the equation, the H87 Performance still uses Purity Audio (ALC1150 + filters + amps), HDMI-In, Key Master, Fatal1ty Mouse Port, three months of XSplit and an Intel network port (no Killer NIC here). For $115, that does not sound too bad.
GIGABYTE H81.AMP-UP, $80
H81 is technically the bottom rung of Intel's 8-series chipset range. Alongside the memory being capped at 1600 MHz, the CPU is locked (although again, there is a way around this), we have only two native USB 3.0 ports (+ 8x USB 2.0), two native SATA 6 Gbps ports (+ 2x SATA 3 Gbps), a single x16 PCIe limited to Gen 2.0, no Intel SRT/RST and the chipset is limited to six lanes of PCIe 2.0. H81 actually makes a lot of sense to keep costs down for single GPU gamers using an SSD boot drive, a storage drive and an ODD, due to the few number of SATA ports needed and PCIe 2.0 vs. 3.0 makes almost no difference at single GPU resolutions. So here is where GIGABYTE has come in with their H81.AMP-UP: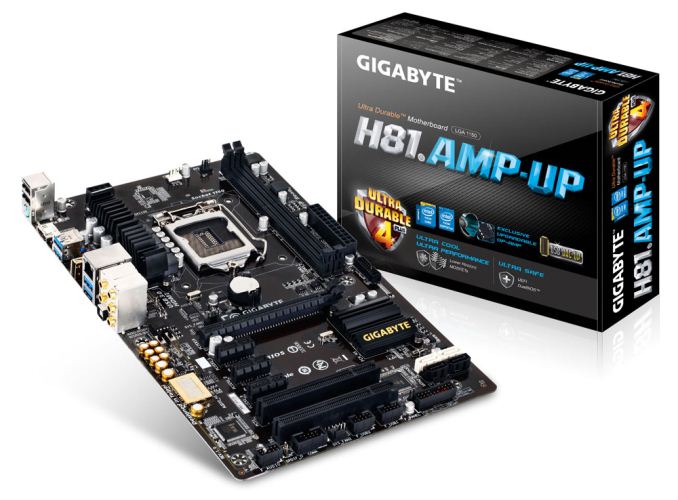 While the AMP-UP is not necessarily part of the Sniper range, the main focus here is on the audio delivery. To follow their OP-AMP workings, this H81 model does have swappable OP-AMPs alongside a Realtek ALC898 audio codec, Gain Boost buttons to offer 2.5x and 6x audio gains, high-end caps for filters, gold plated audio jacks on the rear, the USB DAC-UP port on the back with improved power filtering for USB DACs and separation on the PCB between digital and analog signals.
The rest of the motherboard is clearly minimal: two DIMM slots, two SATA 6 Gbps, two SATA 3 Gbps, and a VIA USB 3.0 hub to bring total USB 3.0 ports to six and four fan headers. The PCIe layout gives a single PCIe 2.0 x16 alongside x1 and PCI ports, and the power delivery is Intel specifications for Haswell desktop CPUs.
AMD:
Moving on to AMD, and despite AMD being considered the cheaper platform, there are actually relatively few gaming motherboards available for the AM3 or FM2/FM2+ sockets. Either manufacturers are not bothering to place anything gaming oriented at AMD chipsets, or the motherboards are starting off quite high before filtering down into something cheaper. Part of what would drive this is a chipset/socket update on the side of AMD, forcing AMD users to adopt a new system but then could be staggered similar to 1090FX/1090/1070. Nevertheless, at our $175 there was at least one motherboard to mention, and I want to put in at least one AM3+ note, even if it is outside our price range.
GIGABYTE G1.Sniper A88X FM2+, $110
The A88X Sniper from GIGABYTE is essentially the FM2+ equivalent of their Z87 Sniper shown above: we have a similar PCIe layout (x1, x16, x1, x1, x8, PCI, PCI), along with swappable OP-AMPs, filtered audio, USB DAC-UP for filtered power to a gold plated USB port, Gain Boost, plated EMI protector around the Realtek ALC898 codec, separation on the board of analog and digital signals and support for two way Crossfire.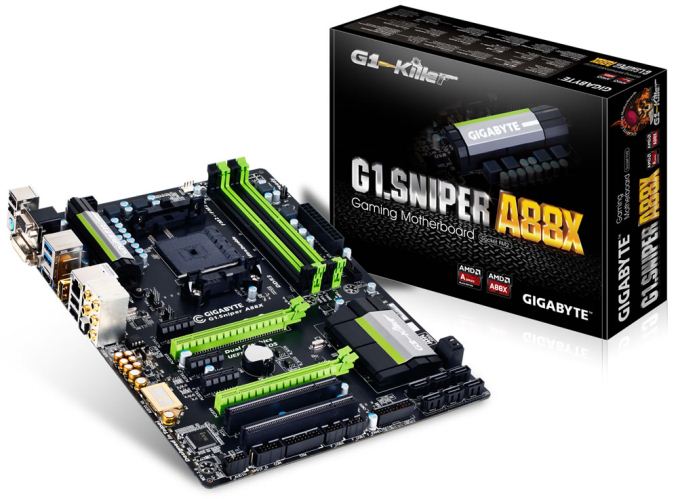 Compared to the Z87 Sniper, the power delivery is a bit nerfed in terms of number of phases, but due to the A88X chipset there are eight SATA 6 Gbps ports, four USB 3.0 ports, four fan headers and a TPM header. GIGABYTE also bundle the G1.Sniper A88X with CFos software to help manage network traffic to prioritize gaming.
ASUS Crosshair V Formula-Z AM3+, $225
While it vastly exceeds our price range for this overview of cheaper gaming boards, I could not finish without mentioning at least one AM3+ motherboard – and the only one to mention is the ASUS Crosshair V Formula-Z, an upgraded version of the Crosshair V Formula that was shipped to reviewers at Bulldozer launch.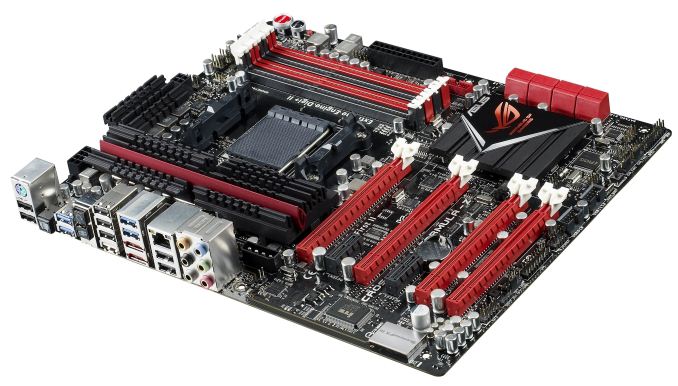 As it comes in more expensive than the rest in this round up, it clearly has a lot more, despite being a bit older. In terms of gaming specifics, there is SupremeFX III (an upgraded Realtek ALC898 audio solution with filter gaps, gold plated audio jacks etc.), GameFirst II (skinned cFOS for network management), one button-OC options, an Intel NIC, support for three-way SLI and CrossfireX and support on the ASUS Republic of Gamer's forums. ASUS designed the CVF-Z for overclocking as well, hence features like USB BIOS Flashback, ROG Connect, DirectKey, enhanced power delivery and so on also come with the motherboard.
Final Thoughts
After researching these motherboards it makes sense to me more than ever that gaming can be very inexpensive as long as the needs of the user are simple. Building a gaming machine for a teenager for example does not have to be some $2500 monstrous affair – a H81/low end motherboard with a GPU is all you need at a base level need – if there is something extra worth having, then the cost scale rises accordingly, as well as gaming specific features which may sway some cash in a certain direction. Noel is around the corner, and Black Friday might drive some of these prices down even more.