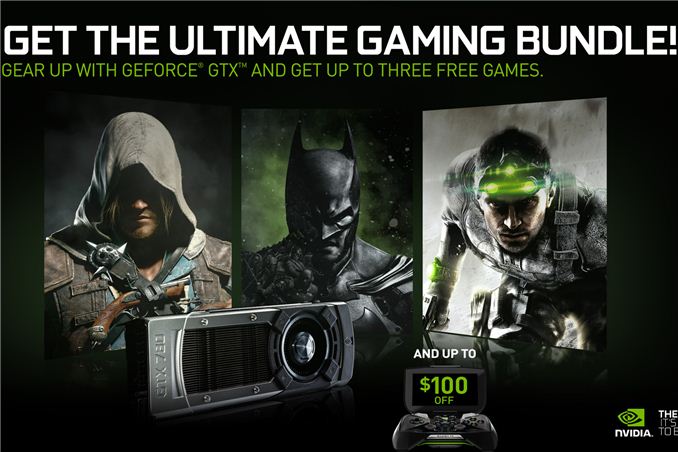 As part of NVIDIA's Montreal game showcase festivities, NVIDIA has announced that they have once again updated their game bundles. This time it's one of their biggest bundles yet.
Replacing the outgoing Batman: Arkham Origins bundle will be a what NVIDIA is calling their GeForce GTX Holiday Bundle, which is a tiered system that sees NVIDIA's most expensive GTX cards on one tier, while NVIDIA's cheaper GTX cards will be on a lower, cheaper tier with fewer games. NVIDIA is by no means a stranger to tiers – they already did this to split between their Batman and Free-To-Play bundles – but this is the first time they've had fine grained tiers that separated the various GTX cards.
In any case, the top tier will be occupied by the GTX 770, GTX 780, and GTX Titan, which on a side note makes this the first appearance of Titan on any game bundle. The upper tier products will receive a 3 game bundle of Assassin's Creed IV: Black Flag, Batman: Arkham Origins, and Splinter Cell: Blacklist (notably, a previous bundle game that had been replaced by Batman). Meanwhile the lower tier will be composed of the GTX 660 through GTX 760 (and everything in between) and will receive a lighter bundle, dropping Batman but keeping Assassin's Creed and Splinter Cell. As the latest addition to NVIDIA's bundles Assassin's Creed will be NVIDIA's new featured game, and while we won't rattle off all of the additions, it has received the usual slate of technology/feature additions from NVIDIA under their The Way It's Meant To Be Played program.
NVIDIA Holiday Game Bundles
Video Card
Bundle
Shield Discount
GeForce GTX 770/780/Titan
Assassin's Creed IV, Batman: Arkham Origins, Splinter Cell: Blacklist
$100
GeForce GTX 660/660Ti/670/680/760
Assassin's Creed IV, Splinter Cell: Blacklist
$50
GeForce GTX 650 Series
$75 Free-To-Play (Continuing)
None
GeForce GT 640 (& Below)
None
None
Furthermore in a far more unusual move for NVIDIA, both tiers are also coming with discounts on NVIDIA's recently launched Shield handheld game console. The upper tier will come with a coupon good for $100 off a Shield (bringing it down to $199), while the lower tier will come with a coupon for $50 off (bringing it down to $249). NVIDIA has been cross promoting GeForce and Shield for some time now due to the fact that Shield's remote game streaming capabilities require a GeForce GTX 600/700 series card, so this appears to be an extension of that integrated promotion. NVIDIA has never offered a bundled hardware discount quite like this before (there have been some 3D Vision bundles over the years), so it's hard to say just what kind of an impact it will have on GeForce or Shield, especially since it's just a discount on further hardware versus a freebie like the games.
In any case, any NVIDIA customers will want to make note this specific bundle is going to be shorted lived. The bundle starts on October 28th – a week and a half from now – and ends just less than a month later on November 26th. NVIDIA typically runs bundles for longer than this, though there may be some significance to terminating the bundle right before Black Friday. Fulfillment will as always be through NVIDIA's usual participating etail/retail partners, with partners including vouchers with qualifying products.
Finally, it's interesting to note that with NVIDIA's bundle additions as contrasted to AMD's current lack of a bundle on the Radeon 200 series, we've reached an interesting inversion in the typical game bundle tactics the two companies have used over the last year. Now it's NVIDIA who's offering the bigger game bundle, and largely for the same reasons AMD did. NVIDIA has not cut the price on the GTX 770 or GTX 760 despite the spoiler situation presented by the R9 products, so it would appear NVIDIA is going the value added route to try to equalize their offerings rather than just cutting prices.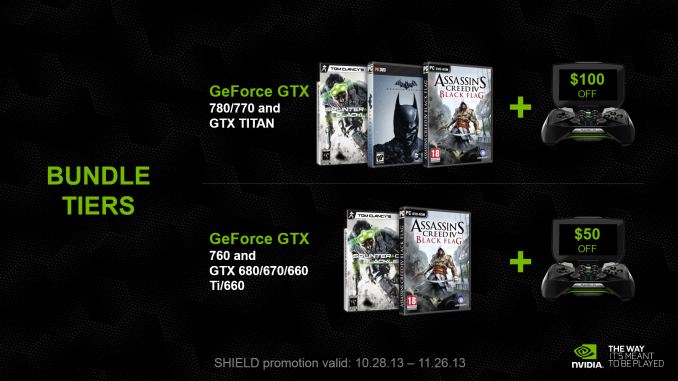 Source: NVIDIA