Application and Futuremark Performance
When we talk about the performance of the Acer Aspire V5-171, it's the part that I think really matters the most. Vendors weren't really doing with Sandy Bridge (outside of the Sandy Bridge i3) what they're doing with Ivy Bridge now. This is essentially the top end of the netbook form factor; HP's dm1 was available with an i3 or Brazos (only Brazos currently), Lenovo's ThinkPad X100e line has the same thing going on. 11.6" notebooks mean either Brazos or an i3, and even there an i3 is generally going to be superior.
With the V5-171, though, we get an Ivy Bridge i5 that's able to turbo up substantially as well as beefier HD 4000 graphics. While on paper the E2-1800's IGP may be preferable, with superior driver support, the Ivy Bridge CPU cores will make up the deficit in a big way.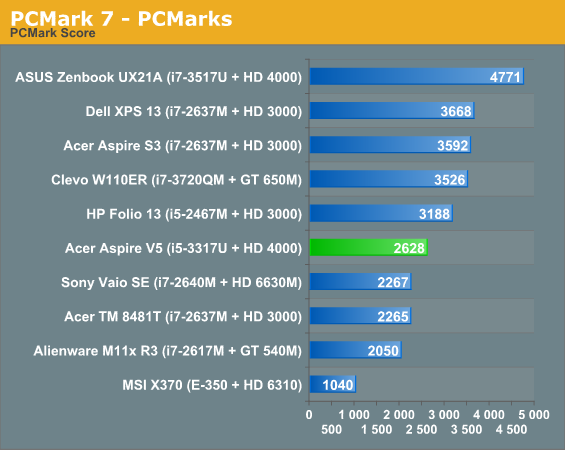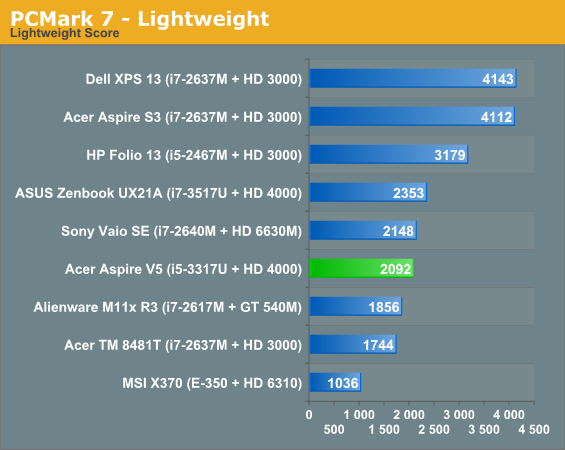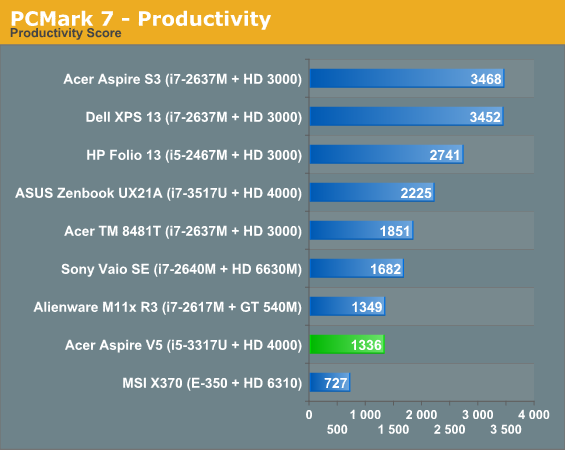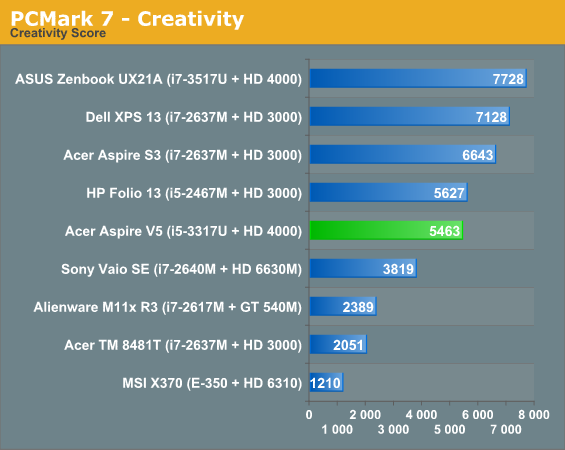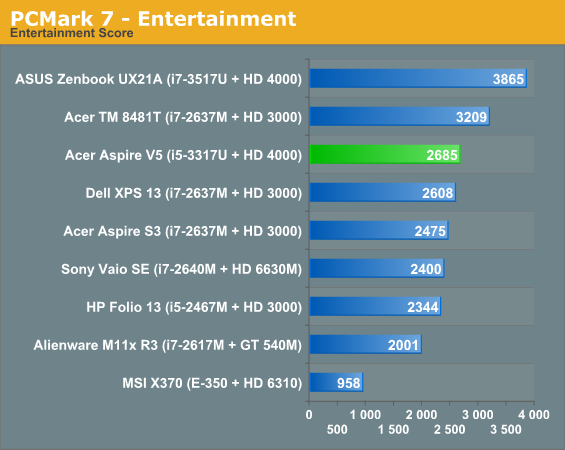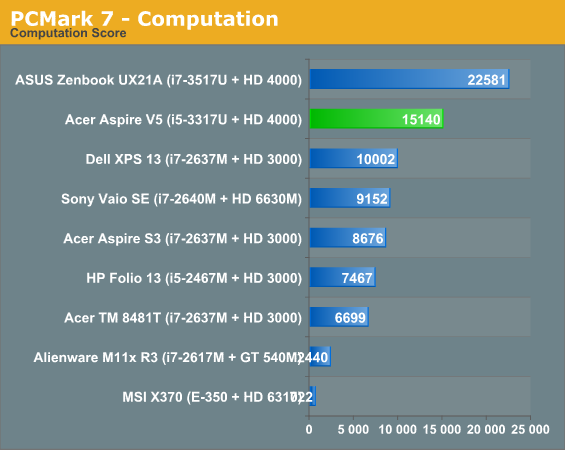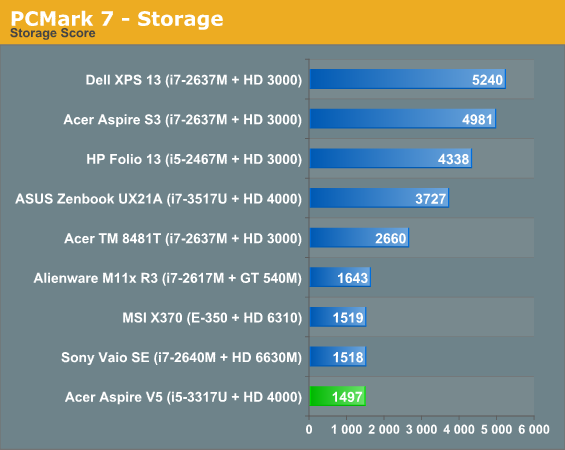 PCMark punishes the V5-171 for not including an SSD, but SSD prices have come down tremendously and you can always upgrade to one later (as I did). Last I checked, Amazon was selling Samsung's venerable 830 at a 128GB capacity for $80.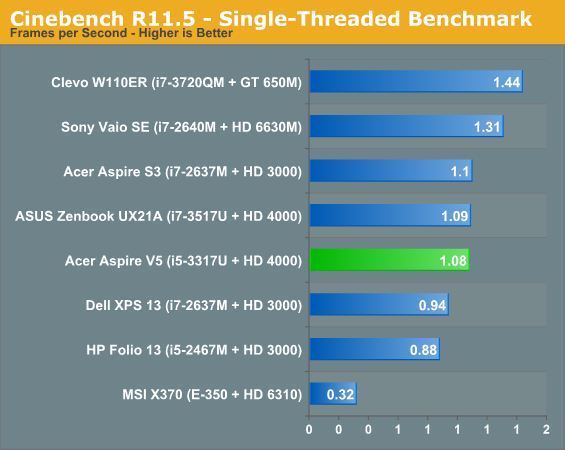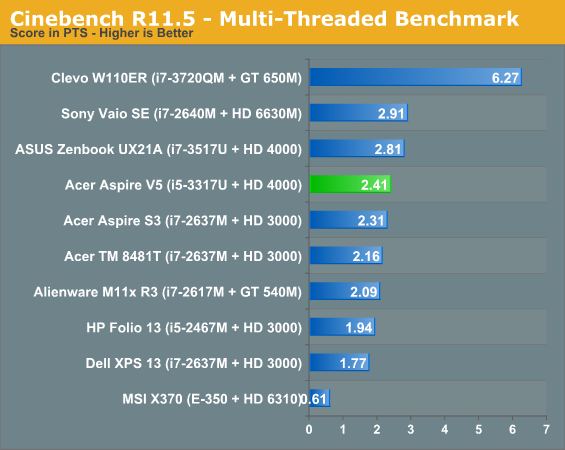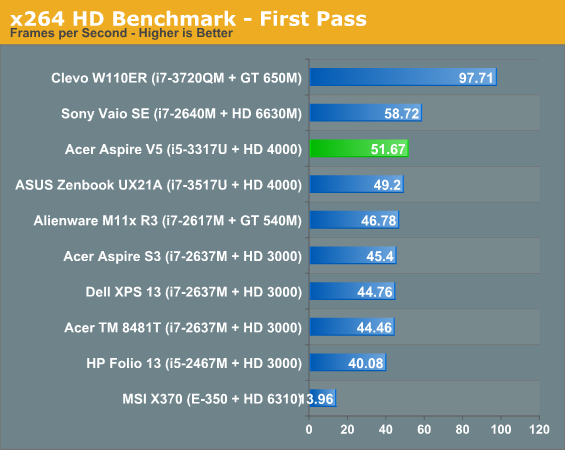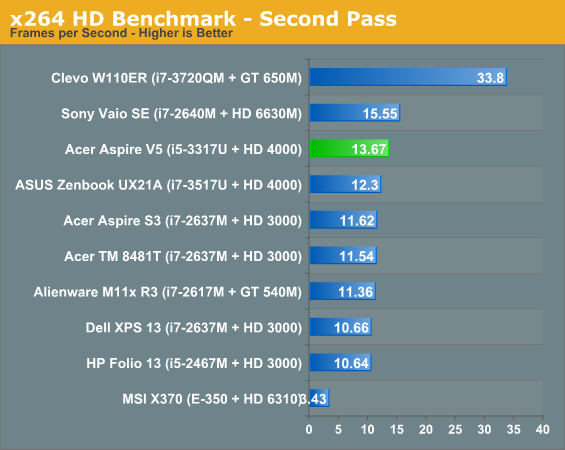 The CPU-specific benchmarks highlight both the performance gulf between Brazos notebooks and the tremendous amount of performance Intel was able to cram into a 17-watt power envelope. Note that the current generation E2-1800 is an incremental improvement on the E-350 we have listed, with a top CPU speed just 100MHz higher and no architectural changes. The i5-3317U isn't the fastest CPU, but it's remarkably powerful and mostly as fast as or faster than last generation's ULV i7s.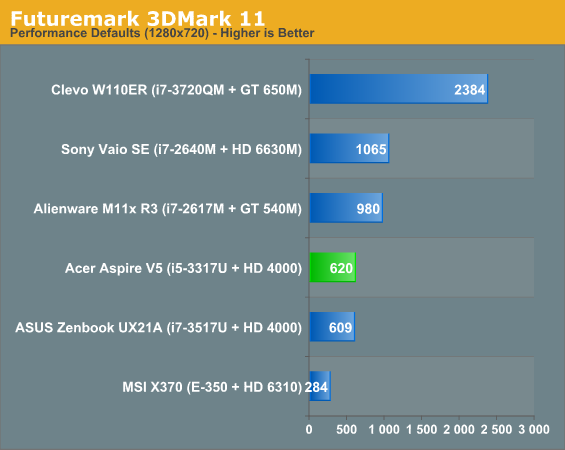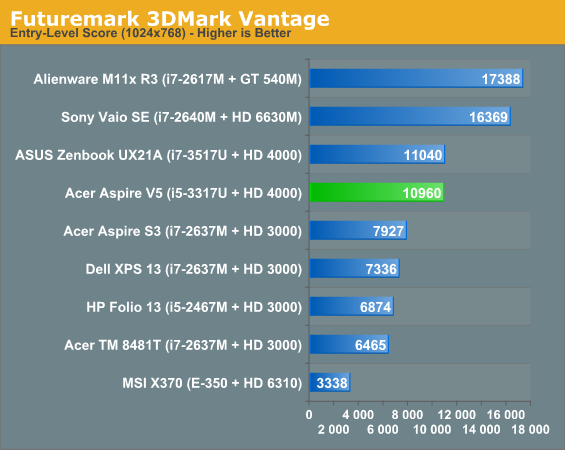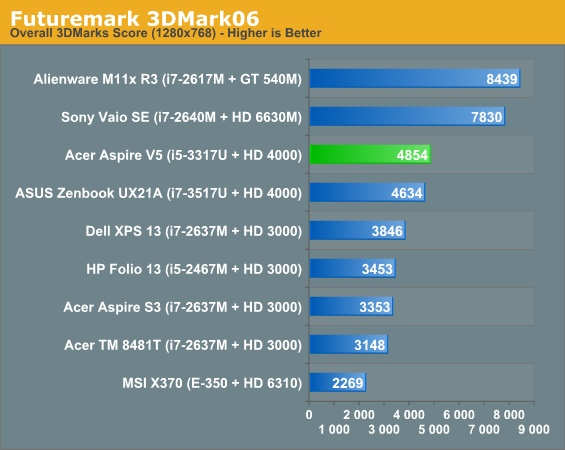 GPU performance isn't groundbreaking by a longshot, but it's a heady improvement on the HD 3000 and soundly ahead of Brazos. In anecdotal use, I found that the difference between the HD 3000 and 4000 in ULV chips was actually enough to make certain games (like Duels of the Planeswalkers 2013) much more playable. The HD 4000 in the V5 is also capable of running Guild Wars 2 at minimum settings and should have no trouble with World of Warcraft.
I remember when integrated graphics were, no matter how powerful the core was (AMD 780G, looking at you), pretty badly handicapped by memory bandwidth. Shared memory wasn't really the issue, it was the low speed of system memory preventing even 1280x800 or 1366x768 from being very playable. Fast DDR3 and efficient memory controllers have largely alleviated that bottleneck, though. I would never recommend the HD 4000 for a gamer, but I've found it's actually passable for casual use and is definitely enough to drive the V5's display.