Display Quality
You knew this was coming. Budget notebooks are still stuck in a world of dismal TN panels, and the Acer Aspire V5-171's is among the worst. I'm also not a fan of glossy finishes on displays, and the V5-171 suffers from a glossy bezel. With all that said, I do think a 1366x768 resolution is reasonable in an 11.6" form factor. Also keep the price in mind; an IPS panel isn't something you should be expecting this far south of a grand.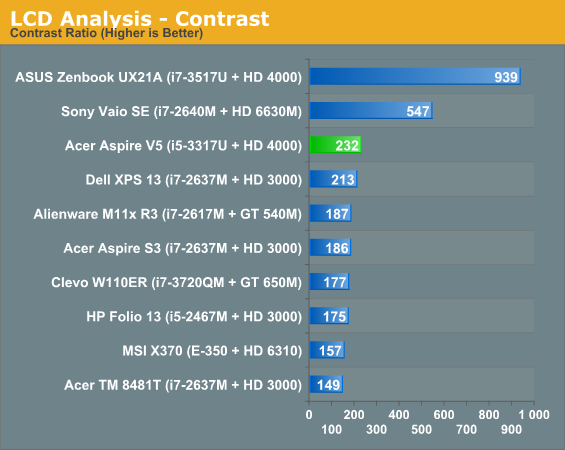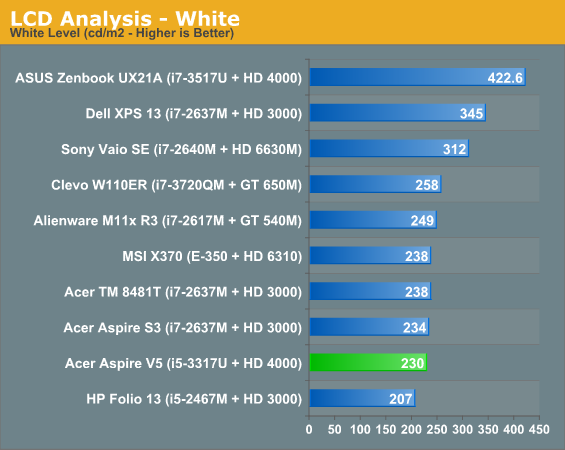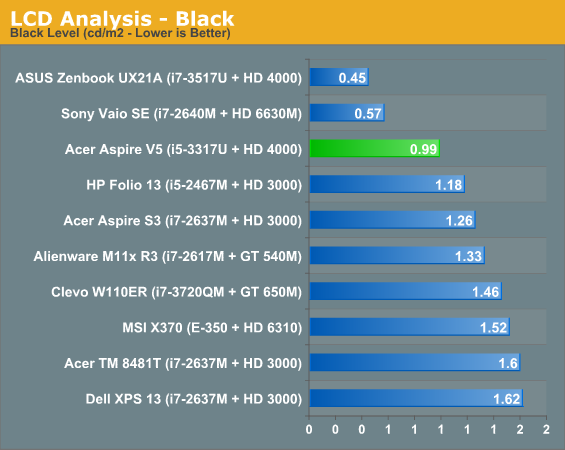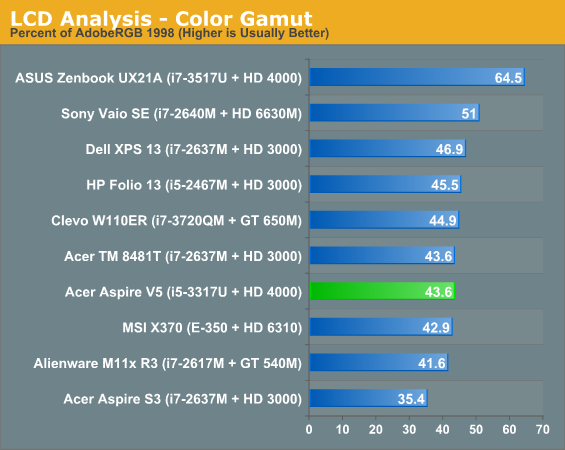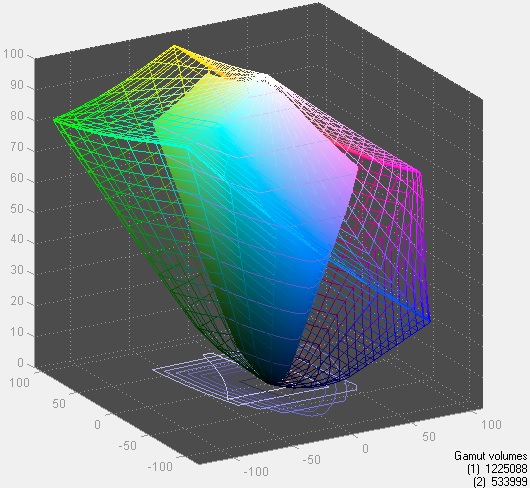 No surprises here, the V5-171's display is a decent one in a bad crop. I honestly feel like this speaks less to the quality of the V5-171 than to the lack thereof of notebook displays in general. Hopefully with the proliferation of tablets and higher resolution panels, this is something that will finally start to improve over time and trickle down into less expensive notebooks.
Battery Life
The bad news isn't really going to end here for the Acer Aspire V5-171. Keeping with the low price tag is a low battery capacity; a 4-cell battery with a paltry 37Wh. It allows the notebook to stay light, but you're not going to see dynamite battery life here. This is one place where Atom is always going to beat Ivy Bridge, unfortunately.
When I bought the V5-171, I also grabbed 8GB (2x4GB) of Samsung DDR3L-1600 along with a 128GB Samsung 830 SSD. I figured it would be worth seeing if the slightly reduced power consumption of these components could improve the questionable battery life of the notebook, and as it turns out, they do somewhat.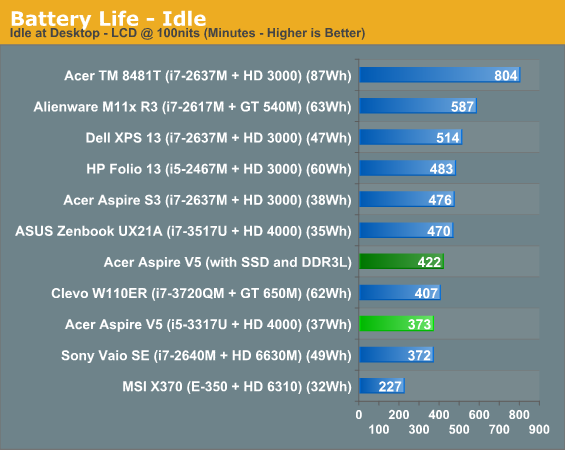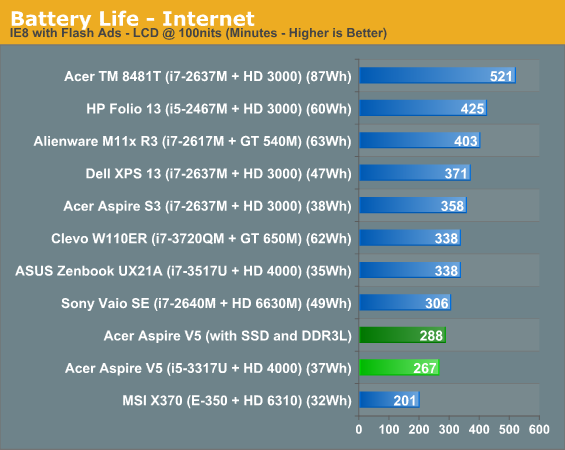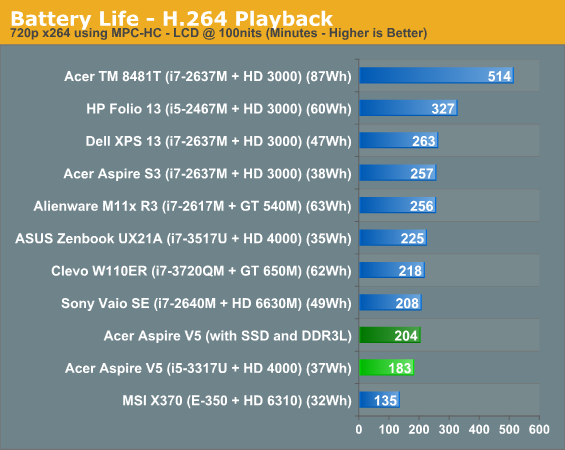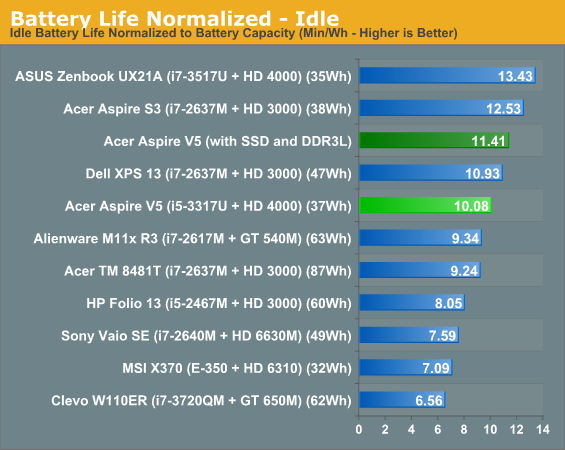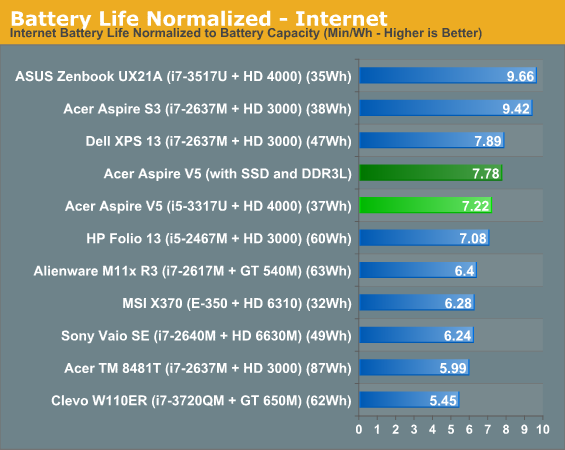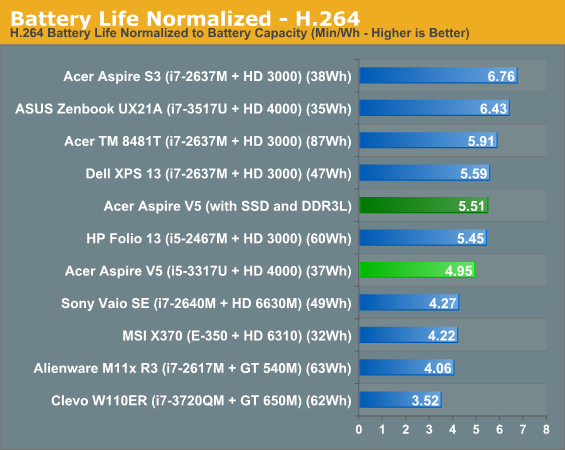 Relative battery life proves there was probably more Acer could've done to eke out better running time with the V5-171. You're looking at a three hour movie, and about four hours of useful life surfing the internet at 100 nits. Adding the SSD and DDR3L helps the notebook incrementally, but it's not a major swing. Really what the V5 needs is a bigger battery.
Heat and Noise
In reading other reviews of the Acer Aspire V5-171 (remember I was researching this bad boy for myself before relaying this information to you), I saw a lot of complaints about heat and noise, and some forum users even talked about reapplying the thermal grease to the CPU. Whatever they were complaining about hasn't materialized in the system I bought, though; Acer may have quietly fixed the thermal grease issue when they refreshed the line with Windows 8, or it may have been blown out of proportion. Either way, noise is a non-starter at idle or load. The fan is almost always running, but it's very low and quiet, and the V5 benefits spectacularly from having a substantial side vent.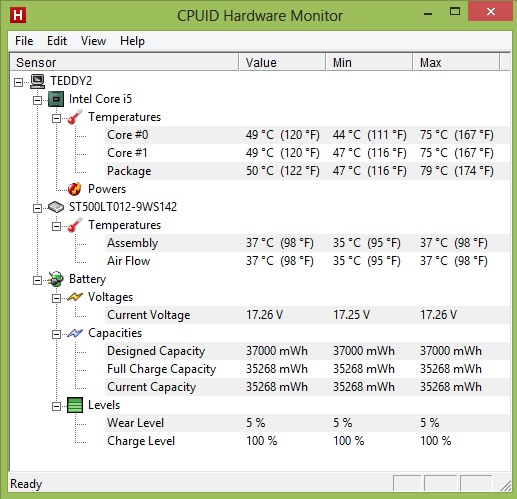 Those thermals pretty much speak for themselves: the V5-171 is able to run incredibly cool given its small chassis. Surface temperatures remain very comfortable, and I've found I've been able to use it while in bed without worrying about the venting getting smothered by the blankets.