ASUS had another amazing Computex press conference this year. Along with the dual-screen Taichi notebook, the Transformer All-in-One and the Ivy Bridge based Transformer Book, ASUS announced two more Windows 8 tablets.
At the high-end is the 32nm Clovertrail based ASUS Tablet 810. The 810 features an 11.6-inch 1366 x 768 Super IPS+ display, 2GB of RAM, 64GB of solid state storage, NFC, 8MP rear facing camera and 2MP front facing camera. It's a full featured Windows 8 tablet that can dock into a full keyboard similar to the Android based Transformer Pad. About the only thing the 810 is missing is a higher resolution panel, although I wonder if Intel isn't comfortable greenlighting higher resolution panels driven by Clovertrail (effectively a non-phone Medfield).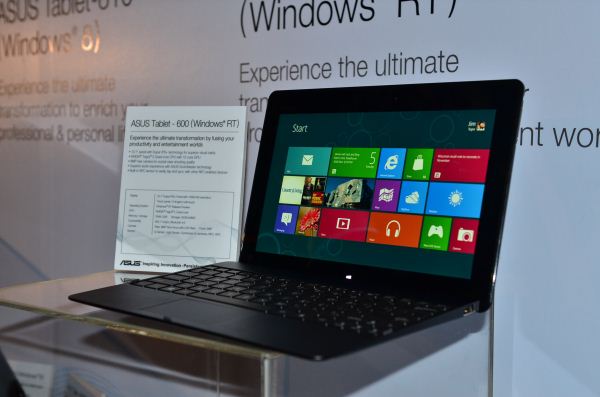 At the low end is the Tegra 3 based ASUS Tablet 600 running Windows RT for ARM devices. The 600 features 2GB of RAM, 32GB of NAND and the same 8MP/2MP camera configuration as the 810. The display is smaller at 10.1-inches, but keeps the 1366 x 768 resolution. The 600 is dockable, just like the 810.
Pricing and availability are both unknowns at this point. Intel, Microsoft and their partners are putting forth a real effort to make a dent in the non-iPad tablet market.