Battery Life: Generally Improved, Depending on the Laptop
Another important metric for Ivy Bridge is battery life. We used our standard battery life test settings: 100 nits on the LCD, which was 25% in Windows' power settings for the N56VM, and we use a tweaked Power Saver profile. We then timed how long the N56VM could last off the mains in idle, Internet, and H.264 playback scenarios, along with some "gaming" on the HD 4000. We'll start with the charts.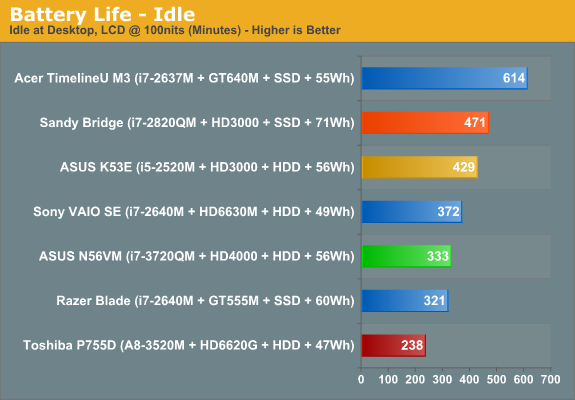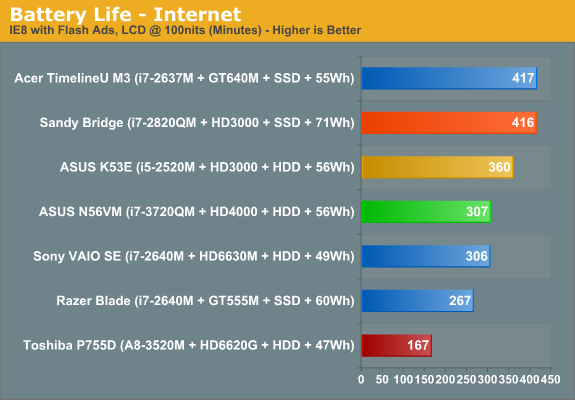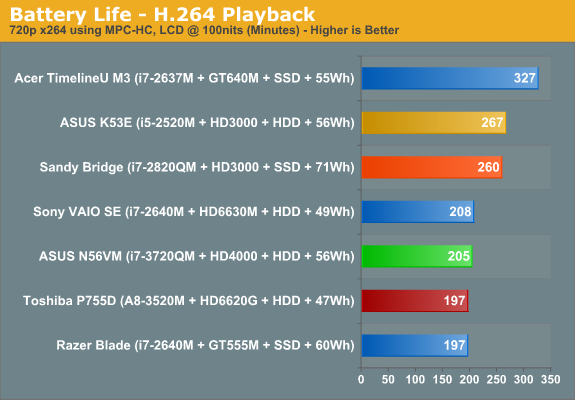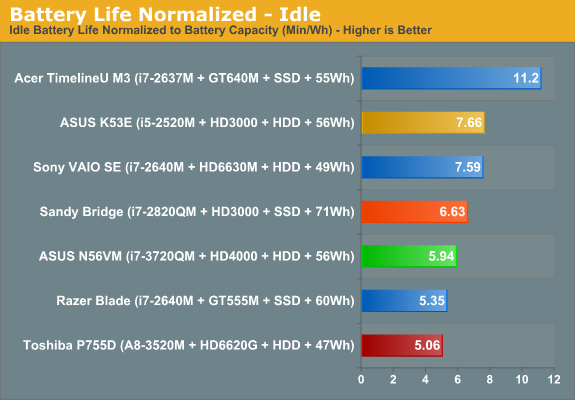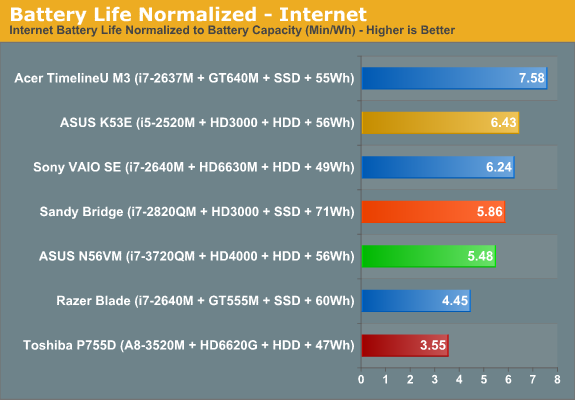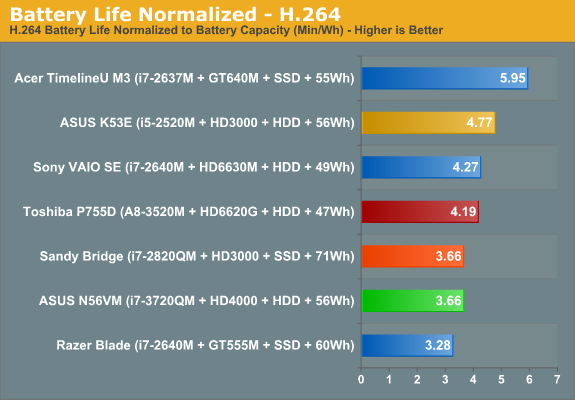 One thing that we need to point out is that the original Sandy Bridge i7-2820QM laptop from Intel was an awesome example of how to deliver great battery life. We never did reach that same level with any of the retail quad-core laptops that we tested over the past year, but then most of the other quad-core laptops also included some form of discrete graphics. Compared with that particular notebook (which never shipped as a retail product), our Ivy Bridge notebook has worse battery life. Once we start comparing with retail laptops however—particularly those with switchable graphics—Ivy Bridge ends up looking like it will deliver similar to slightly better battery life relative to Sandy Bridge.
With a 56Wh battery, the N56VM manages 5.5 hours of idle battery life, five hours of Internet battery life, and just under 3.5 hours of H.264 battery life. Normalize that to battery capacity and the N56VM beats most of the quad-core Optimus enabled laptops from the past year in our tests, but it frequently loses to the dual-core Sandy Bridge laptops. If we take the best scores for each normalized battery life test (Idle, Internet, and H.264), Dell's XPS 15 leads the N56VM in the H.264 and Idle tests, the Alienware M14x has a better Idle result, and the CyberPower X6-9100 comes out slightly ahead in H.264 as well, but the N56VM is 10% ahead of the closest Sandy Bridge quad-core in the Internet results. It's also worth noting that as a whole, the N56VM places near the top of the normalized results for quad-core CPUs. Of course there are plenty of other laptops that deliver better battery life—ultrabooks and netbooks in particular, along with many of the dual-core Sandy Bridge offerings—but they're not anywhere near the same performance class as standard voltage Sandy/Ivy Bridge.
There's more to battery life than the above charts might suggest, unfortunately. While we'd love to make a definitive statement with regards to Ivy Bridge battery life, the reality is that we're looking at our first Ivy Bridge laptop and we really have no idea how it will compare with future Ivy Bridge implementations. What's more, we're dealing with pre-release hardware, so ASUS likely hasn't had quite as much opportunity to optimize for battery life as what we'll see on the retail units. Optimizing for battery life is a complex task, and we've seen some manufacturers succeed while others fall well short. For example, the difference between the best and worst normalized battery life for quad-core Sandy Bridge laptops (not counting the non-retail notebook) is around 50% across all three of our tests—so the worst laptop might get 2.6 min/Wh in our H.264 playback test while the best laptop scored 3.9 min/Wh. That's a pretty big difference, and until we test a few more Ivy Bridge laptops we won't really know what to expect.
Gaming on Battery
Some of you have requested battery life while gaming, and we also did a test where we looped 3DMark06 (just the four gaming tests) at 1366x768 until the battery gave out. Using the "Balanced" power profile with the HD 4000 also set to "Balanced" performance, the N56VM managed 79 minutes before shutting down. That might seem like a poor showing, until you realize that the ASUS K53E (dual-core Sandy Bridge i5-2520M) only lasted 73 minutes in the same test, all while delivering 35% lower graphics performance.
Another interesting item to report is that previously we suggested that Llano was the champion of our "gaming off the mains" test: the A8-3500M lasted a whopping 161 minutes looping 3DMark06 when we first tested it, but unfortunately that was with the GPU set to maximize battery life—which means less than half the normal GPU performance. With the A8-3500M set to maximum performance (which is how we're testing the HD 4000), battery life in our 3DMark06 loop drops to just 98 minutes with a 58Wh battery. That's still better than the HD 4000 battery life while delivering roughly the same level of graphics performance, though it's also with a 14" LCD so we're not comparing otherwise identical platforms. Finally, running the same 3DMark06 loop on the N56VM with the GT 630M active (and set to "Prefer Maximum Performance") results in 67 minutes of battery life.
If we do some quick math, 3DMark06 uses around 41.7W with the HD 4000 active compared to 49.1W with the GT 630M. Llano meanwhile uses just 35.5W under the same load. For Ivy Bridge, the 7.4W difference under load is significant, but at the same time NVIDIA (and AMD) GPUs appear more efficient for the performance they provide. It's difficult to say exactly how much of the power draw is going to the GPU versus the CPU and the rest of the system, but the GT 630M can consume up to 35W and is likely using somewhere around 20-25W in this test; that means for less than half the performance, the HD 4000 looks to be consuming around 13-18W. Even if those numbers are off, one thing is clear: Llano is still the chip to beat for gaming on battery power. It's just unfortunate that the CPU side of Llano is so far behind, but hopefully Trinity will change things in the near future.