AMD's Financial Analyst Day is under way and we're currently hearing from Rory Read about the future of the company. Specifics and roadmaps will follow, but the fundamental shift is outlined below: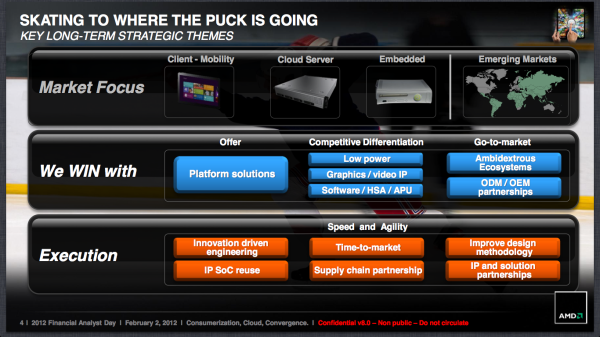 AMD used to focus on PC clients and servers in mature markets. It used OEMs as the primary delivery vehicle for its products. Going forward AMD wants to focus more on client mobility, not smartphones but ultra thin notebooks, tablets and other similar devices. Rory was very clear to point out that AMD has no intentions of competing in the ultra low margin smartphone SoC space, but there's a lot more to mobility than just that. We'll still see a cloud computing focus from AMD, which makes sense as the server business has always been very profitable. AMD will also focus more on emerging markets (Brazil, Russia, India, China, etc...) rather than just the mature markets as that's where a huge amount of growth will happen in the future. From a product standpoint, AMD is really focusing on its mainstream and entry level APUs. Rory didn't come out and say it here but no where in AMD's future direction is a focus on the high-end x86 CPU space.
Also note that AMD isn't going to be as focused on delivering high performance products on the absolute latest process node. It views Brazos as one of its biggest successes to date and that architecture was built on a 40nm process with an easily synthesizable architecture. It's likely that the future of AMD is built around more of these easy to manufacture SoCs rather than highly custom, bleeding edge CPUs.
AMD plans on leveraging OEMs to deliver its products but it also wants to explore other routes as well. Rory referenced the game console model, where AMD would sell an ODM a chip solution tailored specifically to their needs. AMD wants to use this model to complement the more traditional route of selling its products. The transition here makes sense if you look at the current tablet space. The SoC players in tablets effectively follow the game console model. You buy a tablet that has an SoC that's custom tailored to its needs rather than buying a system with a myriad of CPU options.