Mobile Sandy Bridge Gaming Performance
Sandy Bridge is clearly a faster CPU than the preceding Arrandale and Clarksfield offerings—that's no surprise. The integrated graphics are also faster, but being faster than old Intel's HD Graphics isn't saying a whole lot. Then again, AMD's old HD 4250 IGP isn't much better and is long overdue for a replacement. We'll talk about that in a second, but first here are the standard gaming performance results at our "Low" defaults. "Medium" detail will be on the next page.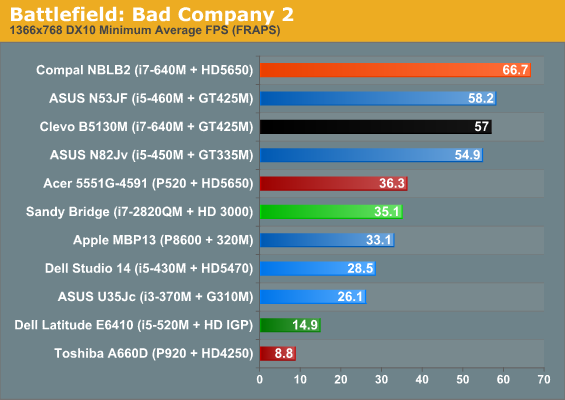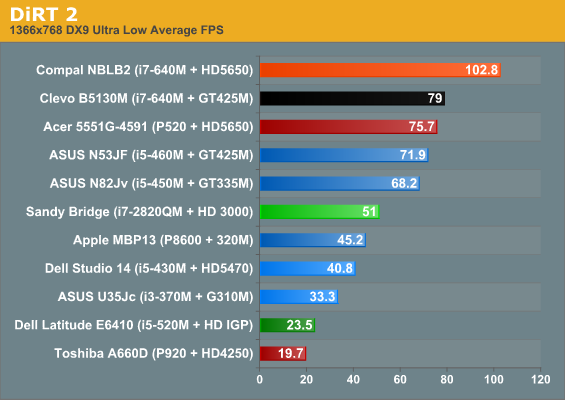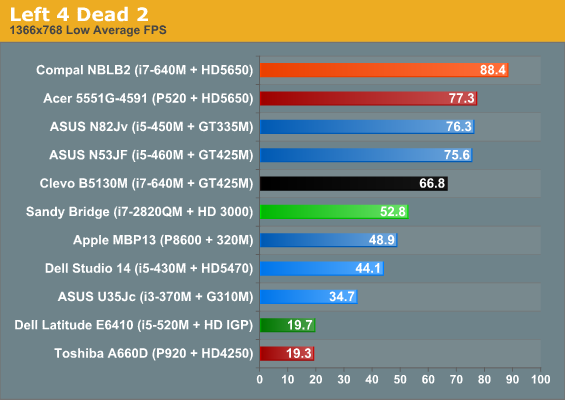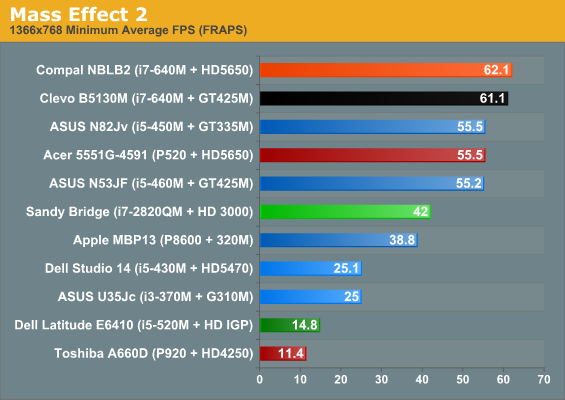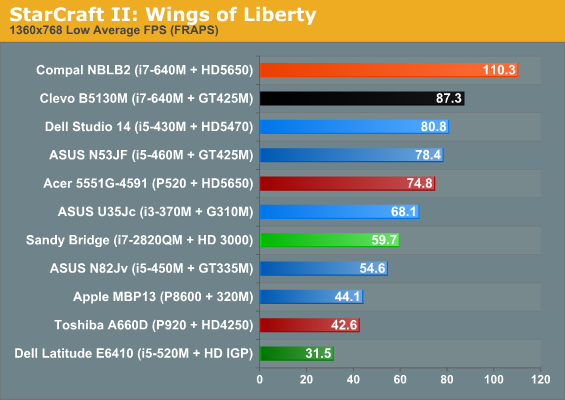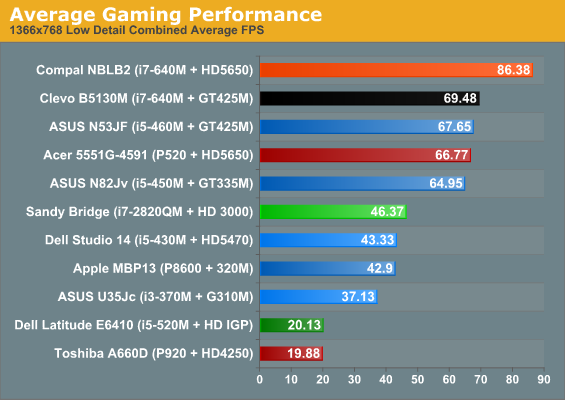 Let's start by talking about compatibility problems with the Intel IGP: there were none! I know it's been fashionable over the years to bash on Intel for horrible drivers that can't run games, and the previous IGPs certainly still fall into that "too slow" category, but of our standard six test titles both Sandy Bridge and Arrandale IGPs loaded and ran every single title. That makes talk of performance meaningful, and that's the bigger story by far.
Again, Sandy Bridge delivers playable performance in every single title at 768p and "Low" detail settings. What's more, it actually surpasses the GeForce 320M in Apple's MacBook Pro 13 in five out of six games (the exception being STALKER). Similarly, it beats the entry-level Radeon Mobility 5470 in four out of six games (STALKER and StarCraft II being the exceptions) and the G 310M in five out of six (SC2 came out ahead on the 310M).
All told, Intel's HD Graphics 3000 checks in an average of 6% faster than HD 5470, 8% faster than GeForce 320M, 25% faster than G 310M, and a whopping 130% faster than both the previous generation HD Graphics and AMD's HD 4250 (which are essentially tied in overall performance across the selected titles). Which is not to say it wins everywhere; even with a much slower Turion II P520 Processor, the HD 5650 still leads HD 3000 by 44%; shift the same GPU to an i7-640M to remove the CPU bottleneck and the 5650 beats HD 3000 by 130%. NVIDIA's GeForce GT 425M also leads the 3000 by 46% on average, so discrete GPUs are by no means in danger of being replaced.
We didn't have time to do serious image quality comparisons, but subjectively there did appear to be a few games where the Intel IGP wasn't rendering at the same level of detail, but it's hard to say when you're not running at the native LCD resolution; we'll get into problems in a moment, but other than those mentioned we didn't have any serious complaints. After all, being able to run a game at all is the first consideration; making it look good is merely the icing on the cake.