I couldn't get any updates done before or during CES week, sorry guys. Luckily not too much more has happened, but I thought I'd pick up where I left off. I had a lot of metal on the walls and ceiling, and insulation behind them, it was time to drywall. Remember, at this point nothing should screw into the wooden studs that framed the room, anything I wanted to hang must go through the metal channels.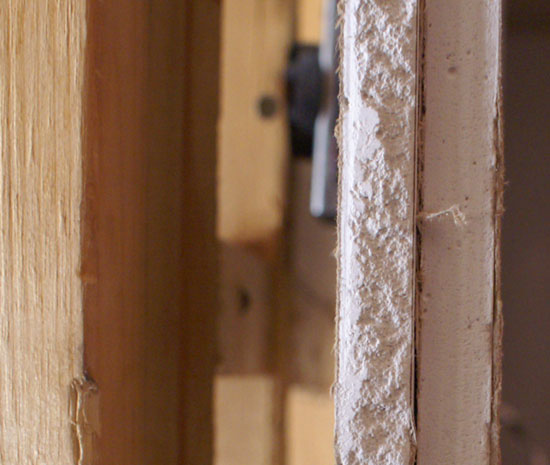 Two layers of standard 1/2" drywall - Click to Enlarge
Bryan recommended two layers of drywall, once again to cut down on sound transmission. Between the two layers of drywall we'd use something called Green Glue, a mild adhesive that is designed to dissipate vibration in the form of heat and thus limit transmission of sound between the two layers of drywall. Weight is the enemy of sound, so by having two layers of drywall I was already ahead of the game, and the green glue in between was icing on the cake. I couldn't find Green Glue locally, so that was yet another thing I had to order online.
I was concerned about hanging a projector or speakers off of nothing but these metal channels, what would happen if the projector mount didn't line up with where I had a channel in the room? Bryan suggested that we figure out the locations we were going to be hanging things from the ceiling or walls, and reinforce those areas.
We reinforced by running additional RSIC channels, and cutting out parts of the first layer of drywall and replacing it with wooden boards. The second layer of drywall would remain as is, but behind it we'd have a large panel of wood attached to multiple RSIC channels that we could safely mount anything to.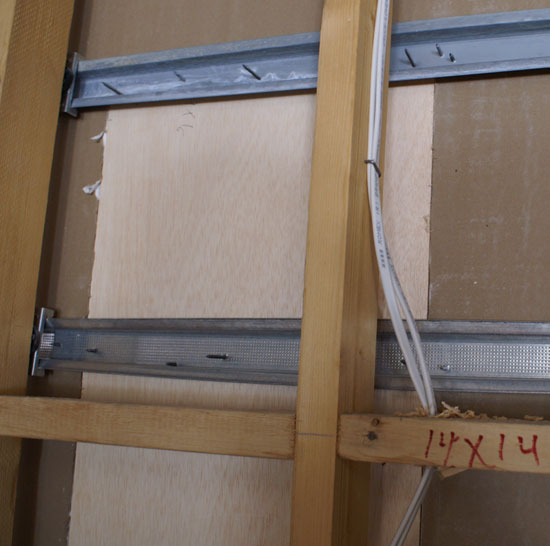 I'll be mounting a speaker here, so the back layer of drywall is cut out and replaced with 1/2" thick wood so we have something to drill into to support the speaker shelf - Click to Enlarge
I had a general idea of where the projector would go and thanks to Bryan and Ryan, I knew where my speakers and wall sconces would go. The guys who hung the drywall in the rest of my house tackled the theater room; they were mostly confused as to why I was doing this and they weren't really happy with the added cutting and greengluing but they got the job done.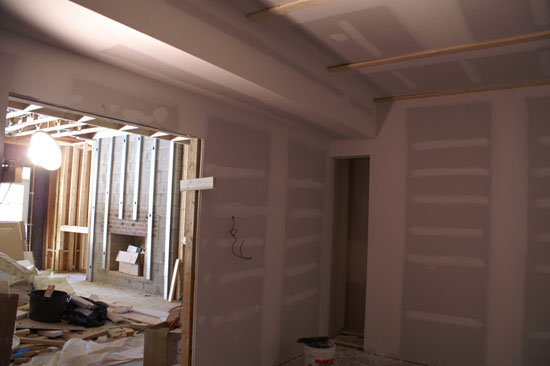 The cutout in the back of the room is for the equipment rack, the double door opening on the left of the picture is going to be a pain to isolate acoustically - Click to Enlarge
The DIY element of my theater was really split depending on what it was I was doing. Things like hanging drywall I left to those who were actually skilled at such things, whereas more delicate things like making the starfield ceiling I handled myself (with the help of whatever friends I could convince to aid me).
Drywall went up while I was out of town so I don't have too many pictures of the actual process, but other than the multiple layers and green glue, it's just like hanging any other drywall.