Meet the Rest of the Evergreen Family
Somewhere on the way to Cypress, AMD's small die strategy got slightly off-track.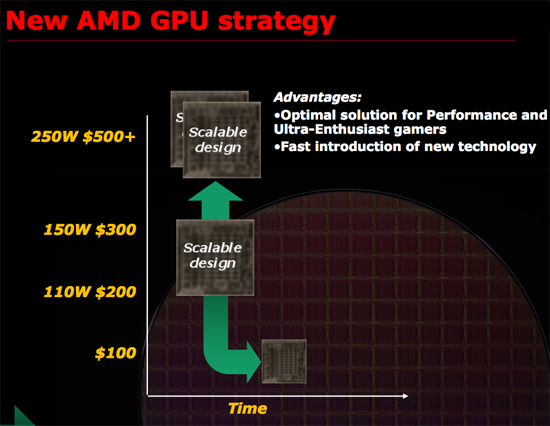 AMD's small-die strategy for RV770
Cypress is 334mm2, compared to 260mm2 for RV770. In that space they can pack 2.15 billion transistors, versus 956 million on the RV770, and come out at a load power of 188W versus 160W on the RV770. AMD called 256mm2 their sweet spot for the small die strategy, and Cypress missed that sweet spot.
The cost of missing the sweet spot is that by missing the size, they're missing the price. The Cypress cards are $379 and $259, compared to $299 and $199 that the original small die strategy dictated. This has resulted in a hole in the Evergreen family, which is why we're going to see one more member than usual.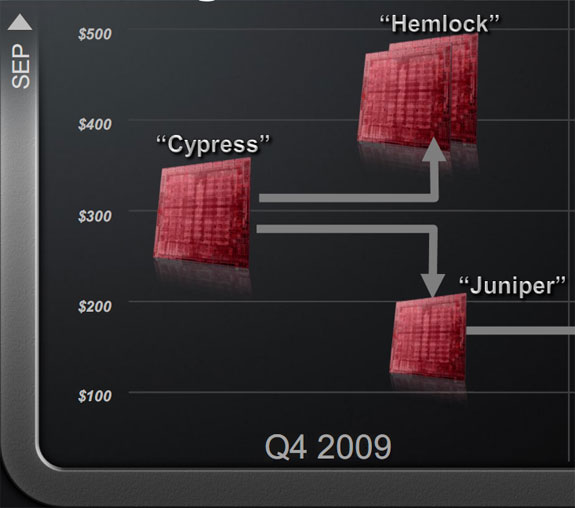 As Cypress is the base chip, there are 4 designs and 3 different chips that will be derived from it. Above Cypress is Hemlock, which will be the requisite X2 part using a pair of Cypress cores. Hemlock is going to be interesting to watch not just for its performance, but because by missing their sweet spot, AMD is running a bit hot. A literal pair of 5870s is 376W, which is well over the 300W limit of a 6-pin + 8-pin power configuration. AMD saves some power in a single card (which is how they got the 4870 under the limit) but it likely won't be enough. We'll be keeping an eye on this matter to see what AMD ends up doing to get Hemlock out the door at the right power load. As scheduled we should see Hemlock before the end of the year, although given the supply problems for Cypress that we mentioned earlier, it's going to be close.
The "new" member of the Evergreen family is Juniper, a part born out of the fact that Cypress was too big. Juniper is the part that's going to let AMD compete in the <$200 category that the 4850 was launched in. It's going to be a cut-down version of Cypress, and we know from AMD's simulation testing that it's going to be a 14 SIMD part. We would wager that it's going to lose some ROPs too. As AMD does not believe they're particularly bandwidth limited at this time with GDDR5, we wouldn't be surprised to see a smaller bus too (perhaps 192bit?). Juniper based cards are expected in the November timeframe.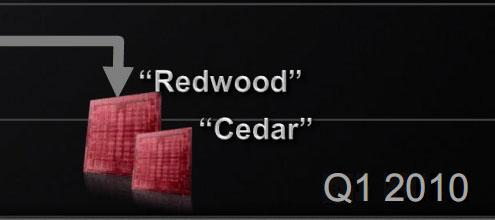 Finally at the bottom we have Redwood and Cedar, the Evergreen family's compliments to RV710 and RV730. These will be the low-end parts derived from Cypress, and will launch in Q1 of 2010. All told, AMD will be launching 4 chips in less than 6 months, giving them a top-to-bottom range of DX11 parts. The launch of 4 chips in such a short time frame is something their engineering staff is very proud of.