A Quick Refresher on the RV770
As Cypress is a direct evolution of the RV770 design, before we talk about what's new with Cypress we are going to go over a quick rehash of RV770's internal workings. As it's necessary to understand how RV770 was built to understand what Cypress changes, if you're completely unfamiliar with RV770, please take a look at our expanded discussion of RV770 from last year. For the rest of you, let's get started.
At the center of the RV770 is the Stream Processing Unit (SPU), a single arithmetic logic unit. The RV770 has 800 of these, and they are packaged together in groups of 5 and are what we call a Streaming Processor (SP). A SP contains a register file, a branch predictor, and the aforementioned 5 SPUs, with the 5th SPU being a more complex unit capable of transcendental functions along with the base functions of an ALU. The SP is the smallest unit that can do individual work; every SPU in an SP must execute the same instruction.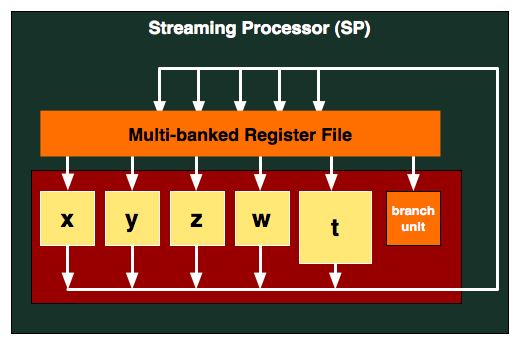 For every 16 SPs, AMD groups them together with texture units, L1 cache, shared memory, and controlling logic. This combined block is what AMD calls a SIMD, and RV770 has 10 of them. These 10 SIMDs form the core computational power of the RV770, and in the chip work with various specialized units such as ROPs, rasterizers, L2 cache, and tesselators to form a complete chip.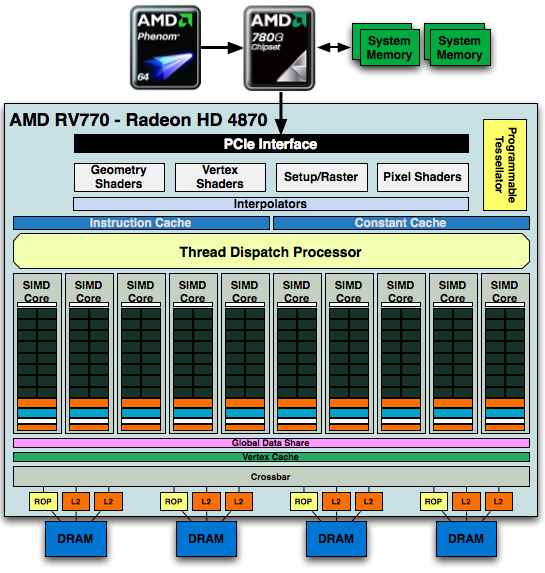 To utilize the computational power of the hardware, instruction threads are issued to the SPs. These threads are grouped into wavefronts, where there are 64 threads per wavefront. To maximize the utilization of the GPU, threads need to be organized so that they can feed all 5 SPUs in a SP an instruction every clock cycle. Doing this requires extracting instruction level parallelism (ILP) out of programs being passed to the GPU, which is difficult task of AMD's compiler.
If SPUs go unused, then the performance of the chip suffers due to underutilization. This design gives AMD a great deal of theoretical computational power, but it is always a challenge to fully exploit it.