Building a RV770
We did this with NVIDIA's GT200 and it seemed to work out well, so let's start at the most basic level with AMD's RV770. Meet the Stream Processing Unit: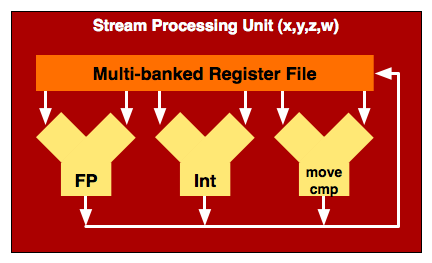 AMD's Stream Processing Unit is very similar to NVIDIA's SP in G80/G92/GT200, so similar in fact that I drew them the same way. Keep in mind that the actual inner workings of one of these units is far more complex than three ALUs but to keep things simple and consistent that's how I drew it (the actual hardware is a fused FP MUL + ADD unit, for those who care). AMD has four of these stream processing units in a processor block and they are called x, y, z or w units.
There's a fifth unit called a t-unit (the t stands for transcendental, meaning the type of operations it is capable of processing):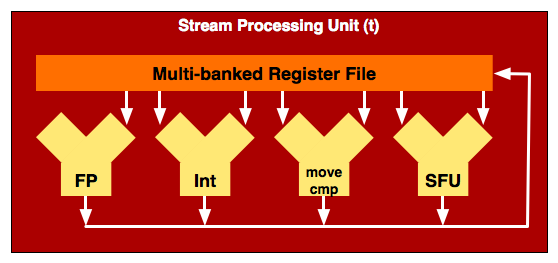 The t-unit can do everything a x,y,z or w-unit can do, but it also can do transcendental operations (represented by the SFU block in the diagram above). NVIDIA has the same functionality, it simply chooses to expose it in a different way (which we'll get to shortly). AMD considers each one of these units (x,y,z,w and t) a processing unit, and the RV770 has 800 of them (the RV670 had 320).
AMD pairs four of these stream processing units (x,y,z and w) with a t-unit and puts them together as a block, which I have decided to call a Streaming Processor (SP):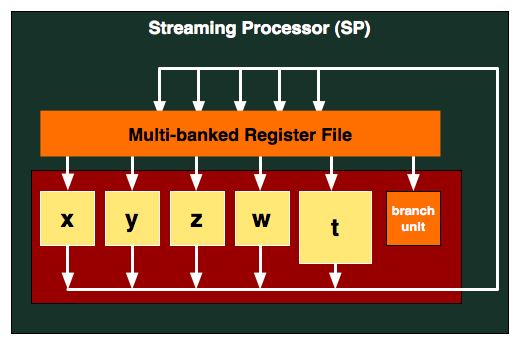 The area in red is actually the SP, but unlike one of NVIDIA's SPs, one of AMD's can handle up to five instructions at the same time. The only restriction here is that all five units have to be working on the same thread.
AMD then groups 16 of these SPs into something they like to call a SIMD core (AMD has less confusing, but far worse names for its architectural elements than NVIDIA):
| | |
| --- | --- |
| AMD's SIMD Core | NVIDIA's SM |
| | |
A SIMD core is very similar to NVIDIA's SM with a couple of exceptions:
1) There are more SPs in AMD's SIMD Core (16 vs 8)


2) The SPs are wider and can process, at peak, 5x the number of instructions as NVIDIA's SPs

3) The Instruction and Constant caches are not included in the SIMD core, AMD places them further up the ladder.

4) AMD pairs its texture units and texture cache with its SPs at the SIMD core level, while NVIDIA does it further up the ladder.

5) See the two SFUs in NVIDIA's SM? While NVIDIA has two very fast Special Function Units in its SM, AMD equips each SP with its own SFU. It's unclear which approach is actually faster given that we don't know the instruction latency or throughput of either SFU.
Note that at this point, the RV770 is really no different than the RV670 (the GPU used in the Radeon HD 3870). The next step is where AMD and NVIDIA really diverge; while NVIDIA's GT200 takes three SMs and groups them into a Texture/Processing Cluster (TPC) and then arranging 10 TPCs on its chip, AMD simply combines 10 SIMD cores: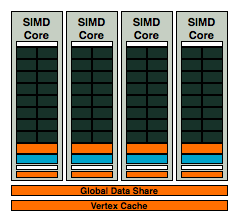 AMD's RV670


10 SIMD cores at your disposal in AMD's RV770, this is how AMD goes from competitive, to downright threatening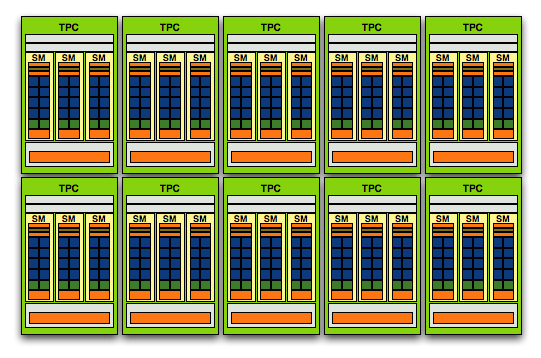 NVIDIA's GT200 Streaming Processor Array (SPA), it has fewer execution resources but more encapsulation around them, the focus here is on thread management
With 10 SIMD cores the RV770, it has 2.5x the number of execution units as a RV670. It even has more theoretical processing power than NVIDIA's GT200. If you just look at the number of concurrent instructions that can be processed on RV770 vs. GT200, the RV770's 800 execution units to GT200's 240 (+ 60 SFUs) is in a completely different league.
| | | | |
| --- | --- | --- | --- |
| | NVIDIA GT200 | AMD RV770 | AMD RV670 |
| SP Issue Width | 1-way | 5-way | 5-way |
| # of SPs | 240 | 160 | 64 |
| Worst Case Dependent Instruction Throughput | 240 | 160 | 64 |
| Maximum Scalar Instruction Throughput | 480* | 800 | 320 |
NVIDIA's 60 SFUs can sometimes "help" with scalar instruction throughput, in special situations of course.
We'll be talking about efficiency and resource utilization in the coming pages, but immediately you'll notice that the RV770 (like the RV670 and R600 that came before it) has the potential to be slower than NVIDIA's architectures or significantly faster, depending entirely on how instruction or thread heavy the workload is. NVIDIA's architecture prefers tons of simple threads (one thread per SP) while AMD's architecture wants instruction heavy threads (since it can work on five instructions from a single thread at once).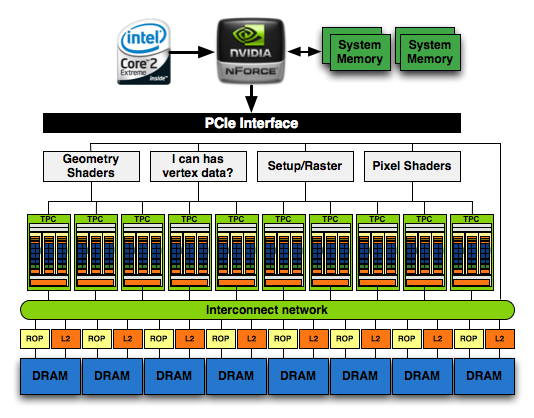 NVIDIA's GeForce GTX 280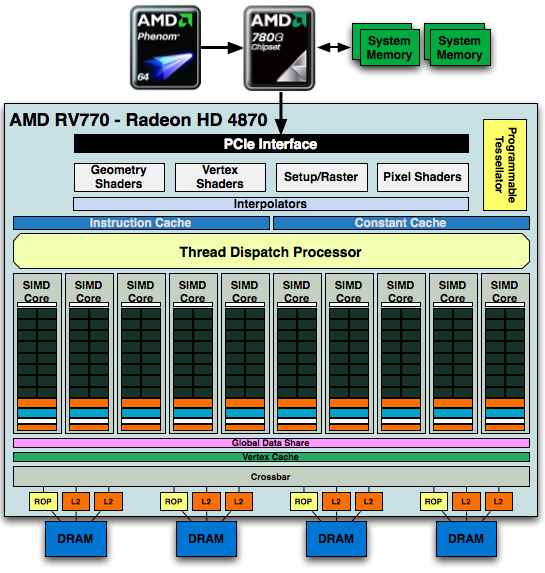 AMD's Radeon HD 4870
The full GPU is pretty impressive:
1) See the Instruction and Constant Caches up top? NVIDIA includes them in each SM while AMD seems to include them outside of the SIMD core clusters.

2) The RV770 only has four 64-bit memory controllers compared to the eight in GT200

3) The Programmable Tessellator is left over from the Xbox 360's GPU (and R600/RV670), unfortunately it is unused by most developers as there is no DirectX support for it yet.

4) AMD has dedicated hardware attribute interpolators, something NVIDIA's hardware shares with its special function units (SFUs).
Other than the differences we mentioned above, AMD's architecture is similar in vain to NVIDIA's, there are just a handful of design choices that set the two apart. Just like NVIDIA took its G80/G92 architecture and made it larger, AMD did the same with RV770 - it took RV670 and more than doubled its execution resources.
AMD took a bigger leap with RV770 from RV670 than NVIDIA did from G80/G92 to GT200, but it makes sense given that AMD had to be more competitive than it even was in the last generation.