Specifications
Specification
Samsung MCCOE64G5MPP
OCZ Technology OCZSSD2-1S64G
WD VelociRaptor WD3000BLFS
Unformatted Capacity
64GB
64GB
300GB
Interface
SATA 3 Gb/s
SATA 3 Gb/s
SATA 3 Gb/s
Rotational Speed
n/a
n/a
10,000 RPM
Buffer Size
n/a
n/a
16 MB
Average Latency
n/a
n/a
2.99 ms (nominal)
Read Seek Time
0.3 ms
0.3 ms
4.2 ms
Write Seek Time
0.2 ms
0.2 ms
4.7 ms
Transfer Rate - Buffer to Disk
100 MB/s (sustained)
100 MB/s (sustained)
120 MB/s (sustained)
Number of Heads
n/a
n/a
4
Number of Platters
n/a
n/a
2
Command Queuing
n/a
n/a
Native Command Queuing
Acoustics - Spec
Idle - 0dBA
Seek Mode 0 - 0dBA
Idle - 0dBA
Seek Mode 0 - 0dBA
Idle - 29dBA
Seek Mode 0 - 36dBA
Warranty
Variable
1 - Year
5 - Years
Power Dissipation
Read/Write
0.41 Watts
0.41 Watts
6.08 Watts
Idle
0.32 Watts
0.32 Watts
4.53 Watts
Standby
0.24 Watts
0.24 Watts
0.42 Watts
.
The Samsung/OCZ drives feature identical hardware no surprise in the specifications being essentially identical. Current Mtron and Memoright drives feature read and write seek times at 0.1ms but their power numbers are generally a few watts higher than the Samsung design. The power dissipation numbers are quoted from Samsung and in our testing we found the idle and standby numbers were accurate but read/write load numbers were around 1.8W, still excellent by any standard. Since the Samsung drive is primarily available in OEM systems, the warranty terms are variable between suppliers. Samsung quotes a MTBF of 2,000,000 hours, which is significantly higher than mechanical drives. We have not received information on the number of times data can be written to each bit or the wear leveling algorithms utilized.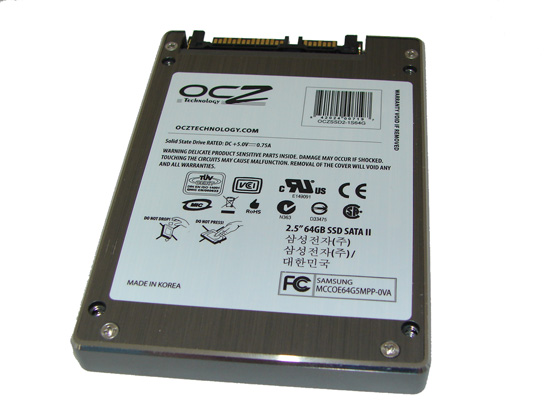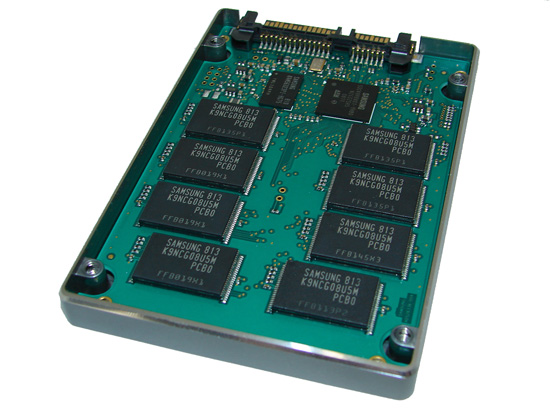 The 2.5" form factor that Samsung/OCZ utilizes is the standard 9mm option found in a majority of notebooks. Our review samples have the right mounting pattern for standard 2.5" platform designs. The circuit board features the NAND flash and controller on a single side along with the SATA power and cable connectors.