We're back to bring you a taste of some of the great games that you can expect see, and hopefully play, in the coming months. This is by no means a comprehensive list - we figure the average attention span for an article drops off rapidly past a certain point - but we've got some great stuff to talk about here. Let's get started.
What's Happening this Month?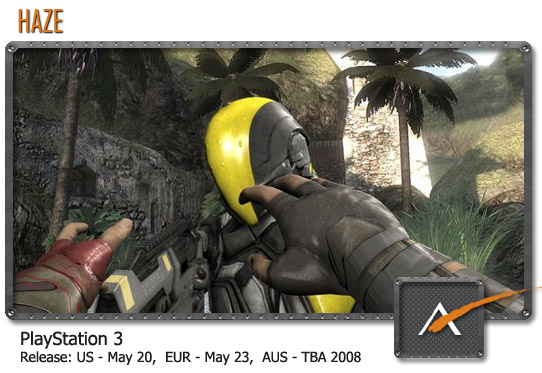 Let there be foliage! Ever since the release of Far Cry in 2004, a number of games have followed the trend of being set in exotic jungle locations with lots of greenery everywhere you point your AK-47. Haze continues this trend as an exclusive title for the PlayStation 3. In this politically charged first person shooter, you play as a member of the Mantel Corporation whose mission is to take down the one man whose dealings with a drug called nectar have been stirring up a fair amount of trouble in the world. But when you find out the truth behind Mantel's motives, you are faced with joining your enemy's forces, along with a few questions. Who are the good guys? Who are the bad guys? Which side am I on? [Ed: Looking at the Haze website, I'm not sure Mantel Corporation looks even remotely reputable.]
With a proven track record for creating shooters like TimeSplitters, plus Managing Director David Doak's work on GoldenEye, Free Radical has created what looks to be a force to be reckoned with in the FPS genre and a welcome addition to the roster of PlayStation 3 exclusive titles. Haze will be released in May with a lengthy single player/4-person co-op campaign and support for up to 24 players online via the PlayStation Network. Further details should be available later this month.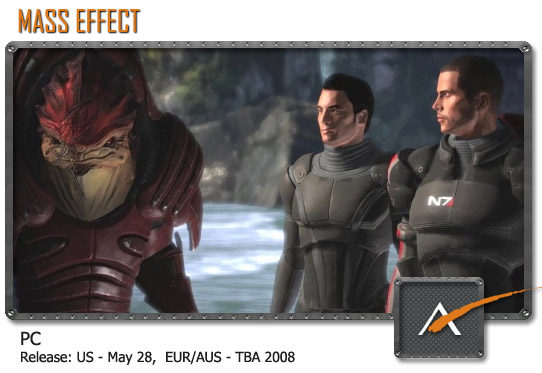 Staunch PC gamers who cringed when BioWare released their action/RPG Mass Effect as an Xbox 360 exclusive late last year will finally get some relief as the space epic makes its way to PC. Known for their creation of such titles as Star Wars: Knights of the Old Republic and Jade Empire, BioWare expands on their role-playing roots with real-time versus turn-based combat, and a rich story line whose outcome largely depends on the decisions made by the player. In Mass Effect you play as John Shepherd, a freedom fighter who leads his team on a galactic adventure to take down a former comrade who has taken a turn for the worse.
According to BioWare's technical producer, Derek French, Mass Effect on PC utilizes DX9 rendering with "no promises" made regarding DX10. Much like Epic's PC release of Gears of War, the game runs on Unreal Engine 3 with graphical enhancements including a revamped graphical user interface that precludes to Mass Effect from being a simple port of an Xbox 360 game. While system requirements are still being fleshed out, gamers can expect similar hardware specs for other recent releases running on Unreal Engine 3, such as Bioshock and Unreal Tournament 3.