Introduction
Not too long ago, a rogue division of Cooler Master left to form their own company called Silverstonetek. While they are arguably more famous for their HTPC cases today, Silverstone has already developed a vast number of power supplies and is getting stronger with each new series.
The Olympia series is designed by Silverstone's newly acquired crew that came over from several member of different teams of the power supply business. With this move, Silverstone makes it clear that they are interested in branching out into other areas of the power supply market. At the CeBIT earlier this year, they were already showing a server power supply, and more will follow in the near future.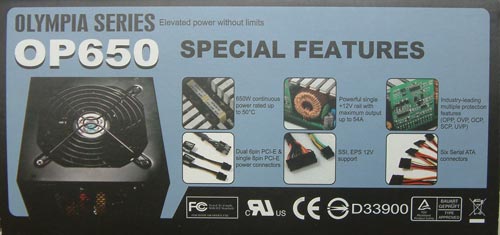 There are two things which help this power supply stand out from most other units. Silverstone is one of the first manufacturers that is actually returning to Taiwan for production. What's noteworthy about this is the fact that Silverstone has set up a robot factory in Taiwan that is building the PSU totally by itself. The positive effect of this is the same as what we see with things like car manufacturing where the work is done by robots: the overall soldering and precision is just better than it is by hand. This fact can be seen quite clear later when we take a look inside of this unit.
The second special characteristic is the single 12V rail. In a time when other manufacturers are building up to six 12V rails in their PSUs, Silverstone has come up with a single rail able to pull a load up to 54 amps. If we look to the actual Intel ATX12V specs, it states that there should be no rail with more than 20 amps for safety reasons. That's a fine step but not possible when you listen to the graphics card manufacturers. They ask for up to 30 amps from a single 12V rail which would make every OCP kick in if reached since they lie at around 24 amps. The result would be a shut-down of the PC while running the actual application. With a single 12V rail Silverstone went in another direction. If you have enough power to supply every component in the PC from a single rail, there would never be any problem since the PSU is regulating all the power drawn from just one source.
This might be a valid way to design a power supply, but, even though we don't know what it is, Intel probably had a reason for designing the specifications around a 20 amp per 12V rail limit. Silverstone backs up their design choice by stating that there is no application which could force this kind of power supply to fail. We have not heard of any problems in the field with a single high current 12V rail, and in our tests we weren't able to provoke this power supply into failing. We will make sure to pay close attention to this during the tests.