If looks equals performance then the Cooler Master GeminII will certainly top our performance charts. The GeminII has stirred the imagination of our readers like no other new cooler that has been introduced. This is primarily the result of the unique design of this heatpipe tower that tries to address issues that some fear remain with current heatpipe tower designs.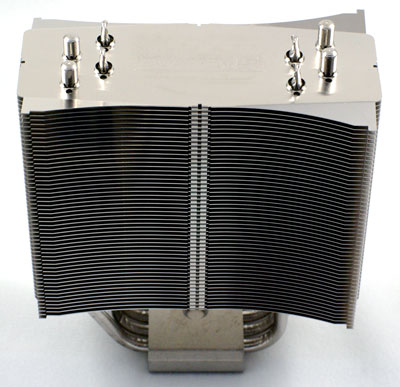 The top-performing air tower designs we have tested, like the Thermalright Ultra 120 pictured above, have the heatpipes rising from the base that contacts the CPU, with horizontal cooling fins. The 120mm cooling fan blows from the side of this plate stack, directing air to the rear of the case. Performance tests have shown this to be a very effective air cooler design, but some still worry that motherboard components cannot be cooled as well with this configuration as they might be with a traditional down-facing fan.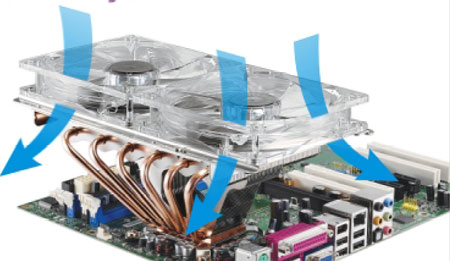 Cooler Master's GeminII switches things around by moving six heatpipes to a cantilevered top array cooler with vertical fans attached to the pipes. In the process the Gemini II creates a massive top-mounting space that can accommodate up to two 120mm down-facing fans.
Cooler Master emphasizes that the idea behind the GeminII is efficient CPU cooling with good cooling for motherboard components provided by the fans blowing down. It all looks and sounds logical enough, but looks and logic have proven off-target before in our testing. We were very anxious to run the Gemini II through our cooling test bed to see if it improved on the performance of the best air coolers we have tested in our labs.