ATI has this nasty habit of introducing way too many GPUs into its lineup, and today is no letdown to tradition as ATI is introducing a total of five new video cards. 
We'll start at the bottom with the Radeon X1300 XT, a new $89 part from ATI.  The X1300 XT is effectively a rebadged X1600 Pro, and thus should offer a significant performance boost over the rest of the X1300 family. 
Since the X1300 XT is the same thing as an X1600 Pro, the X1600 family gets a new member with the introduction of the X1650 Pro.  The X1650 Pro is identical to the X1600 XT except for a 10MHz increase in core clock and memory clock frequency.  Yes, an entirely new product was created out of a 10MHz bump in GPU/memory clocks.  The X1650 Pro will be priced at $99.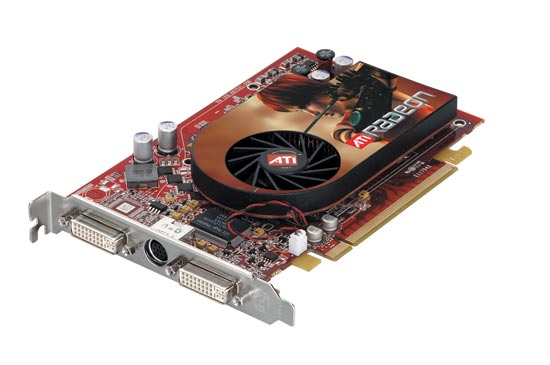 ATI's Radeon X1650 Pro
Last week we took a look at currently available mid-range GPU solutions in the $200 - $300 price range and found that for around $340 you could pick up a 512MB X1900 XT and generally get some very solid performance.  Today ATI is introducing a 256MB version of the X1900 XT at the suggested retail price of $279, which has the potential to give ATI a firm grasp on the performance mainstream GPU market.  The X1900 XT 256MB is no different than its 512MB brother other than memory size, so pipes and clocks are the same.  If you're wondering why the X1900 XT (512MB) noticed such a sharp decline in price over the past couple of weeks, the impending release of the cheaper 256MB version is your answer. 
At the high end we've got the final two cards that round out today's launch: ATI's Radeon X1950 XTX and X1950 CrossFire.  The X1950 XTX is identical to the X1900 XTX except that it uses faster GDDR4 memory, running at 1GHz compared to 775MHz on the X1900 XTX.  With more memory bandwidth, the X1950 XTX could outperform its predecessor, but performance isn't what we're mostly excited about with this card - it's the price.  ATI is hoping to sell the X1950 XTX for $449, a drop in price compared to the introductory price of the X1900 XTX, which is a trend we haven't seen too often among GPU makers.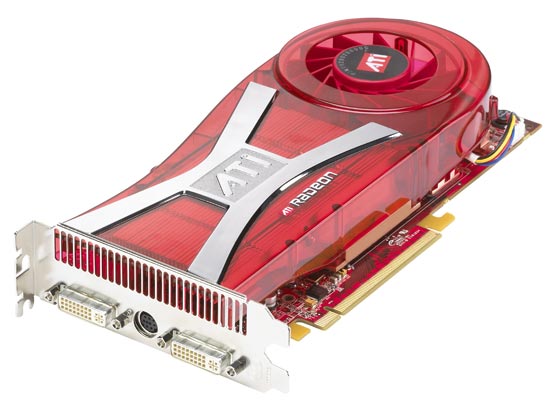 ATI's Radeon X1950 XTX
To make things even better, the CrossFire version, which has identical clocks, is also priced at $449; in other words, there's no reason not to get the CrossFire version.  ATI confirmed to us that you can run a pair of X1950 CrossFire cards in CrossFire mode, further reinforcing the fact that there's no reason to even buy the regular card.  You get the same performance, same features and better flexibility with the CrossFire card so why not?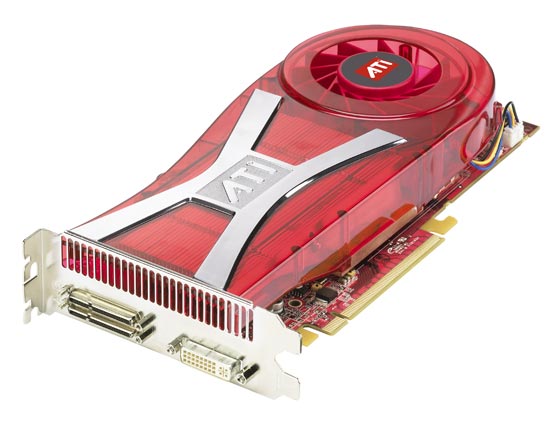 ATI's Radeon X1950 CrossFire
NVIDIA Graphics Card Specifications
 

Vert Pipes

Pixel Pipes

Raster Pipes

Core Clock

Mem Clock

Mem Size (MB)

Mem Bus (bits)

Price

GeForce 7950 GX2

8x2

24x2

16x2

500x2

600x2

512x2

256x2

$600

GeForce 7900 GTX

8

24

16

650

800

512

256

$450

GeForce 7900 GT

8

24

16

450

660

256

256

$280

GeForce 7600 GT

5

12

8

560

700

256

128

$160

GeForce 7600 GS

5

12

8

400

400

256

128

$120

GeForce 7300 GT

4

8

2

350

667

128

128

$100

GeForce 7300 GS

3

4

2

550

400

128

64

$65
ATI Graphics Card Specifications
 

Vert Pipes

Pixel Pipes

Raster Pipes

Core Clock

Mem Clock

Mem Size (MB)

Mem Bus (bits)

Price

Radeon X1950 XTX

8

48

16

650

1000

512

256

$450

Radeon X1900 XTX

8

48

16

650

775

512

256

$375

Radeon X1900 XT

8

48

16

625

725

256/512

256

$280/$350

Radeon X1900 GT

8

36

12

525

600

256

256

$230

Radeon X1650 Pro

5

12

4

600

700

256

128

$99

Radeon X1600 XT

5

12

4

590

690

256

128

$150

Radeon X1600 Pro

5

12

4

500

400

256

128

$100

Radeon X1300 XT

5

12

4

500

400

256

128

$89

Radeon X1300 Pro

2

4

4

450

250

256

128

$79
Today we're able to bring you a look at performance of the mid range and high end solutions, the X1950 cards and 256MB X1900 XT.  We're still waiting for ATI to send us our X1300 XT and X1650 Pro samples, and we will follow up in the coming weeks with a look at the performance of those offerings as well.  Note that although ATI is lifting the veil on its five new products today, you won't actually be able to buy any of them until September 4th (on the high end) with no real availability until the 14th.  Given the pricing that ATI is promising however, these cards are worth waiting for. 
With five new cards being introduced, ATI is hoping to slowly phase out all of its other offerings to simplify its product lineup.  Unfortunately, it will take some time for all inventory to dry up, but when it does ATI hopes to have the following cards in its lineup:
Class
Card

Price

 

Enthusiast
ATI Radeon X1950 XTX

$449

ATI Radeon X1900 XT 256MB

$279

Performance
ATI Radeon X1900 GT

$249

Mainstream
ATI Radeno X1650 Pro

$99

ATI Radeon X1300 XT

$89

Value
ATI Radeon X1300 Pro

$79

ATI Radeon X1300 256

$59

ATI Radeon X1300 64-bit

$49
The performance difference between the X1900 XTX and XT was small enough that it didn't make sense to have two different products, which is why ATI left the X1950 XTX as the only high end GPU on its roster.
As we don't have availability right now, we can't confirm real street prices, but we did speak with a few companies who manufacture ATI cards. HIS has stated that they should be able to meet ATI's pricing on all of these parts, which is promising. We also heard from PowerColor on pricing, and it looks like they will be able to meet the MSRP price on the X1950 XTX. With the X1900 XT and X1900 XT 256MB, PowerColor will be listing them for $400 and $300 respectively. Depending on how the rest of the manufacturers stack up, we could see some good prices next month or be sorely disappointed; at this point it's best to be cautious with a launch so far in advance of availability.