Read Performance
Our read performance investigations start out with small 512-byte files, then scale up to 32KB, 256KB, 2MB and 64MB file sizes.
512-byte File Read Performance
At 512-bytes, the performance of all of these drives is in the sub-1MB/s range. The fact of the matter is that NAND flash based USB drives do not perform very well with small files: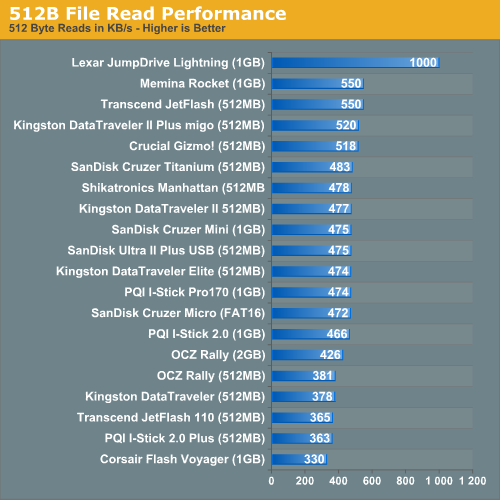 For the most part, all of the contenders perform very similarly here. Interestingly enough, Lexar jumps to the top of the list with their JumpDrive Lightning.
Honestly, you don't see any real performance differences here until you drop into the bottom 4 or 5 drives.
32KB File Read Performance
At 32KB, we get into the size range of very small pictures, medium sized documents and a number of other types of files that are all potentially well suited for these drives. Note that the performance of these drives improves significantly over the 512-byte file size results from above. While we expressed performance in hundreds of kilobytes per second before, now we're talking about megabytes and tens of megabytes per second: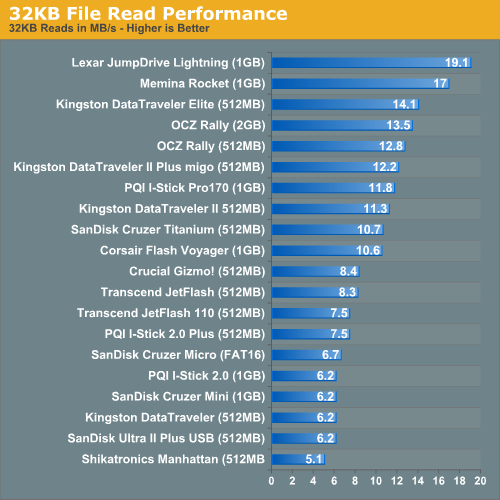 Now, we start to see the pack thin out, as the clear performance leaders are reduced from over a dozen down to a few: Lexar's JumpDrive Lightning, Memina's Rocket, Kingston's DataTraveler Elite and OCZ's 2GB Rally drive.
Once we get lower than the Flash Voyager on the list, that's when we see performance drop into the single digit MB/s transfer rates.