256KB File Read Performance
Read performance continues to go up as we look at 256KB files; all drives get faster, but some simply get faster than others.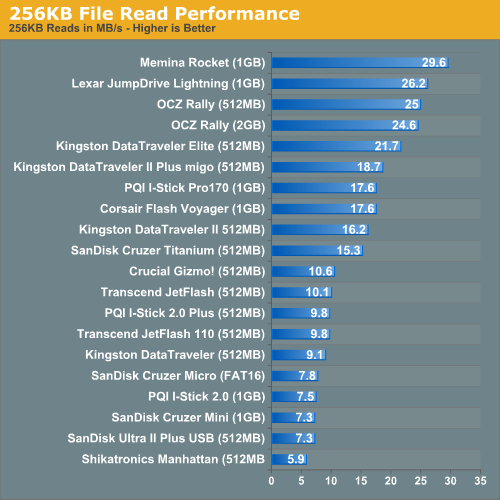 The top four are quickly shaping up to be the Memina Rocket, OCZ Rally, Lexar JumpDrive Lightning and Kingston DataTraveler Elite.
The second tier of performance is once again led by Kingston's DataTraveler II+ and PQI's I-Stick Pro170, with SanDisk's Cruzer Titanium bringing up the rear.
The third and fourth performance tiers once again populate the 10MB/s and below area.
2MB File Read Performance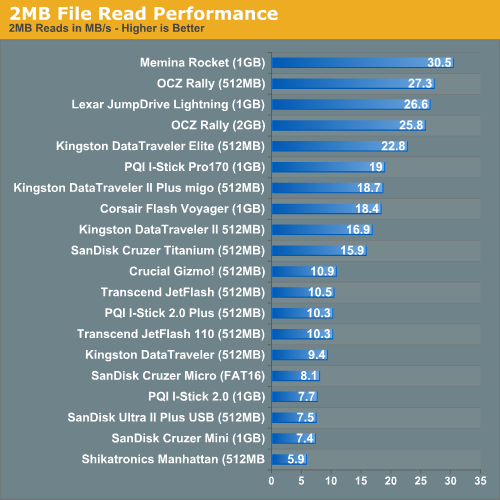 Performance really starts to hit its maximum with the 2MB file read test. The Memina Rocket drive lives up to its name and manages an incredible 30.5MB/s transfer rate in this test. The OCZ and Lexar drives follow Memina, while Kingston falls short at 22.8MB/s. But even the Kingston Elite drive is still 20% faster than the next closest competitor, the PQI I-Stick Pro170.
64MB File Read Performance
By the time that we've reached the 64MB test, these drives have all pretty much achieved their transfer peaks. While they all were horrendously slow at small file reads, by the time we made it to 64MB files, their performance truly peaked.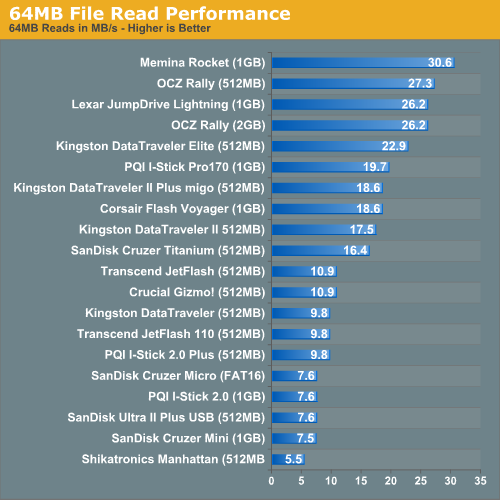 The Memina Rocket holds a 12% performance advantage over the OCZ, a 17% advantage over the Lightning and a 34% performance advantage over the Kingston DataTraveler Elite, but all three of those drives were able to deliver transfer rates greater than 22MB/s.
PQI's I-Stick Pro170 leads the second performance tier, averaging 19.7MB/s.
But, despite how consistent the standings were as we tested varying file sizes, the show is far from over. At this point, we're only looking at one half of the spectrum. In order to have data to read from these drives, you have to first write to them. And this is where things get complicated...