Read Tests/Seek Times
For our CD read and seek time tests, we used a CD-ROM filled with 700MB of data on all of the competitors.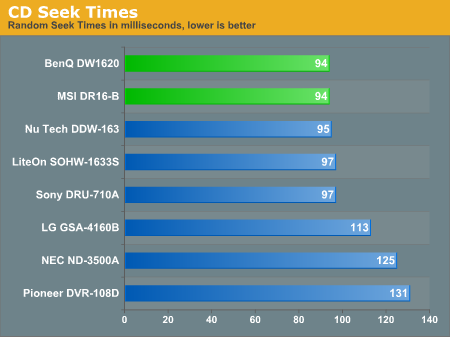 Though the NEC ND-3500A had an excellent performance in CD and DVD read and write speeds and quality, the average CD seek time was the second longest compared to the rest of the drives at 125ms. Pioneer's DVR-108D averaged at about a 131ms seek time. The quickest drives were the DW1620 and MSI's DR16-B.
As for the DVD seek time tests we used a DVD-Video, specifically "The Matrix".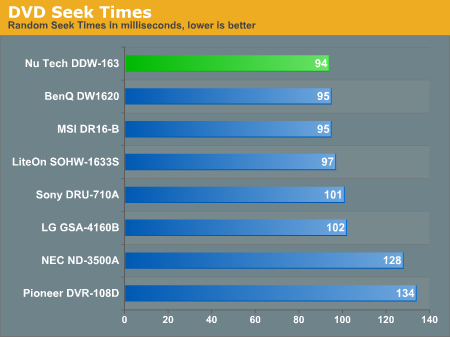 The results for DVD seek times were the same, with the Pioneer unit being the slowest at 134ms and Nu Tech's DDW-163 coming in at first at 94ms.
Now let's take a look at how quickly our drives could read a DVD in measures of read speed.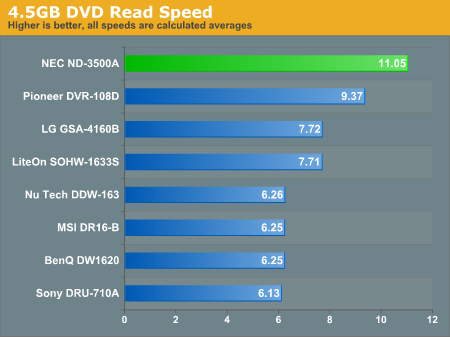 From our results, it is obvious once again that the ND-3500A reads not only CD media, but also DVD 4.5GB media, the fastest at an average of 11.05X. The slowest was Sony's DRU-710A, which reported an average 6.13X speeds. How will the ND-3500A perform with 9GB DVD media?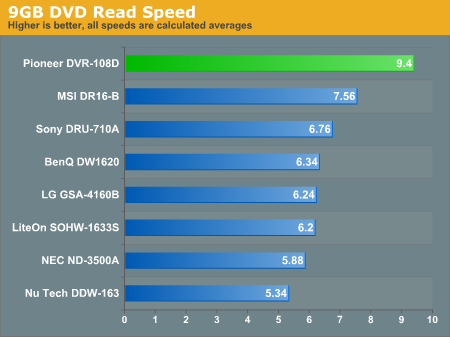 There has been quite a bit of change from 4.5GB DVD read speeds. With a 9GB DVD, the Pioneer DVR-108D comes out on top at an average read speed of 9.40X while, surprisingly, MSI's DR16-B comes in second at 7.56X on average. The NEC does not do as well this time, coming in second to last with a 5.88X read speed, slightly better than the last place Nu Tech DDW-163's 5.34X average speed.