Unreal Tournament 2004
While Wolfenstein is our OpenGL benchmark cornerstone, Unreal Tournament is our SDL cornerstone. We place a lot of weight on our UT2004 benchmarks, since UT is perhaps the largest Linux game released to date. We are anticipating Doom3's Linux release in just a few days, so that may also change things.
We used the assault.dem timedemo in this benchmark.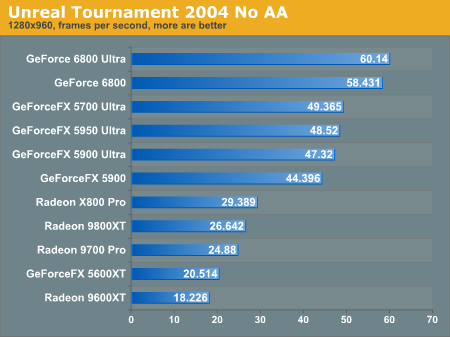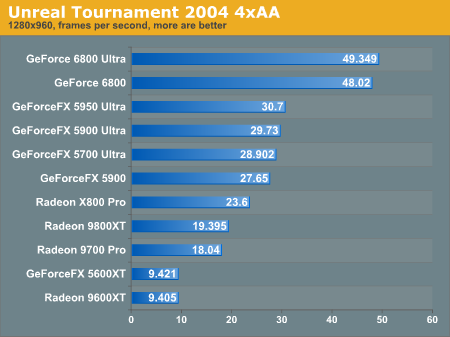 During the timedemos on ATI cards, we occasionally got mild screen corruption in the game console - white flashing triangles ranging anywhere between 100 and 600 pixels long. There seems to be a documented problem with this on various websites, and it looks like the newer versions of the ATI drivers may fix this. Since we could not get the newest drivers working yet, we cannot vouch for this claim.
Below, you can see how the two video cards shaped up during the first eight seconds of the timedemo.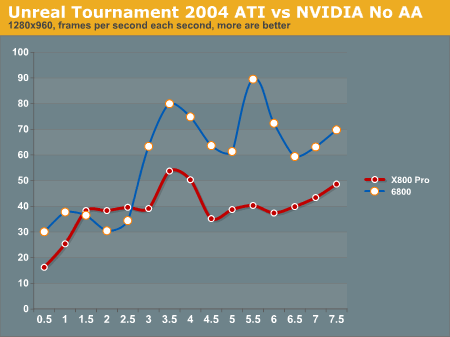 Our FG utility really gives us something to be proud of when we look at graphs like Unreal Tournament. It's true that the average frames per second are lower on ATI cards over their NVIDIA counterparts, but we see a lot of stability in how the card behaves. You'll notice that although the GeForce 6800 ramps up to 40FPS very quickly, it hits a local minimum while the Radeon is just starting to notch up.
The first scene in which both cards clock down can be found below.
The combination of rendering the exterior landscape (large textures) of the cargo hold, the unusual lighting and shading had affected both cards - although it would seem the Radeon cringed first before the landscape was fully revealed. Our player ducks and mainly looks at the ground for a second or so after this, and you can see the NVIDIA card really ramp up in that half second.