Wolfenstein: Enemy Territory
Wolfenstein acts as the cornerstone of our OpenGL benchmarks. The program uses very simple GL calls, and runs on virtually any configuration that we could find. There is an unusual bug in Wolfenstein when used in conjunction with FrameGetter; occasionally after running the modified executable, the original executable uses the libFG libraries anyway.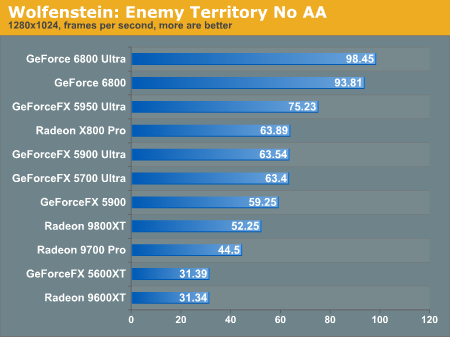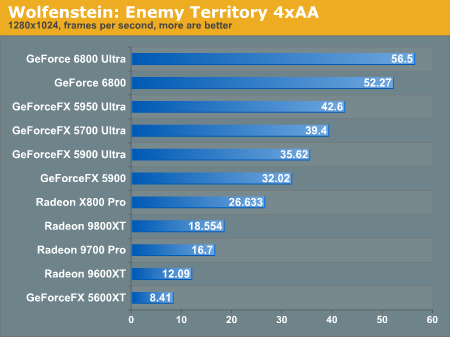 Let's take a specific look at the performance between our Radeon X800 Pro and the GeForce 6800 (Non-Ultra). You can download the CVS file of the graph below
here
.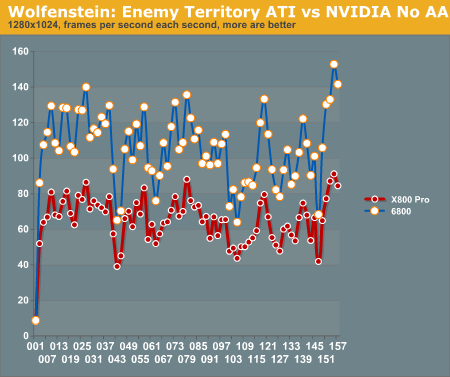 We expect relatively older games like Wolfenstein to be fairly CPU bound. A two and a half minute cross-section of the radar timedemo reveals very little difference in performance between the two cards - but keep in mind that for this timedemo, we captured our FPS on two second intervals. Unreal Tournament on the previous page was taken at half second intervals. There are still some interesting phenomena, however. At the 109
th
second of the timedemo, notice how the Radeon X800 ramps very slowly before peaking at the 115
th
second. The NVIDIA card peaks almost immediately at the 111
th
second, stays level and then peaks again at the 115
th
second. Here is a screenshot of that particular scene.
Our player has just walked out of a hut and onto the field. The global scene that seems to have punished our graphic cards (~43
rd
second) the most can be seen below.