Test Setup
The rest of the tests in this review were conducted on our regular desktop testbed, with the OWC Aura Pro X2 installed in an M.2 adapter. As with our usual SSD reviews, these tests run on Windows (ATSB tests) and Linux (synthetic benchmarks) rather than macOS. The older Apple SM0512F SSD is included because it presents a standard AHCI interface that is software-compatible with SATA controllers, but the more recent Apple SM0128G SSD uses a non-standard protocol and cannot be properly detected on non-Apple systems even with the adapter that works for the SM0512F and OWC Aura Pro X2.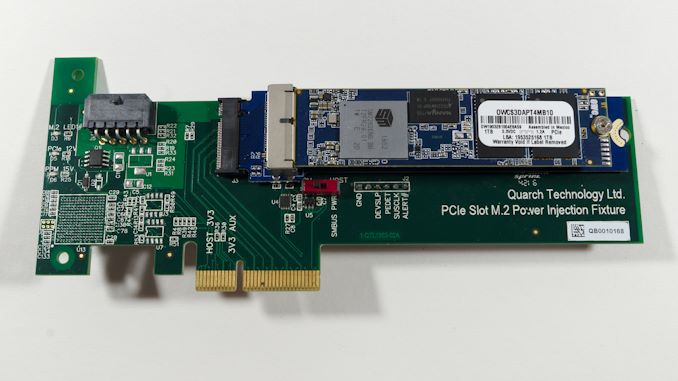 Since the rest of these test results are directly comparable to our usual review results, we've thrown in older numbers for a few more SSDs, including two entry-level NVMe SSDs: the Phison E8-based Kingston A1000, and the Intel 660p QLC-based SSD.
AnandTech 2018 Consumer SSD Testbed
CPU
Intel Xeon E3 1240 v5
Motherboard
ASRock Fatal1ty E3V5 Performance Gaming/OC
Chipset
Intel C232
Memory
4x 8GB G.SKILL Ripjaws DDR4-2400 CL15
Graphics
AMD Radeon HD 5450, 1920x1200@60Hz
Software
Windows 10 x64, version 1709
Linux kernel version 4.14, fio version 3.6
Spectre/Meltdown microcode and OS patches current as of May 2018
Whole-Drive Fill
This test starts with a freshly-erased drive and fills it with 128kB sequential writes at queue depth 32, recording the write speed for each 1GB segment. This test is not representative of any ordinary client/consumer usage pattern, but it does allow us to observe transitions in the drive's behavior as it fills up. This can allow us to estimate the size of any SLC write cache, and get a sense for how much performance remains on the rare occasions where real-world usage keeps writing data after filling the cache.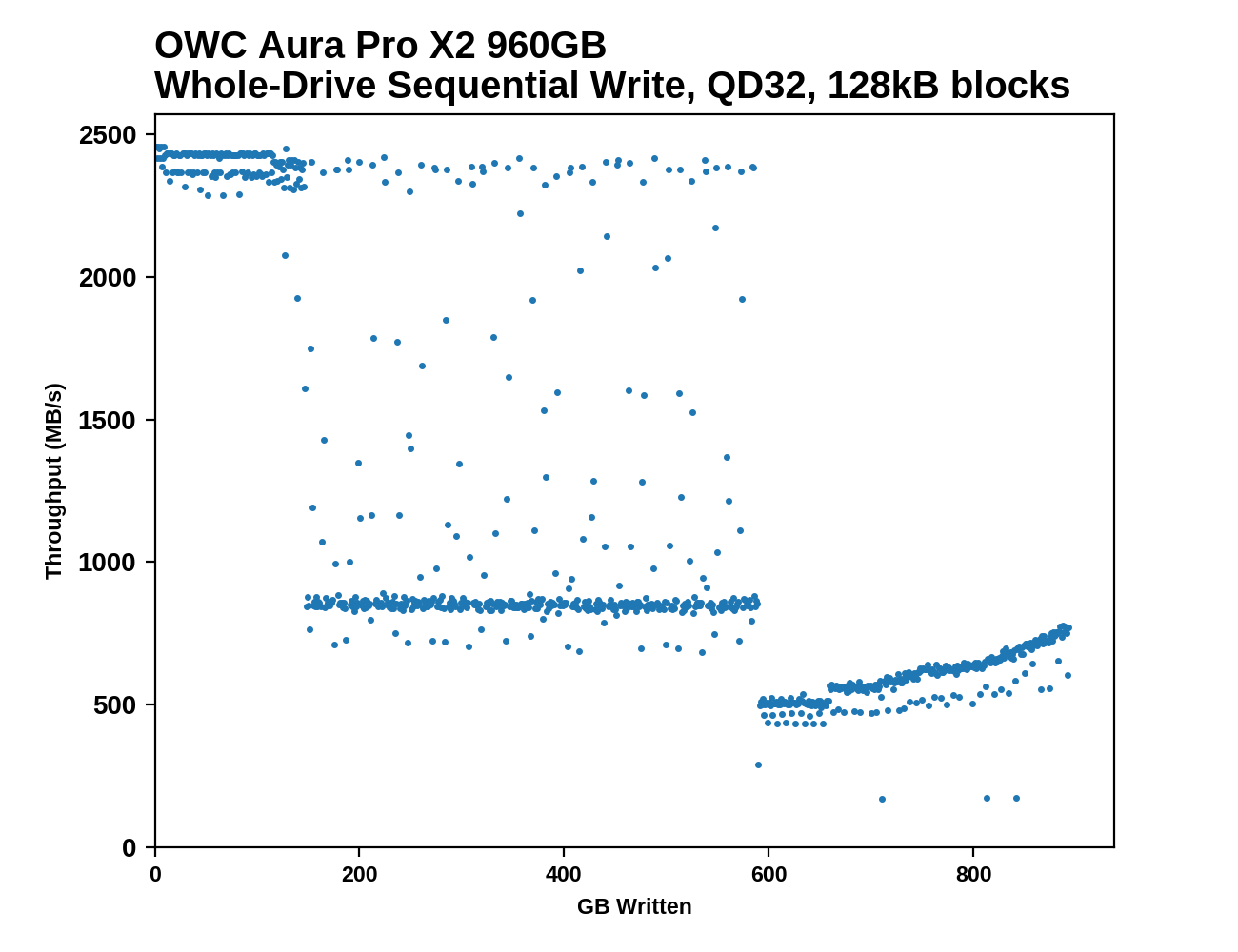 The 960GB OWC Aura Pro X2's SLC cache is plenty fast, and lasts for about 147GB of writes before performance starts to drop. Initially, it goes down to about 850 MB/s, but just before the 600GB mark it drops again to be only slightly faster than SATA. Performance recovers a bit through this last phase, and ends up almost back up to the respectable second phase speeds. Overall, this behavior is similar to the HP EX950 that uses the same controller, but the EX950 tends to be a bit faster overall.
The overall average write speed puts the Aura Pro X2 as only slightly faster than the Apple 500GB drive, and half the speed of the fastest modern TLC drive. But this obscures the fact that the Apple drive doesn't have an SLC cache and never gets much above 800 MB/s during the fill, while the Aura Pro X2 writes at nearly 2.5GB/s for any ordinary real-world duration.