BTX - The Basics
Just in case you were told otherwise, the BTX form factor is largely incompatible with the ATX form factor - the only area where this doesn't fully apply is in power supply support, as you can use ATX power supplies with BTX motherboards (more on this later).
In order to understand BTX you have to understand the motives for change. CPUs are getting hotter, graphics cards are as well, and despite all of these increases in thermal dissipation there is an increase in demand for quieter PCs. Today's ATX cases and motherboards were not designed for the incredible levels of heat that they have to deal with, and it is with this that we begin our understanding of BTX.
Pictured below you will see a BTX motherboard reference design: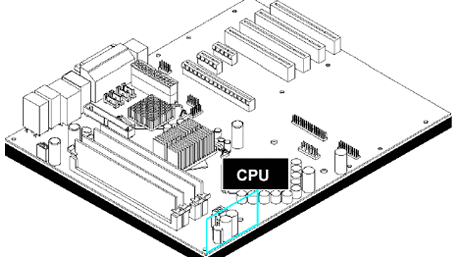 The first thing that you'll notice about the BTX form factor is that the expansion slots have switched sides. In the picture above you'll see a total of 7 slots, from left to right we have a PCI Express x16 slot, two PCI Express x1 slots and four 32-bit PCI slots. Note that the slot closest to the CPU is the PCI Express x16 slot, which will be used for graphics, allowing it to share some of the CPU's cooling.
The redesign of the board layout was done in order to improve airflow through the system; moving the CPU to the "front" of the case allows it to be right next to the intake fan, giving it the coolest air out of any component in the system. You will then notice that the chipset is directly in line with the CPU, allowing airflow over the CPU's heatsink to be channeled over those heatsinks as well before exiting the case. This direct line of airflow allows for very efficient cooling of not only the CPU, but the voltage regulators, chipset and graphics card.
The memory slots have been moved to the left edge of the motherboard, but are also able to receive cooling courtesy of the thermal module, as it is known, that is mounted over the CPU. You can see a good example of what the thermal module will look like below: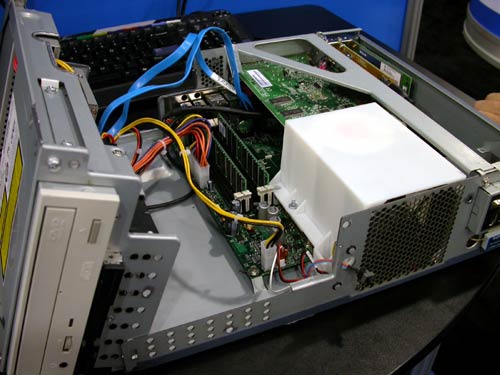 The white plastic duct encloses what is known as the "thermal module," which at this point is basically a heatsink and a fan. In the future, the thermal module could encapsulate some more exotic cooling forms such as heatpipes or potentially even water cooling. In this particular design, the fan seen above is a 90mm unit.
In order to understand the cooling flow within a BTX system, take a look at the picture below: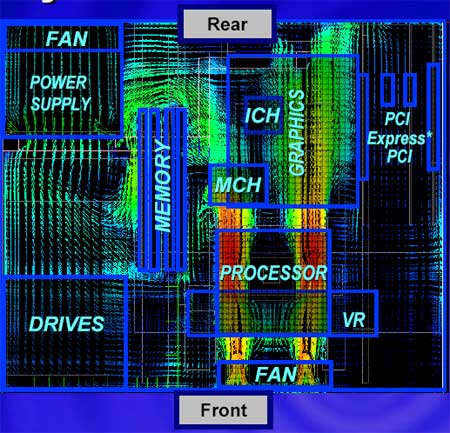 In the depiction above the graphics card is mounted on a riser card, although it can also be mounted vertically.