Three different BTX sizes
Much like the multiple sizes of ATX (micro, flex, etc...), the BTX form factor allows for multiple versions of the form factor. In terms of motherboard sizes, there are three types: picoBTX, microBTX and regular BTX.
Although the board pictures below are obviously not to scale (the BTX board is clearly larger than the picoBTX board), the idea is to show you the difference in expansion slots between the boards.
| | | |
| --- | --- | --- |
| | | |
| 8.0" x 10.5" | up to 10.4" x 10.5" | up to 12.8" x 10.5" |
The picoBTX standard can support either one or two expansion slots and has four mounting holes. PicoBTX cases will probably have one 3.5" and one 5.25" drive bay.
The microBTX standard, which most are expecting to be the more popular of the three, has support for four expansion slots and has seven mounting holes. MicroBTX cases will feature one 3.5" bay and up to two 5.25" bays.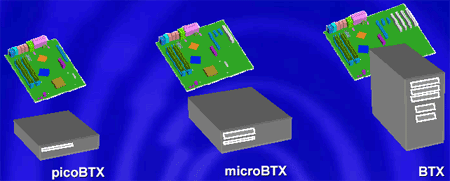 Finally we have the regular sized BTX, supporting up to a full 7 expansion slots and mounts to the case using 10 mounting screws. Regular BTX cases will be more like the mid-tower ATX cases we have today, supporting 3+ 3.5" bays and 3+ 5.25" bays.

The BTX standard allows for two case heights - Type I and Type II. Type I cases are 3.98" in height and can use normal expansion cards, while Type II cases are for small form factor designs and are 3.0" in height. Expansion cards would either use risers or be low profile in a Type II case.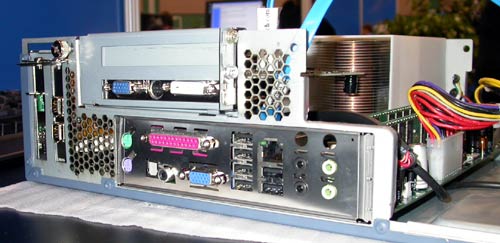 The rear of a microBTX case, you can see the circular heatsink in the thermal module.