Optane Memory: Support for Intel 3D XPoint
For our regular readers, 3D XPoint will be well known, but for everyone else here's a quick recap. One of the goals in the memory industry is to create something with the speed of DRAM but persistent, such that the data is saved when the power is switched off. DRAM uses power to refresh data, but is a bulk-source of data movement for software. A lot of the speedup behind software is the speed behind memory accesses, or the ability to have data closer to the core when needed, so having a large, close, non-volatile memory set can be a big help in both performance and power consumption. In order to create non-volatile memory like this, several players have spent the best part of a decade creating new materials and new paradigms to get something that works. Intel (and Micron) formally announced their 3D XPoint solution over a year ago, allowing for a bit-level addressable matrix of non-volatile memory, however no products have formally been announced.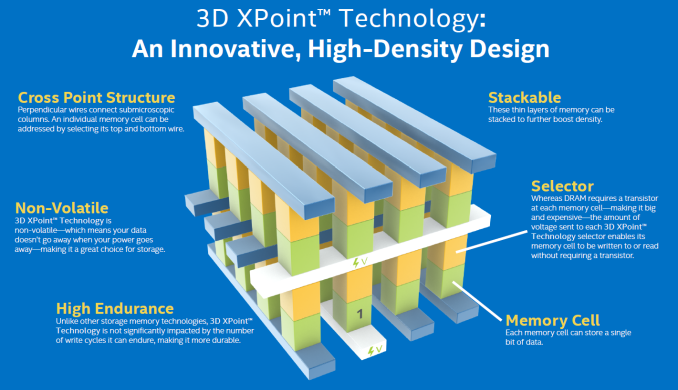 Intel intends to create three levels of 3D XPoint, suitable for different parts of the storage chain:
#1 - Storage ('Optane SSD'): 120GB+ of SSD like NVMe storage
#2 - Storage Caching ('Optane Memory'): 16-32GB of HDD Caching storage
#£ - DRAM ('Optane DRAM' ?): ?GB of DRAM, DDR4-pin compatible
The first two in that list have been defined, although the use of the term 'Memory' to define a storage cache is a little odd. Intel has stated in briefings that 'Optane Memory' is different to 'Optane SSD', and no exact word yet on how the 3D XPoint DRAM product will be named.
We saw a pair of the Optane SSD evaluation drives at IDF. These are drives that Intel hands out to large partners and OEMs to help configure future products or optimize software, and we were told these were early-production 140GB drives which may or may not represent what's coming to market. Unfortunately aside from a few images of a heatsink several inches away, we were unable to look any deeper in to the design at the time.
Optane Memory, as announced through the recent Lenovo announcement, forms the brand name for a series of caching drives. We've had caching drives before, when SSDs were coming to the market and a combination of Intel RST, an mSATA drive and a spinning HDD meant that some elements of the storage were cached, affording a higher rate of performance over a regular HDD. The same concept applies here, with the 16GB Optane Memory drives acting as a cache for certain elements of the HDD use case enabling faster speeds when needed. We are told that this requires an update to Intel RST, and that Optane Memory will only work on Kaby Lake and up with a 200-series chipset (as in, you can't use it with a 200-series chipset and Skylake, for example). The benefits of having Optane as a cache over a regular SSD are unclear at this point, aside from the fact that Optane will be under NVMe and use PCIe lanes – Billy Tallis, our SSD editor, has written a piece on the situation which is worth a read.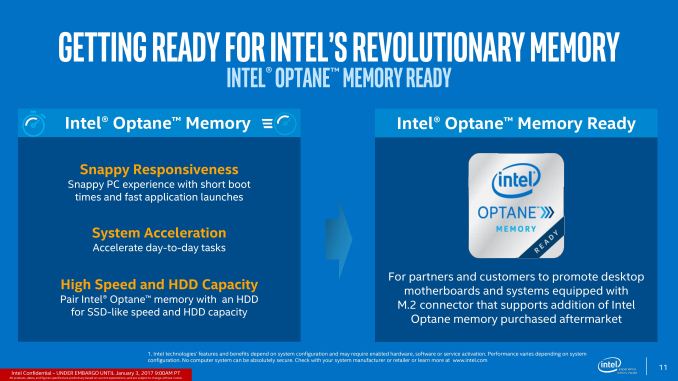 One thing that Intel mentioned during our Kaby Lake briefings is that 'Optane Memory' is different from 'Optane SSD', which could lead one to believe that 'Optane Memory', as a caching drive, cannot be used as an SSD. The original caching of an mSATA drive was almost like a hybrid RAID setup, and the mSATA drive could still be used as an SSD if it was configured that way. Because Intel is giving this a different naming system, it might stand to reason that the Optane caching drive cannot be used as a separate SSD in itself. Intel also stated that it will be later in the first half of 2017 before these drives are available as a separate purchase.
As of right now, only Lenovo has announced laptops with Optane Memory installed, however we expect several more vendors to announce products over the next few weeks unless Lenovo has initial exclusivity. So while Optane Memory is an advertised feature of Kaby Lake and the 200-series chipsets, it is one that users will have to wait to get to grips with, if relevant at all.