When AMD released its Radeon HD 4870 and 4850 the price/performance advantage over NVIDIA at the time was so great that we wondered if it would extend to other GPUs based on the same architecture. Inevitably AMD would offer cost reduced versions of the 4800 series and today we're seeing the first example of that; meet the RV730 XT, otherwise known as the Radeon HD 4670:
The Radeon HD 4670 is priced at $79, which in the past hasn't really gotten you a very good gaming experience regardless of who made the chip. Today's launch is pretty interesting because the 4670 has the same number of stream processors as the Radeon HD 3870 (320), which at the time of its launch was reasonably competitive in the $180 - $200 range. Let's have a closer look at the 4670's specs:
ATI Radeon HD 4870
ATI Radeon HD 4850
ATI Radeon HD 4670
ATI Radeon HD 4650
ATI Radeon HD 3870
Stream Processors
800
800
320
320
320
Texture Units
40
40
32
32
16
ROPs
16
16
8
8
16
Core Clock
750MHz
625MHz
750MHz
600MHz
775MHz+
Memory Clock
900MHz (3600MHz data rate) GDDR5
993MHz (1986MHz data rate) GDDR3

1000MHz (2000MHz data rate) GDDR3

or

900MHz (1800MHz data rate) DDR3

500MHz (1000MHz data rate) DDR2
1125MHz (2250MHz data rate) GDDR3
Memory Bus Width
256-bit
256-bit
128-bit
128-bit
256-bit
Frame Buffer
512MB
512MB
512MB GDDR3 or 1GB DDR3
512MB
512MB
Transistor Count
956M
956M
514M
514M
666M
Die Size
260 mm2
260 mm2
146 mm2
146 mm2
190 mm2
Manufacturing Process
TSMC 55nm
TSMC 55nm
TSMC 55nm
TSMC 55nm
TSMC 55nm
MSRP Price Point
$299
$199
$79
$69
$199
Current Street Price
$270
$170
$80
N/A

$110
Clock speeds are a bit lower and we've got much less memory bandwidth, but the hardware has some advantages. The RV730 XT is a derivative of the GPU in the 4800 series cards, and it carries over some of the benefits we saw inherent in the architecture changes. Of these, antialiasing saw a major benefit, but we also see changes like increases in cache sizes, texturing power, and z/stencil ability. We won't see performance on par with the 3870 in general, but the 4670 will do some damage in certain situations, especially if AA comes into play.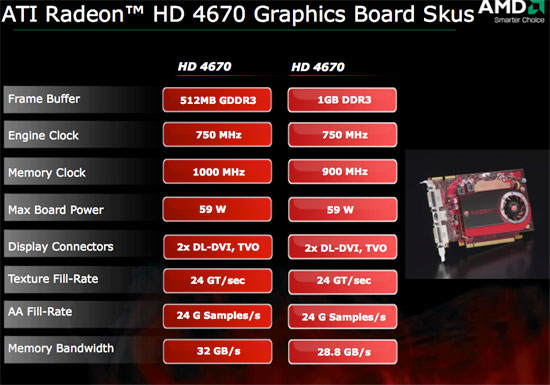 AMD is also announcing (but we're not testing) the Radeon HD 4650 running at a meager 600MHz and using 500MHz DDR2 memory. The 4650 will chop another $10 off the 4670's pricetag.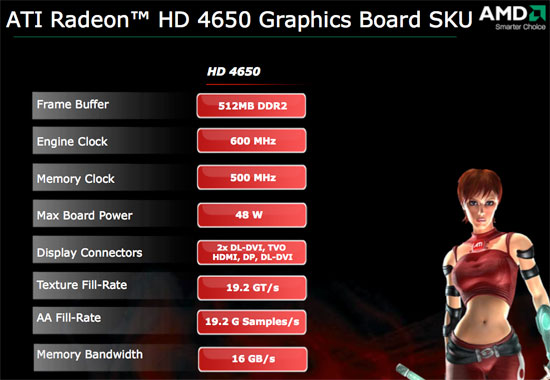 AMD lists board power of the 4670 and 4650 at 59W and 48W respectively and obviously they're single slot (with no PCIe power required). To make things better, both of them include the same 8-channel LPCM support for HDMI from the 4800 series. We're waiting to sort out some issues with HDCP and our latest test version of PowerDVD Ultra before confirming the support, but we know first hand that it works on the 4800 series and we see no reason that it wouldn't on the 4600 series.
We are quite happy to see AMD pushing it's latest generation technology out across its entire product line. It's great to see new parts making their way into the market rather than a bunch of old cards with slight tweaks and new names. Of course, AMD is fighting back from a disadvantage, so they don't have the luxury of relying on their previous generation hardware to trickle down the same way NVIDIA can. But we certainly hope that AMD continues to follow this sort of trend, as the past couple years have been very hard on the lower end of the spectrum with a huge lag between the introduction of a new architecture and its availability in the mainstream market.
Also of interest is the fact that AMD has added support in the RV730 for 900 MHz DDR3. The move away from GDDR3 toward the currently ramping up and dropping in price system memory solution is quite cool. Let's take a look at that in a little more depth.